Convos Alums Shine at the 2024 Grammy Awards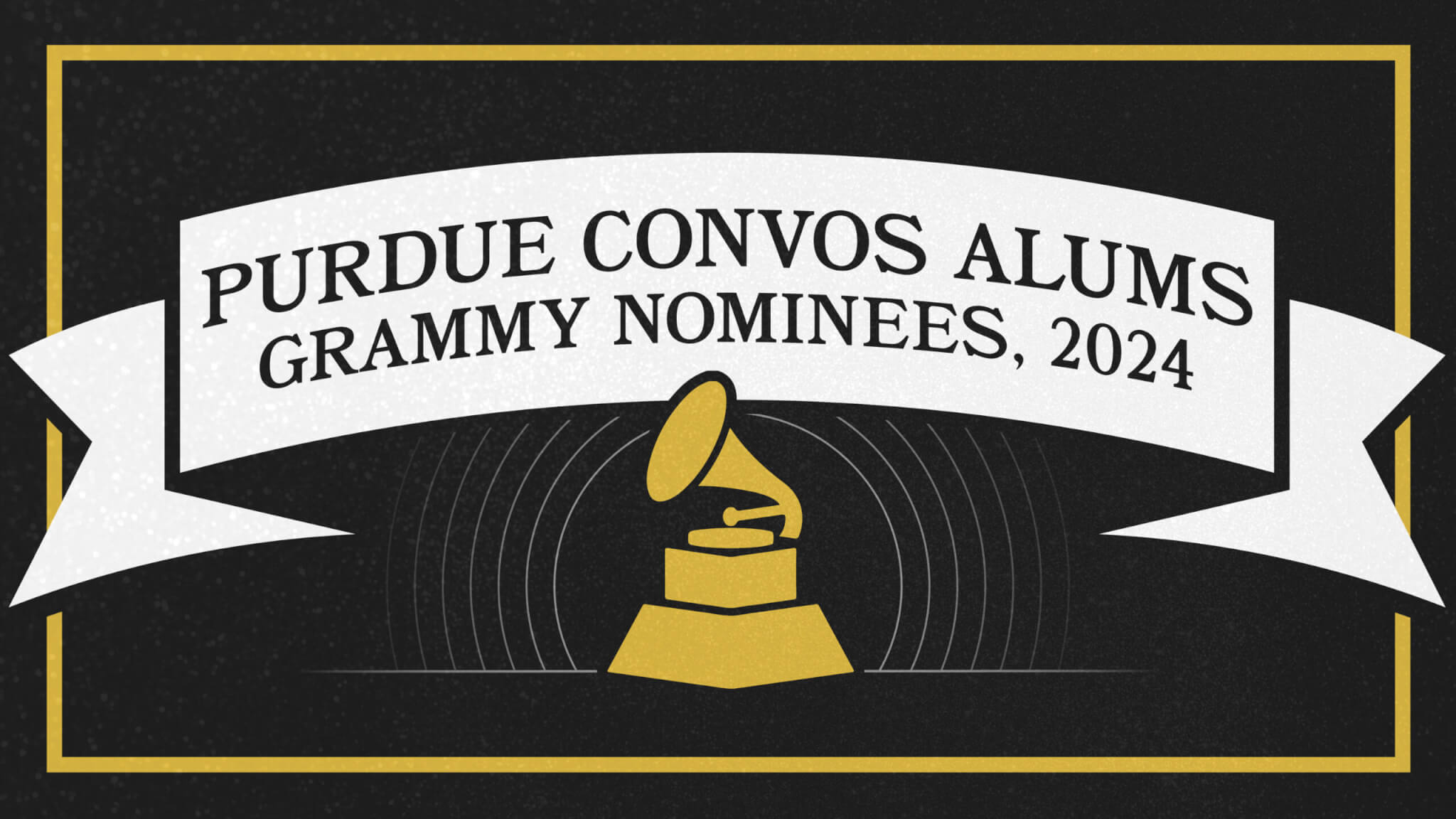 At Purdue Convocations, we take pride in showcasing incredible talent from various artistic fields. This year, we are overjoyed to see more than 40 of our past performers receiving well-deserved nominations for the prestigious Grammy Awards. These exceptional individuals have become what we affectionately call our "Convos Alums" and their recognition on the grand stage of the music industry is a testament to their talent and the diverse range of performances we bring to our audiences.
From the captivating melodies to the mesmerizing performances, our Convos Alums have left an indelible mark on the music world. Whether it's the soul-stirring vocals, masterful instrumentals, or groundbreaking compositions, these artists have consistently delivered exceptional experiences for our audience, and we couldn't be prouder to have played a part in their artistic journey.
As we eagerly await the results of the Grammy Awards, we reflect on the impact these artists have had on our stages and in the hearts of our audience. The nominations are not just a recognition of their talent, but also a celebration of the vibrant and diverse performances that define Purdue Convocations.
Grammy Nominees Who Performed at Purdue:
Janelle Monáe
Nomination(s): Album of the Year
Performed at Purdue in 2010
Noah Kahan
Nomination(s): Best New Artist
Performed at Purdue in 2023
Kelly Clarkson
Nomination(s): Best Pop Vocal Album
Performed at Purdue in 2005
J. Cole
Nomination(s): Best Melodic Rap Performance on Lil Durk's "All My Life"
Performed at Purdue in 2013
Esperanza Spalding
Nomination(s): Best Jazz Performance, Best Jazz Vocal Album
Performed at Purdue in 2007 & 2011
Cécile McLorin Salvant
Nomination(s): Best Jazz Vocal Album, Best Arrangement, Instrumentals, and Vocals
Performed at Purdue in 2015 & 2022
Gretchen Parlato & Lionel Loueke
Nomination(s): Best Jazz Vocal Album
Performed at Purdue 2007
Kenny Barron
Nomination(s): Best Jazz Instrumental Album
Performed at Purdue in 1998
Pat Metheny
Nomination(s): Best Jazz Instrumental Album
Performed at Purdue in 2008
Mingus Big Band
Nomination(s): Best Large Jazz Ensemble Album
Performed at Purdue in 2008 & 2009
Chick Corea
Nomination(s): Best Large Jazz Ensemble Album, Best Classical Compendium
Performed at Purdue in 1997 & 2006
Miguel Zenon & Luis Perdomo
Nomination(s): Best Latin Jazz Album
Performed at Purdue in 2010
Vijay Iyer
Nomination(s): Best Alternative Jazz Album, Best Global Music
Performed at Purdue in 2013
Kurt Elling
Nomination(s): Best Alternative Jazz Album
Performed at Purdue in 2007
Cory Henry
Nomination(s): Best Alternative Jazz Album
Performed at Purdue in 2014
Pentatonix
Nomination(s): Best Traditional Pop Vocal Album
Performed at Purdue in 2014
Bruce Springsteen
Nomination(s): Best Traditional Pop Vocal Album
Performed at Purdue in 1997
Béla Fleck & Edgar Meyer
Nomination(s): Best Contemporary Instrumental Album, Best Global Music Performance, Best Instrumental Composition
Performed at Purdue in 2014
Dierks Bentley
Nomination(s): Best Country Duo/Group Performance
Performed at Purdue in 2008 & 2010
Vince Gill
Nomination(s): Best Country Duo/Group Performance
Performed at Purdue in 1996
Rhiannon Giddens
Nomination(s): Best American Roots, Best Americana Album
Performed at Purdue in 2011 & 2017
Eric Bibb
Nomination(s): Best Traditional Blues
Performed at Purdue in 2008
Dom Flemons
Nomination(s): Best Folk Album
Performed at Purdue in 2011
Nickel Creek
Nomination(s): Best Folk Album
Performed at Purdue in 2006 & 2008
Joni Mitchell
Nomination(s): Best Folk Album
Performed at Purdue in 1976
Old Crow Medicine Show
Nomination(s): Best Folk Album
Performed at Purdue in 2012
Flor de Toloache
Nomination(s): Best Música Mexicana Album
Performed at Purdue in 2018
Dave Chappelle
Nomination(s): Best Comedy Album
Performed at Purdue in 2003
Weird Al Yankovic
Nomination(s): Best Compilation Soundtrack for Visual Media
Performed at Purdue in 2013
Bob Dylan
Nomination(s): Best Historical Album
Performed at Purdue in 1981 & 2004
Thomas Adès
Nomination(s): Best Orchestral Performance, Best Contemporary Classical Composition
Performed at Purdue in 2007
Pacifica Quartet
Nomination(s): Best Chamber Music/Small Ensemble Performance
Performed at Purdue in 2000
Third Coast Percussion
Nomination(s): Best Chamber Music/Small Ensemble Performance
Performed at Purdue in 2020
Yo-Yo Ma, Emanuel Ax
Nomination(s): Best Chamber Music/Small Ensemble Performance
Performed at Purdue in 2013
Robert Black
Nomination(s): Best Classical Instrumental Solo
Performed at Purdue in 2008
Imani Winds
Nomination(s): Best Classical Compendium
Performed at Purdue in 2004
Aaron Diehl
Nomination(s): Best Classical Compendium
Performed at Purdue in 2016
Christopher Rountree
Nomination(s): Best Classical Compendium
Performed at Purdue in 2018
Awadagin Pratt
Nomination(s): Best Contemporary Classical Composition
Performed at Purdue in 1995 & 1999
Grammy Nominees Coming to Purdue in 2024
Lakecia Benjamin
Nomination(s): Best Jazz Performance, Best Instrumental Composition, Best Jazz Instrumental Album
Performing at Loeb Playhouse on January 19 at 8:00PM
BUY TICKETS
for King and Country
Nomination(s): Best Contemporary Christian Music Performance Song
Performing at Elliott Hall of Music on February 24 at 7:30PM
BUY TICKETS
Melissa White
Nomination(s): Best Classical Compendium
Performing at Loeb Playhouse on February 23 at 8:00PM
BUY TICKETS