Newton County Elementary Students Learn to Dance
By Sam Watermeier
Students were in for a surprise when they stepped into the Lincoln Elementary gym the last week of October 2015.
"I thought we were playing volleyball," one boy said, looking around for nets. All he found was a new teacher — and a desire to dance.
Liberty Harris — the Rehearsal Director and Education Coordinator at Dance Kaleidoscope — took over the school's gym classes, showing students some of the moves she learned when she was a little girl.
Every year, Wilson Industrial Sales provides funding to Purdue Convocations for educational programming to connect Newton County students with artists like Harris. She visited three schools — Morocco, Lake Village and Lincoln Elementary — over the course of three days (Oct. 27-29), teaching a total of 829 students, grades K-6.
When she was just three years old, Harris participated in gymnastics and ballet classes, going on to perform in a Butler University production of The Nutcracker at the tender age of 10. For 15 years, Harris performed with Dance Kaleidoscope — the longest-running dance company in Indiana. (It started in 1972, and this year marks its 44th season.)
Now retired from performing, Harris dedicates her time to teaching. At Lincoln Elementary, you could tell she was trying to ignite the same spark in students that initially inspired her to dance.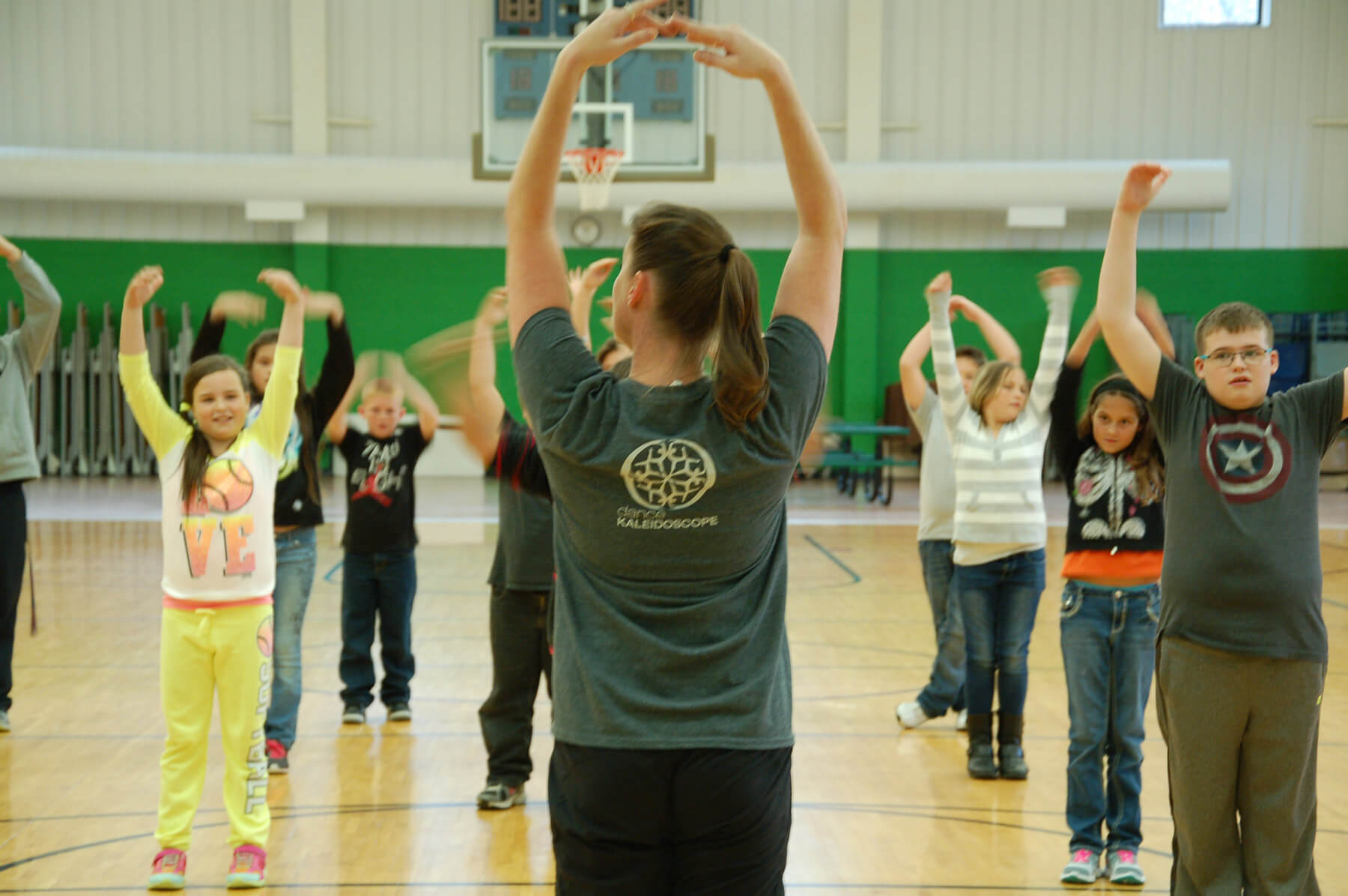 Harris introduced students to simple dancing that mirrored Dance Kaleidoscope's mission — to tell stories through movement. Together they created a performance about their morning routine, making dramatic dance moves out of ordinary activities — brushing their teeth, putting on clothes, waiting for the bus, etc. Through this exercise, Harris hoped the kids could learn how athletics — and art — can "make normal movements a bit bigger and a little more fun."
"I'm very good at this!"
At the end of the day, the activity was as much of a mental exercise as a physical one. In addition to testing their balance and coordination, the dance required students to learn and memorize new words, such as plié (to bend), tendu (to stretch) and sauté (to jump). They giggled at the foreign terms at first but quickly went on to recite them with delight. The dancing ultimately seemed like a physical celebration of all they had learned.
The more the students moved, the higher they held their chins with pride. "I'm very good at this!" one boy exclaimed with a certain detached wonder, as if he couldn't believe his own body was tearing up the dance floor.
Harris was similarly surprised, caught off guard by the kids' enthusiasm and willingness to participate. "After the class was over, several of them said, 'I usually hate dancing, but that was fun!'" she said with a chuckle.
"The great thing about this is that kids are showing these dance moves off on the playground, they're going home and talking about it."
Lincoln's PE teacher Greg Mikulich considered the kids' reaction to be the ultimate reward of Dance Kaleidoscope's residency in the county's schools.
"The great thing about this is that kids are showing these dance moves off on the playground, they're going home and talking about it," he said. "If they take what they've learned here with them, you know you've done your job."
***
Wilson Industrial Sales provides significant funding each year to Purdue Convocations to make educational programming available to Newton County schools. The gift allows for students in Newton County to receive ticket and transportation scholarships to come to Purdue to see daytime matinee performances with their classrooms and also allows for artists to travel to students in their schools in Newton County, such as this dance program. The company has been a generous donor since 2004.