The Emmet Cohen Trio Returns to Purdue on November 18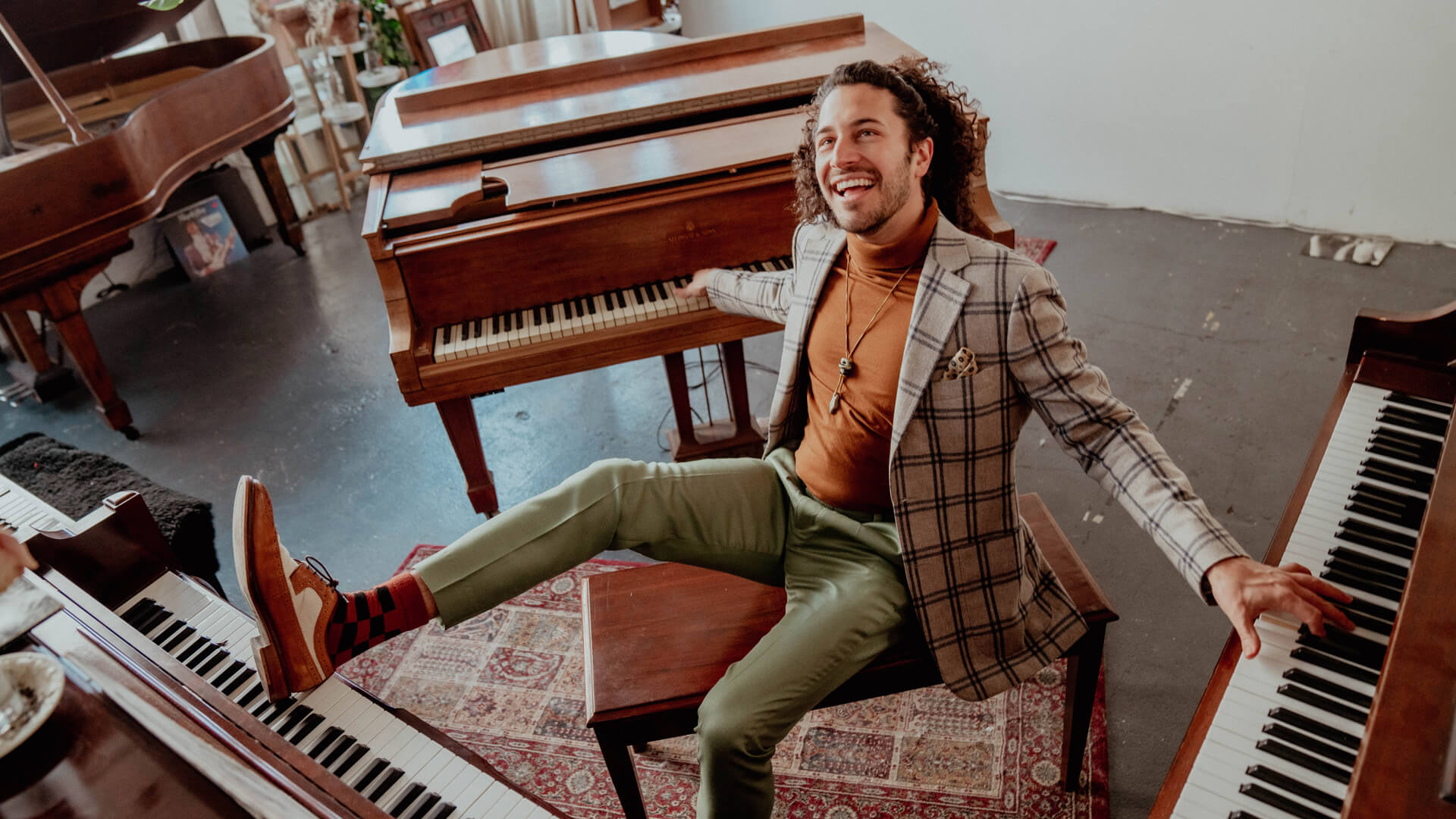 Multifaceted American jazz pianist and composer Emmet Cohen returns to Purdue University on November 18, accompanied by his trio and friends.
Emmet has a long-standing relationship with Convos as he helped us through the COVID-19 pandemic with a streaming concert Live From Emmet's Place. He also performed at Purdue in February 2022 where he recorded a live album.
Emmet is one of his generation's pivotal figures in music and the related arts. Leader of the Emmet Cohen Trio and creator of the Masters Legacy Series, he is an internationally acclaimed jazz artist, a dedicated educator, the winner of the 2019 American Pianists Awards, and a finalist in the 2011 Thelonious Monk International Piano Competition. Cohen headlines regularly at Jazz at Lincoln Center, the Village Vanguard, and Birdland, and has appeared at the Newport, Monterey, and North Sea jazz festivals.
His artistry has taken him to venues and festivals in over 30 countries. Cohen's entrepreneurial energies led to his developing "Live From Emmet's Place," a live-streamed "Harlem rent party" that unites a worldwide audience via tens of millions of internet views. Cohen has released over ten albums as leader and has performed or recorded with Ron Carter, Benny Golson, Jimmy Cobb, George Coleman, Jimmy Heath, Tootie Heath, Houston Person, Christian McBride, and Kurt Elling.
The Emmet Cohen Trio features two other incredible musicians: Joey Ranieri on bass and Joe Farnsworth on drums.
Originating from Chicago, young bassist Joey Ranieri embarked on his musical journey by delving into bass studies during his eighth-grade years. He has participated in many notable events such as the 2019 Vail Jazz Workshop and the 2018 Chicago Jazz Fest.
Joe Farnsworth is one of the most highly regarded jazz drummers and is known for his blazing speed, precision, and melodic playing. He has recorded over 100 CD's as leader and side-man and has played many jazz festivals and world tours.
The Emmet Cohen Trio will also be joined by friends Bruce Harris on trumpet and Tivon Pennicott on tenor saxophone.
Bruce Harris is a prominent emerging figure in jazz, drawing inspiration from his family's musical traditions and musicians like Wynton Marsalis. His vibrant and passionate performances have graced top New York jazz venues and national TV shows, making him a significant presence in the jazz world.
Tivon Pennicott is a renowned saxophonist, composer, and multi-instrumentalist who has made significant contributions to three Grammy Award-winning albums by artists like Esperanza Spalding and Gregory Porter. He has collaborated with jazz visionaries and has an extensive performance history in iconic venues.
With world-renowned talent, these incredible musicians come together for a phenomenal performance at Loeb Playhouse that you won't want to miss.
Saturday, November 18
8:00PM
Loeb Playhouse
---
THIS PERFORMANCE POWERED BY: