Who is Stefon Harris?
Stefon Harris's passionate artistry and astonishing virtuosity have propelled him to the forefront of the jazz scene. Heralded as "one of the most important artists in jazz" (The Los Angeles Times), he has been named a recipient of the 2018 Doris Duke Artist Awards. One of the most prestigious programs in the arts, "the Doris Duke Artist Awards invest in exemplary individual artists in contemporary dance, jazz, theater and related interdisciplinary work who have demonstrated their artistic vitality and commitment to their field." He is also a recipient of the prestigious Martin E. Segal Award from Lincoln Center, has earned four GRAMMY™ nominations, and has been named Best Mallet player eight times by the Jazz Journalists Association. He was also chosen Best Vibes in the 2018 and 2017 DownBeat Magazine Critic's Poll, the 2016 JazzTimes Expanded Critics Poll, the 2014 JazzTimes Critics Poll and the 2013 DownBeat Magazine Critics Poll.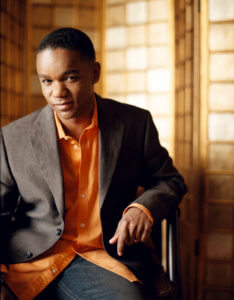 NPR's All Things Considered praised Mr. Harris' audacious CD Urbanus, which also earned a GRAMMY™ nomination for Best Contemporary Jazz Album, as one of "The Year's Best New Jazz" recordings. As a member of the SFJAZZ Collective, Harris was featured on their 2014 recording, Wonder: The Songs of Stevie Wonder, which won an NAACP Image Award for Outstanding Jazz Album.
Stefon Harris received his Bachelor of Music degree in classical music and Master of Music degree in jazz performance at Manhattan School of Music (MSM). He teaches in person at universities throughout the world and virtually via his Distance Learning Studio, has led curriculum development at the Brubeck Institute, and serves as Jazz Advisor for Jazz Education at New Jersey Performing Arts Center. Prior to being named Associate Dean and Director of Jazz Arts at MSM in July 2017, Mr. Harris was Visiting Professor at Rutgers University and served on the jazz faculty of New York University for the past decade. "The Art of Listening," part of a series of documentaries focusing on Harris' community work in arts education in Kalamazoo, won 3 Gold Camera awards and 3 Michigan EMMY nominations.