The soundtrack of MOMIX: Botanica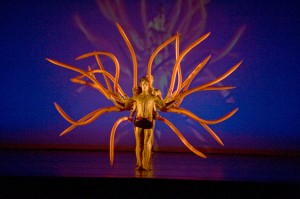 The best part about a nature walk? It's not just witnessing a sublime sunrise, spotting a hummingbird darting among the wildflowers, or observing an iridescent beetle wriggling along the underside of a cool, green leaf.  It's also the listening to the chirp of crickets, deciphering the chatter of birds, hearing the crunch of leaves under your feet, and sensing the woosh of breeze in the branches. It's the sum of these parts — the opportunity to surrender all of your senses to the outdoor experience.
That's the best part about "Botanica," the latest dancework by MOMIX, as well.
In "Botanica," which comes to Purdue Sept. 21 and 22, MOMIX, the company of dancer-illusionists known internationally for presenting dance performances of exceptional innovation and physicality, captures the power, grace, wonder and surprise inherent in the natural world with visual effects, fluid movement and eye-catching props.
And just as a walk through nature is a multi-sensory experience, MOMIX emphasizes the majesty of mystery of nature with a mesmerizing score that includes electronica, trance music, mystical singing and even recordings of bird calls, and features works by Peter Gabriel and Celtic Woman.
The first step in creating a MOMIX dance work is imagining the dramatic and arresting visuals. "I try to go about the show as a sculpture or a painter would and sculpt out imagery," says MOMIX artistic director Moses Pendleton, who founded the company in 1980. "The basic thrust of this is that we take an image and move it through time and space."
Then, Pendleton layers on the sound. In "Botanica," plants and insects don't have the ability to speak for themselves, Pendleton points out. So he uses birdsongs and rhythm and evocative melodies to give nature a voice.
In one piece, the bare backs of the dancers are transformed into petals of an enormous flower. "It looks like a large rosebud, moving very slowly and evolving, transforming, like time-lapse," Pendleton says. To underscore the movement and the anticipation of a full-blown blossom, dancers move to the breathy, ethereal music of Peter Gabriel — a piece from the "Birdy" soundtrack, a 1984 film that Gabriel scored — that slowly, deliberately swells to a climax.
Another piece, in which the dancers wave large branches to evoke the trees in a forest blowing in the wind, is set to a song by Celtic Woman that is at once broad and soaring, wispy and delicate. The song was added after "Botanica" was complete and was well into its performance run. "I just heard it, and I thought it has a lot of emotion and spirit to it," Pendleton says. "I thought it would work quite well in a section about trees."
A piece featuring a woman dancer wearing an elaborately beaded headdress evokes a dew-speckled spiderweb as she spins around. The movement is underscored by an electronica piece called "Gayatri Mantra" by the new-age artist Deva Premal. "It gives it a sense of mysticism and spirituality," says Pendleton.
Many of the songs featured in "Botanica" have titles that clearly seem like they would be a natural fit for the soundtrack of a program called "Botanica" — "Frozen Land," by the British ambient group Tuu; "Eastern Winds," by Eastern Dub Tactik, which blends world groves with dub and electronica; even (of course!) "Primavera," from Antonio Vivaldi's Four Seasons violin concertos. But there are some surprises, as well. So expect the unexpected, and, on your walk through nature, prepare to be transported across some supernatural landscapes — and soundscapes.
"'We're not trying to do a National Geographic nature show," Pendleton says. "This is MOMIX. It's surreal. It is a mix of sensuality and spirituality and poetry."
Amy Long, guest contributor