The Revenge of Prince Zi Dan Coming to Purdue
Shanghai Jingju Theatre Company (Peking Opera) will bring "The Revenge of Prince Zi Dan" ("Hamlet") to life at 8 p.m. Friday (Sept. 23). This performance is presented by Purdue Convocations with support from the Confucius Institute at Purdue and the Asian American and Asian Resource and Cultural Center.
Ticket holders are invited to attend a preshow discussion at 7 p.m. in Stewart Center, Room 206, with a member of the artistic staff who will discuss Peking Opera history and performance practices.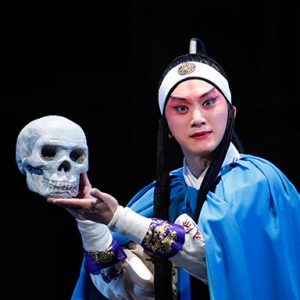 The Shanghai Jingju has been among China's most influential art troupes and cultural ambassadors since its 1985 inception. With "The Revenge of Prince Zi Dan," a reimagining of William Shakespeare's "Hamlet," the troupe transforms the classic play into its own poetry of motion, music, mime, dance and acrobatics.
Also known as Jingju, Peking Opera is a Chinese tradition originating in the 18th century and renowned for ornate costumes, symbolic movement, elaborate masks, compelling music and stunning choreography. By introducing Western stories into this tradition, Shanghai Jingju has broadened its reach to global audiences, including a run at the 2011 Edinburgh International Festival.
Tickets for The Revenge of Prince Zi Dan
Tickets are $36 for adults and $25 for students, Purdue students and Ivy Tech Lafayette students. Tickets are available at the Stewart Center box office at 765-494-3933 or 800-914-SHOW.
Group tickets are also available to groups of 10 more. Call 765-496-1977 for more details or visit https://live-convocations.pantheonsite.io/group-sales/
Initiated in 1902, Purdue Convocations was one of the first professional performing arts presenters in the United States. Each year, Convocations offers the region 30-40 performances of widely varying genres. Purdue Convocations aims to promote frequent exposure to and familiarity with human cultural expression in a multitude of forms and media.
Source: Abby Eddy, Purdue Convocations director of marketing, 765-494-9712, aeeddy@purdue.edu
Note to Journalists: Publication-quality photos are available at http://www.convocations.org/press