The Making of a Classic
It was September 26, 1957, and something great was coming that evening: a Broadway musical unlike any that had come before. "I thought West Side Story was going to be a flop," says Arthur Laurents, who wrote the book of the new show. "I thought maybe it would run for three months. I didn't care. It was so not what a musical should be."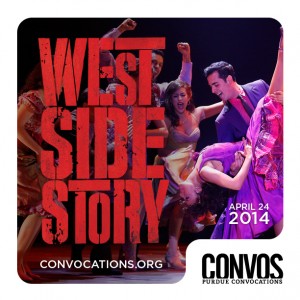 That was evident to audiences from the outset. West Side Story opened not with a song, not with a book scene, but with a thrilling danced "Prologue." But this was not dance for dancing's sake, not a lavish, showy production number designed to get the audience into an upbeat mood. The number featured two rival gangs, the Jets and the Sharks, conveying their hatred toward one another through movement.
The "Prologue" remains one of the most impressive, expressive starts to any musical. But it is probably impossible for modern audiences to understand just how startling and original that number, like the rest of West Side Story, was 50-plus years ago. For generations that have grown up on Company, Follies, A Chorus Line, Sweeney Todd, Dreamgirls, Rent, and Movin' Out, there is nothing particularly surprising about a musical that tells much of its story through dance; a musical that integrates song, dance, drama and design into a seamless, cohesive whole; a musical without a conventional chorus; a musical in which two of the leading characters lie dead onstage at the end of the first act; a musical without an upbeat ending. But these were bold, revolutionary choices by Laurents, director/choreographer Jerome Robbins, composer Leonard Bernstein and lyricist Stephen Sondheim, when West Side Story premiered.
"Steve and I have always differed about what's special about West Side Story," says Laurents. "He says it's the style. I think what's different is it's the first musical that showed anything can be a musical. We have death, we have murder, we have attempted rape, we have bigotry. None of that was in musicals. But they're in this musical because that's what the story is."
Actually, both Sondheim and Laurents are correct: the show was different in both style and content. Together with Bernstein and Robbins, they pushed the boundaries of the Broadway musical, and in so doing, redefined an art form. The current production, directed and reconsidered by Laurents, provides audiences with an opportunity to discover – or rediscover – what all the excitement was about.
The seeds for West Side Story were sown in 1949 when Robbins became intrigued with the notion of updating and musicalizing Romeo and Juliet. He contacted Bernstein and Laurents, and told them of his idea for a show about a pair of star-crossed lovers doomed by the enmity between their people. The girl was to be Jewish, the boy Catholic, and the setting would be the East Side of Manhattan during Easter and Passover. Bernstein often said that the idea intrigued him; Laurents has long said that the idea did not interest him because it reminded him of Abie's Irish Rose, a popular 1922 light comedy with a similar interfaith theme.
Several years later, Bernstein and Laurents ran into each other at the pool of the Beverly Hills Hotel, when they noticed a newspaper headline about Los Angeles gang fights between Mexicans and what Bernstein referred to as "self-styled" Americans. Similar hostilities were being played out on the streets of New York, including the West Side of Manhattan. It occurred to them that the clash of cultures between Puerto Ricans and "white" boys would provide more substantial subject matter for a modern-day Romeo and Juliet musical than Robbins' earlier idea. When they contacted Robbins, he eagerly agreed.
Bernstein had originally intended to write the lyrics himself, but he soon realized that it wasn't feasible. The artistic team then contacted Betty Comden and Adolph Green, who were out in Hollywood working on a movie musical and unavailable. Sondheim, who had yet to break through on Broadway, was the next choice, but he didn't want the job. He was trying to establish himself as a composer, and was fearful of being pigeonholed solely as a lyricist if he took West Side Story. But Oscar Hammerstein II, his mentor, convinced the reluctant Sondheim that working with three distinguished talents would be an invaluable experience.
Laurents was already a successful playwright and screenwriter, but this was his first time working on a musical. "When I was a kid, there was a stock company near where we lived in Brooklyn and my cousins and I would go on Saturday afternoons," he says. "I remember seeing No, No, Nanette, and I thought it was so exciting. I've always had a love for musicals, and I wanted to do one."
The book he wrote is among the shortest – if not the shortest – ever written for Broadway. "I wrote for radio, and when you write for radio, you really learn economy," he says. In West Side Story, the narrative is conveyed mostly through music and movement. But Laurents' prose is the glue that holds all the elements together and the springboard for the poetry of Robbins, Bernstein, and Sondheim.
Given the harrowing nature of the show, its bleak depiction of urban life, it is not surprising that West Side Story was deemed a huge commercial risk. Numerous producers spurned the project until Cheryl Crawford and Roger L. Stevens got behind it. Six weeks before rehearsals were to begin, Crawford organized a backers audition to raise money for the show. "It was at an apartment on the East Side," says Laurents. "There was no air conditioning, and you could hear the tugboats. She didn't raise one penny." A few days later, she pulled out. "Except for Roger, everybody thought the show was terrible. In fact, Roger had a great friend who owned a Broadway theater. And he said, 'I'm not giving that theater to any opera.'"  In the end, Harold Prince, who had originally turned down the show, took on the project along with his partner, Robert E. Griffith, in arrangement with Stevens.
Rehearsals of West Side Story were invigorating, inspiring, and emotionally draining. Robbins was known as a perfectionist and a taskmaster, and he goaded, cajoled and browbeat the cast until he got what he was after. He wanted the actors to look like real people dancing, as opposed to dancers playing real people. He strove for a sense of naturalism, not only in the acting but in the choreography.
West Side Story was the first musical propelled by dance, by choreography that moved the plot forward and conveyed emotions that the Jets and Sharks were incapable of verbalizing. It was the first show in which every member of the chorus had a name and a clearly defined character, the first musical in which every chorus person was an individual. Robbins saw to it that each actor created a history for his or her character. He also gave the cast a great deal of material to work with. Part of the show's authenticity stemmed from the fact that he spent time observing gang members in Spanish Harlem and Greenwich Village. He befriended some of the captains of the gangs, and some social workers. He read anything he could find about gang warfare, and posted articles on the subject all over the walls of the rehearsal studio, so that the cast would better understand what these groups were fighting about. Robbins also insisted that the actors playing the Jets and the Sharks be kept apart during rehearsals. He got the results he was after: members within a "gang" bonded with each other, and became somewhat alienated from the actors in the rival gang. Those feelings helped fuel their performances.
Robbins created a dance language unique to the show: much of the choreography is based more on street movement than on familiar dance steps, and there was a reason or emotion behind every movement, every gesture. And Laurents invented words and phrases for the gangs as a way of indicating their inarticulateness and as a substitute for four-letter words, which simply weren't spoken onstage back then. "I don't even think the audience is aware of it," he says.
The premiere of West Side Story was generally well-received, although some critics respected the show more than they enjoyed it. The original production ran for 21 months, went out on tour, then returned to Broadway for an additional seven and a half months; in all, a decent, unexceptional run. But the show has had a remarkable afterlife. The 1961 movie – which Laurents dislikes – was a critical and commercial success, the recipient of 10 Academy Awards, including Best Picture. The film also brought widespread popularity to the score: the Grammy Award-winning soundtrack was No. 1 on Billboard's album charts for an astonishing 54 weeks.
Over the years, the show has taken on legendary status, as it has influenced generations of choreographers, directors, composers, and lyricists to dare to be different. That was a byproduct, not the intention, of Laurents, Bernstein, Sondheim and Robbins. "If you're going to tell a story with any degree of truth, you've got to go where the story takes you," says Laurents. "And this is where the story took us. We weren't thinking about changing anything. We just wanted to be good."