SXSW Review: BORN TO FLY features STREB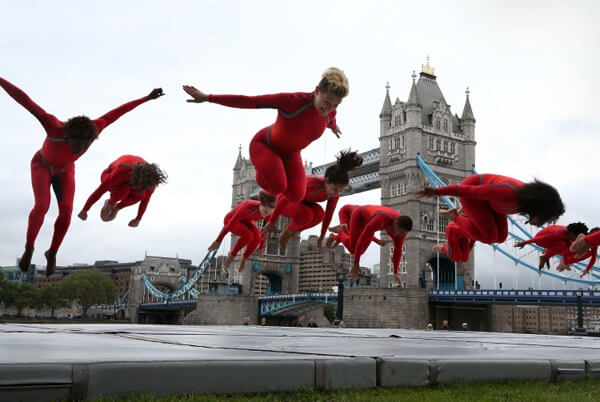 By John Gholson
Late in the documentary Born to Fly, "pop action" choreographer Elizabeth Streb mentions wanting to expand the brand name recognition of her dance company. This film should certainly help. I'd never heard of Streb before this (not that I keep an eye on what's happening in the avant-garde dance scene), and now I can't stop thinking of Streb's troupe. Streb dancers are perfect specimen daredevils, hurling themselves through glass, dodging spinning I-beams, and performing aerial ballet on the suspension wires of sky-high Ferris wheels for their art. In a world where Stomp, Blue Man Group, and Cirque du Soleil can sell out venues worldwide, you can see the commercial potential in Streb's work as well as she does.
"Pop action" is the term Streb applies to her dancers' abilities to land on any part of their body as it fits the piece. This kind of extreme physicality for entertainment's sake is rarely seen outside of the world of pro wrestling. The dancers, all skilled gymnasts and from the impression given here, all interesting people in their own right, fling their bodies hard against unforgiving mats from impossible, spinning heights. There's an artful precision to it, but ouch. It's a career path that requires a disregard for your own personal pain threshold if you're going to make it at all. Streb's own feet look like ginger roots with toenails. One dancer accidentally scalps herself while flailing in a coffin-sized box suspended 20 feet in the air. This stuff takes a level of fortitude that many of us don't have.
Born to Fly skillfully showcases Streb's art, but also gives us some real insight into who she is and how she approaches movement with a nearly scientific fascination concerning spatial relationships between human bodies and the air around them. Director Catherine Gund's film reveals Streb to be a compulsive and compassionate creator, surprisingly free of the kind of pretense you might expect from someone inventing new ways to dance. She's not asking anyone to do anything she wouldn't do (or hasn't done) herself, and that inspires a kind of devotion that means that even when things go horribly wrong (as it does in the case of one former Streb dancer), the art still takes priority over the limits of the human body.
It's extreme and it's crazy and absolutely beautiful to watch. Gund has a great eye for this type of quick portrait, balancing all of the elements that are part of Streb's story (her life, her company, the performances themselves) into a whole that is really exemplary documentary filmmaking. You find yourself invested and in the finale, when Streb walks down the glass dome of London's City Hall herself, it's as suspenseful as most narrative thrillers. In 82 too-quick minutes, I went from completely ignorant of Streb and her "action heroes" (the name she applies to her dancers) to becoming a big fan. Born to Fly is a must.
Review was originally featured here on badassdigest.com.