Sun Studio: The Birthplace of Rock 'n' Roll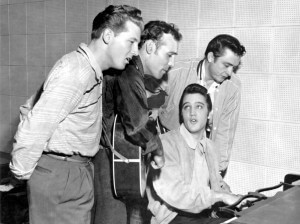 It was on a tiny corner in Memphis, Tennessee, that Elvis Presley, Johnny Cash, Carl Perkins, and Jerry Lee Lewis came together for a legendary impromptu jam on December 4, 1956, at Sun Studio.
When owner Sam Phillips called the media, the iconic photo and nickname that inspired the musical were born.
But Sun Studio gave birth to something bigger: rock 'n' roll. Phillips, a radio engineer, opened this postage stamp-sized studio in 1950. Just one year later, "Rocket 88," considered the first-ever rock 'n' roll song, was recorded there. It's also where Presley cut his first-ever recording ("My Happiness").
After Phillips sold the studio in 1969, no recordings were made there until 1985, when Perkins, Cash, and Lewis reunited along with Roy Orbison for their Class of '55 album. Reopened as Sun Studio in 1987 and now a National Historic Landmark, it's open both to the public for tours and artists for recording.
Artists and acts such as Ringo Starr, Def Leppard, Bonnie Raitt, Tom Petty, Beck, John Fogerty, Matchbox 20, and Maroon 5 have recorded there.
U2 recorded three songs for Rattle and Hum there, including radio hits "Angel of Harlem" and "When Love Comes to Town"—cramming the band, a horn section,background vocalists, and a film crew into the small studio.
John Mellencamp cut a majority of his most recent studio album, No Better Than This, at Sun, praising the acoustical aptitude literally marked by Phillips's X's on the floor.
In 2011, Chris Isaak recorded covers of Sun Studio classics there for Beyond the Sun—includ­ing "Ring of Fire," "Great Balls of Fire," "It's Now or Never," "Oh, Pretty Woman," and more.
Plus, the PBS broadcast Sun Studio Sessions features intimate studio footage of Grace Potter and the Nocturnals, Jakob Dylan, Justin Townes Earle, the Walk­men, Ryan Bingham, and more.
Before or after Million Dollar Quartet, be sure to make a pilgrimage to this musical mecca—a day's drive down the road from West Lafayette—and walk the same floor as these legends!
Nick Rogers, contributor