REMINDER: LARGE TURNOUT EXPECTED FOR NEIL DEGRASSE TYSON LECTURE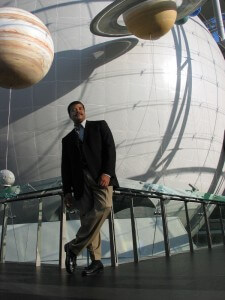 Astrophysicist Neil deGrasse Tyson will discuss "This Just In: Latest Discoveries in the Universe" at 7 p.m. Sept. 19 in Purdue University's Elliott Hall of Music. Doors open at 6 p.m., and the lecture is free and open to the public.
Due to the large turnout expected at this lecture please note the following:
* No lines may form for entry until 3 p.m. on 9/19.  Lines will form in a designated area outside of Elliott Hall of Music.
* It is not permitted to camp outside a building, including using or bringing chairs, tents, sleeping bags, etc. For additional information, please refer to the facilities use policy at http://www.purdue.edu/policies/pages/facilities_lands/i_4_1.html
*You may not hold a place in line for others. If you wish to sit together as a group then everyone in your party must be present to wait in line.
*Should you leave after entering Elliott Hall of Music no reentry will be permitted.
*This is a general admission event and there is no assigned seating.
*There will be a security checkpoint with a visual inspection and bag search.
This lecture is presented by The Discovery Lecture Series and the Purdue Libraries Distinguished Lecture Series with support from the college of Engineering and Science, and Purdue Convocations. Additional support is provide by the Indiana Space Grant Consortium, the Black Cultural Center, Global Policy Research Institute, and Office of the Vice Provost for Diversity & Inclusion.
deGrasse Tyson is one of America's foremost authorities on space science. Through his numerous books, various social media outlets and TV appearances, ranging from PBS and the History Channel to The Colbert Report and The Big Bang Theory, this astrophysicist also is one of his field's most ardent and playful, ambassadors. Educated in New York's public school system before embarking on higher education, Tyson has focused his research and professional work on the universe's structure, the Milky Way galaxy, and the formation of stars. Following myriad academic and presidential appointments, Tyson is currently the Frederick P. Rose Director of the Hayden Planetarium at the American Museum of Natural History. He also is a member of NASA's prestigious Advisory Council. He curates a Twitter feed (@neiltyson) of more than a million followers, for whom he drops the science 140 characters at a time.
As his program's name implies, Tyson will base his topics of discussion on the most recent, noteworthy, and exciting events in space science. It's a talk tailored to Tyson's mission to ensure that science remains a lively, vivid topic in American discourse – communicated in ways that connect with us all.