Orpheus Chamber Orchestra Program Notes
October 15, 2017 | 4PM | Loeb Playhouse
Vijay Iyer
(b. 1971)
Asunder (World Premiere, Commissioned by Orpheus)
Mozart
(1756-1791)
Piano Concerto No. 9 in E-flat Major, K. 271
Allegro
Andantino
Rondo: Presto

André Watts, piano
Intermission
Beethoven
(1770-1827)
Symphony No. 1 in C Major, Op. 21
Adagio molto – Allegro con brio
Andante cantabile con moto
Menuetto: Allegro molto e vivace
Adagio – Allegro molto

With respect to the musicians and your fellow patrons, we request your participation in the tradition of withholding applause between movements of a selection. To the same end, we also ask that you silence and discontinue use of all electronic devices.
PROGRAM NOTES
By Aaron Grad
In Brief: What happens when a fearless improviser, already a top virtuoso in the city that dominates the music world, trades his piano keyboard for a blank orchestral score? Whether we are talking about Beethoven composing his First Symphony in Vienna, or jazz pianist Vijay Iyer creating a new work for Orpheus, the results are electrifying. No lineup of powerhouse pianist-composers would be complete without Mozart, whose bold risks paid off in the Piano Concerto No. 9 he composed at 21. 
VIJAY IYER (b. 1971)
Asunder
The Composer: Vijay Iyer is a true Renaissance man, with a Ph.D. in music cognition from U.C. Berkeley, a diverse discography of critically acclaimed jazz albums, and a list of upcoming commissions that places him in rare company among contemporary composers. Born in upstate New York to parents who had emigrated from India, he began taking Suzuki violin lessons at age three. His sister was the piano student in the family, but Vijay's self-guided improvisations at the keyboard set him on a course to become one of the most impactful jazz pianists in the world today. Selected in 2013 as a MacArthur Fellow (otherwise known as the "genius" grant), and named Artist of the Year three times by the preeminent jazz publication DownBeat, Iyer has reshaped the boundaries of the improvising composer/performer for the 21st century. As The New York Times noted in 2014, "To the extent that he has stood between worlds—bridging academic and real-world concerns, the avant-garde and the mainstream, composition and improvisation— he's in a position to close the distance between them, and largely on his own terms."
The Composition: Iyer composed his first orchestral score a decade ago, when the American Composers Orchestra commissioned Interventions. Since then he has created a number of works for classical chamber ensembles—an art form that thrives on individual interplay, much like the small jazz groups Iyer leads from the piano. Orpheus certainly looks and sounds like an orchestra, but its collaborative process is pure chamber music, as Iyer emphasizes in his newly commissioned work, Asunder. Distinctive groupings of solo voices and structured improvisation empower the members of Orpheus to co-create a new reading of Iyer's composition with each fresh performance.
Orpheus Insight
Vijay Iyer, composer
Asunder seeks to elicit unlikely or even impossible unities in the traditional orchestra formation. This objective is approached by reassembling instruments into unusual groupings while specifying a literal "balance of power" among groups, and ceding a certain amount of control of the flow of events to the players. The materials and instructions in the score cultivate interdependence and relational listening among the players; sounds are not dictated but chosen, and then mutually reinforced through some simple interactive rubrics. The intent is to arrive somewhere together in each performance that is unforeseen—the result of a multitude of individual and collective decisions and actions, formed in time through an acute, carefully nurtured aural awareness within the group.
WOLFGANG AMADEUS MOZART (1756-1791)
Piano Concerto No. 9 in E-flat Major, K. 271
The Composer: Mozart, the onetime child prodigy who had dazzled audiences all over Europe, found himself in an unexpected predicament in his early adulthood. Through his teens and into his early twenties, he was stuck in his hometown of Salzburg, working for a troublesome Archbishop alongside his overbearing father, Leopold. Young Wolfgang fulfilled his basic duties by writing a certain amount of church music, but on the side he cultivated his own patrons, leading to opportunities to create and present instrumental music. It was in these years that Mozart made his first great strides in symphonies and concertos, paving the way for the freelance career in Vienna that finally freed him from Salzburg at the age of 25.
The Composition: Mozart completed the Piano Concerto No. 9 in E-flat Major in January of 1777, around the time of his 21st birthday. The amateur pianist for whom he created the work, Victoire Jenamy, was most notable for her family connection: her father was Jean-Georges Noverre, a famous dancer and longtime ballet master of the Paris Opera, whom Mozart had met in 1773. Madame Jenamy passed through Salzburg in the winter of 1776-77, on her way to Paris to see her father. The next year Mozart traveled to Paris in search of a job, and he likely delivered the concerto during a visit with the well-connected family.
The Nickname: This concerto, widely known as "Jeunehomme," has suffered from a glaring musicological mistake for the past century. Mozart referred to the concerto as the "jenomy" [sic] in a letter to his father, and two French biographers assumed that Mozart had bastardized a proper French name. In their 1912 volume, they supplied the name "Jeunehomme"—French for "young man"—which must have seemed close enough to "Jenomy," besides being a lovely nickname for a work indeed written by a young man. Scholars long assumed that this mystery pianist named Jeunehomme had vanished from the record, until the historian Michael Lorenz rediscovered the connection to the actual Madame Jenamy and her father. At a time when Mozart was desperate for a job outside his hometown, it made sense that he put such evident care into a concerto for the daughter of his influential Parisian friend. Lorenz also speculated that the appearance in the finale of a Minuet, the quintessential French dance, might have been Mozart's nod to Noverre the ballet master.
The Orchestra: The piano soloist joins an orchestra consisting of 2 oboes, 2 horns, and strings.
The Soloist: The Grammy-winning Pianist André Watts appears with Orpheus for the first time since 2003. He was just 16 when he made a nationally televised debut during a Young People's Concert with the New York Philharmonic, launching his international career. As the Los Angeles Times wrote just last year, Watts "is playing like a teenage phemon," and his performance "achieved a level of authority and command seldom heard from a pianist of any age."
The Sound: In the first movement, the piano's surprising entrance after just one measure of lead-in from the orchestra creates an intimate, conversational quality. The Andantino, Mozart's first concerto movement in a minor key, throbs with dark, muted textures and beautifully forlorn melodies, gilded with decoration befitting a coloratura soprano. The Presto finale, with its Minuet detour, is unusually substantial and affecting for a movement that by tradition was little more than an energetic closing flourish.
The Recording: Orpheus recorded this concerto with pianist Richard Goode for a 1998 release on Nonesuch.
LUDWIG VAN BEETHOVEN (1770-1827)
Symphony No. 1 in C Major, Op. 21
The Composer: Beethoven, born into a musical family in the German city of Bonn, left his hometown for Vienna in November of 1792, at the age of 21. His hero Mozart had died there a year earlier, but Beethoven went, with his patron's blessing, to "receive Mozart's spirit from Haydn's hands." Beethoven did study briefly with living legend Joseph Haydn, beginning a relationship that morphed over time from mentorship to rivalry. Instead of returning to Bonn as planned, Beethoven stayed in Vienna, establishing a freelance career as a keyboard virtuoso, much like Mozart had in the previous decade.
The Composition: Early on in Vienna, Beethoven shied away from Haydn's two signature genres: the symphony and the string quartet. Beethoven finally wrote his first quartets, a set of six grouped as Opus 18, between 1798 and 1800. As for symphonies, he attempted one in 1795-96, after hearing the groundbreaking symphonies that Haydn had composed for London. Beethoven finally completed his Symphony No. 1 in 1800, and he conducted the premiere that April, during his first benefit concert at the Burgtheater—the same venue where Mozart had presented his own popular concert series. Besides the First Symphony, Beethoven offered his Septet (Opus 20), a Mozart symphony, excerpts from Haydn's oratorio The Creation, a piano concerto, and some improvisations from the keyboard.
The Orchestra: 2 flutes, 2 oboes, 2 clarinets, 2 bassoons, 2 horns, 2 trumpets, timpani, and strings.
The Sound: Beethoven's First Symphony follows a template established by Haydn in the "London" Symphonies, and yet it also contains a germ of independence. The most striking departure comes in the very first sonority, an unstable chord that resolves away from the home key and only cycles back to C major after a drawn-out, tantalizing introduction. The finale brings this fledgling symphony full circle with another slow introduction that postpones the sense of arrival: The violins test an ascending scale, adding a note at a time, until they reach the top of the octave, launching a bright and hearty valediction.
© 2017 Aaron Grad.
ABOUT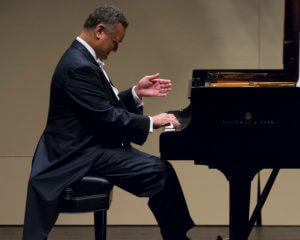 Orpheus Chamber Orchestra creates extraordinary musical experiences that enrich lives and empower individuals through collaboration, innovation, and a passion for artistic excellence. Orpheus strives to be the world's premier chamber orchestra by performing music at the highest level, challenging artistic boundaries, inspiring the public to think and work with new perspectives, and building a broad and active audience in New York City and around the world.
A standard-bearer of innovation and artistic excellence, Orpheus was founded in 1972 by a group of like-minded young musicians determined to combine the intimacy and warmth of a chamber ensemble with the richness of an orchestra. Orpheus performs without a conductor, rotating musical leadership roles for each work, and striving to perform diverse repertoire through collaboration and open dialogue. The ensemble has commissioned and premiered over 45 original works. Orpheus's recordings include the Grammy Award-winning Shadow Dances: Stravinsky Miniatures for Deutsche Grammophon, and over 70 other recordings for DG, Sony Classical, EMI Classics, BMG/RCA Red Seal, Decca, and others, including its own label, Orpheus Chamber Orchestra Records.
Orpheus presents an annual series at Carnegie Hall and tours extensively to major national and international venues. The 2017-18 Orpheus series in Stern Auditorium / Perelman Stage at Carnegie Hall features pianist André Watts; Norwegian cellist Truls Mørk in his first appearance with Orpheus; classical trumpet soloist Tine Thing Helseth in her Stern Auditorium / Perelman Stage debut; and violinist Lisa Batiashvili in her first appearance with Orpheus. As part of Orpheus' ongoing American Notes commissioning initiative, two new pieces—by Indian-American jazz pianist and composer Vijay Iyer, and award-winning Chinese composer Shuying Li—are additionally featured in the 2017-18 season.