Novalima Mixes Old and New Sounds From Peru
Few would have thought that the ancestral, gritty sounds of Afro-Peruvian music, made from a cajón (wooden box) and the rattle of a donkey jawbone, would become a modern sensation. But it has, thanks to the creative sounds of Novalima, an 8-year-old, four-member Peruvian band that has given a contemporary twist to the music of its country's African slaves. This month, Novalima is releasing worldwide its third CD, "Coba Coba," and it's scheduled to bring its electronica-folk infectious brew to New York in March.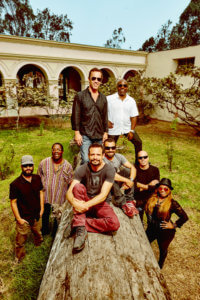 "It's different from the rigid, traditional folklore," says deejay and keyboardist Ramón Pérez-Prieto, from Lima, referring to the style popularized by Peruvian artists like Susana Baca, Perú Negro and Eva Ayllón. "And with this twist to the black Peruvian music, we've interested the youth and transmitted this culture." He explains that what makes Novalima's sound different is a "little touch" of Moog synthesizer, bass, electronic beats and an electric guitar.
The new CD also strays into a variety of genres, from dub to hip hop to salsa. The song "Libertá," remembering Peru's abolition of slavery in 1856, is likely to resonate in the U.S. for its lyrics: "Black man will be president / black man will be a lawyer / black man will sing Mass … because now we're free." "We actually thought of sending this song to Obama," says Pérez-Prieto, laughing. The 12-track album includes several original songs mixed with others that are 100 or 200 years old.
"Most of the lyrics are melancholic because they come from the slaves," says Pérez-Prieto, adding that the band has been researching the music for years. "The only outlet they had back then was through singing. And since they couldn't disrespect the patrons, many of the lyrics were concealed and it's difficult to know what they're trying to say." For instance, the rural song "Camote" (sweet potato) is supposedly about using one's feet to harvest potatoes: "A sacar camote con el pie," it goes, or "pulling sweet potatoes with the foot." "But the black culture actually identified it as a dance," he says. "In their way, they always tried to stay hopeful in hard times… With all the work they had to do under the whip, they talked about dancing."
Novalima is the brainchild of four globe-trotting hipsters from Lima: Grimaldo del Solar, Carlos Li Corrillo, Rafael Morales and Pérez-Prieto. "We've known each other since we were 13 or 14," says Pérez-Prieto, the only band member who still lived in Lima when they released their eponymous-titled first CD in 2003. The others had spread out to London, Barcelona and Hong Kong.
Their second album, "Afro," released in 2005, won an IMA (Independent Music Awards) for Best Album in World Fusion. For "Coba Coba," the four members regrouped in Lima and added four Afro-Peruvian old hands, including singer Milagros Guerrero and cajón player Juan (Cotito) Medrano.
"What started as a collective has become a real band," says Pérez-Prieto. "And you can feel it."
As published in the Daily News by Carlos Rodríguez Martorell in 2009
Want to experience this Afro-Peruvian sensation for yourself? See Novalima on Friday, November 15th at Carnahan Hall in Lafayette!