New lineup announced for Chris Potter Underground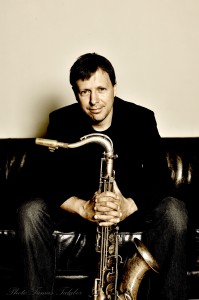 The Purdue Jazz Festival's 25th anniversary will kick off with Chris Potter Underground, which will perform on Friday, January 16 at 8:00 p.m. at Purdue University's Loeb Playhouse.  This performance is presented by Purdue Convocations.
Digging into the funk and jazz intersection, the Underground has become a place where Potter can explore the buoyancy of the groove but retain the dynamism of free jazz. In this pocket, his Underground bandmates bring impeccable chops to bear: Drummer Nate Smith (also a Purdue Jazz Fest veteran with Dave Holland's groups) anchors the proceedings with fluidity and finesse, in sync with the extraordinary bassist Fima Ephron (who regularly holds down the bottom end in the various configurations of the Underground). Meanwhile, guitarist Adam Rogers shows chameleonic range as soloist, rhythmist, and texturalist. The Underground has given Potter a place to let his voice—one schooled in the tone and vocabulary of Bird, Lester Young, and Sonny Rollins—dig into fresh and funky terrain.
This performance serves as Purdue Convocations' annual contribution to the Purdue Jazz Festival, a Purdue University Bands event that brings more than 2,500 middle- and high-school students to campus for clinics and concerts with noted jazz artists and clinicians. The Purdue Jazz Festival will celebrate its 25th anniversary in 2015. See details at dev-convocations.pantheonsite.io/bands.  
Tickets are $26 for adults and $19 for children 18 years and younger, Purdue students and Ivy Tech Lafayette students. Tickets are available at the Stewart Center box office at (765) 494-3933, (800) 914-SHOW or online through www.convocations.org/tickets .