"Melissa Aldana & Crash Trio" out now!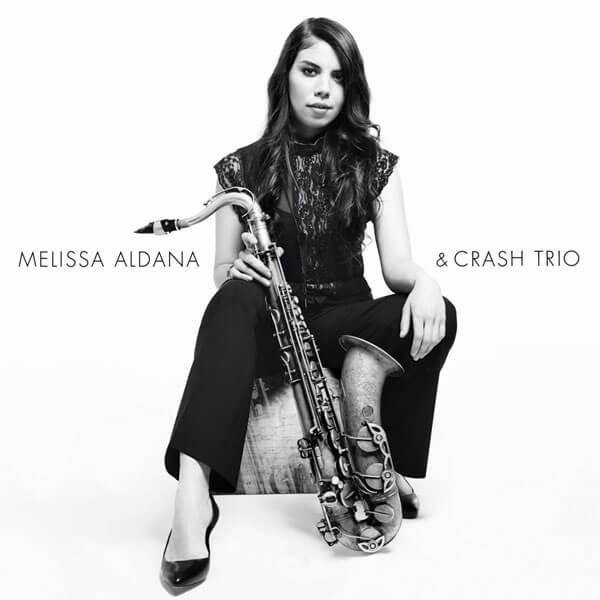 Melissa Aldana's third album and her first for Concord Records – entitled "Melissa Aldana & Crash Trio" – has been released today Tuesday June 24 in the US. The album also features master bassist Pablo Menares (also from Chile) as well as the dynamic and colorful Francisco Mela on drums (from Cuba – he also tours with Joe Lovano and McCoy Tyner). Great reviews are already pouring in..here's one from Something Else. And another from London Jazz News. The editorial review on iTunes also gets the album & the music very well. The album is also available on CD from Amazon as well as directly from Concord Records.
This is all happening while Melissa & Crash Trio are on a rather hectic tour schedule. On June 16 they began the tour at Dizzy's Club Coca-Cola in NYC, and Brian Pace produced a video repertage with interview (The Page Report) from the show which you can watch by clicking here. On June 17 the band played in Portland, OR, on June 18 in San Diego, CA and on June 20 at the Vancouver Jazz Festival in Canada. On June 23 Melissa & Crash Trio played the wonderful Rochester Jazz Festival – Rochester Festival Director John Nugent is himself a killing saxophone player (and a big supporter of Melissa)!
Melissa is headed back to NYC today prior to going to DC Jazz Festival as a special guest with the legendary Paquito D'Rivera on June 27. Then on June 28 Melissa & Crash Trio are headed to Twin Cities Jazz Festival, on June 29 to Saratoga Jazz Festival in upstate New York, June 30 to Ottawa Jazz Festival (Canada) and on July 5 to Iowa City Jazz Festival.
Then, from Iowa, it's straight to Europe – here are the upcoming European dates this summer:
July 8: Vienna Jazz Festival, Austria
July 10: Copenhagen Jazz Festival, Denmark
July 11: Copenhagen Jazz Festival, Denmark
July 15: Umbria Jazz Festival, Italy
July 17: Vitoria Jazz Festival, Spain
July 31: Marciac Jazz Festival, France
Aug. 1+2: Duc des Lombards, Paris, France
Don't miss Melissa Aldana & Crash Trio on October 17-18 at Carnahan Hall in Lafayette, Indiana!