Meet Paul Morrissett who plays bass and tsimbl in The Klezmatics
When he's not busy with the Klezmatics, Paul Morrissett—who has been with the group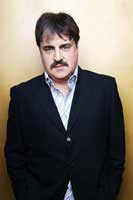 since their first album—spends much of his time fiddling for dances. "I love dance fiddle," he says. "When people are dancing in front of the Klezmatics, that's always a high for me."
Morrissett is an avid collector and player of the instruments of Eastern Europe and Scandinavia and has studied with many masters of these traditions. In addition to the tsimbl, which is similar to the hammered dulcimer, he has recorded and performed on Hardanger fiddle, violin, nyckelharpa, gadulka, baritone horn, accordion and tamburitza. He has been on the staff of numerous music camps as an instructor, including Fiddles and Feet, Lark in the Morning, Buffalo on the Roof, Ashokan Northern Week and Balkan Music & Dance. Paul enjoys playing for Contra and English country dances.
Morrissett has a long history with this particular art form. "It's my childhood music," he says. "I was an international folk dancer as a kid." While living in Colorado in the late 1970s, before he joined the Klezmatics, Paul, who also learned piano as a child, played for international folk dancing events. He attended graduate school for a couple of years and then moved to New York, where he started dabbling in different kinds of music, mostly Balkan, then Scandinavian. "All of this was essentially amateur stuff," he says. "Then I started playing bass and once people found out about that I got more work as a bassist. I ended up with a pretty good bass-playing gig!" he deadpans about his successful tenure with the Klezmatics.
That gig came about when the group's previous bass player decided to leave. Lorin Sklamberg, one of the group's co-founders, gave Paul the call. He admits he wasn't well-versed in the genre but he quickly found himself immersed. "I had heard klezmer and was interested in it but I didn't know anybody who was playing it. To me it's a flavor of something I'd been dancing to since I was a kid, the Eastern European modes, so it was not a stretch at all. I was fooling around with all these different ethnic musics and here's one that has everything you want, including lots of people I already know discovering their own culture. And yet it's so intertwined with American culture."
The Klezmatics will perform "Happy Joyous Hanukkah" on December 13 in Loeb Playhouse.