Meet Matt Darriau who plays woodwinds in The Klezmatics
Matt Darriau has contributed to the Klezmatics' music ever since they released their debut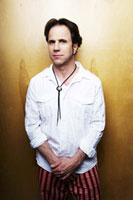 album, Shvaygn =Toyt (Silence = Death), in 1988, but it wasn't until 1995 that he became an official member, just in time for their fourth release, Possessed. Matt's full integration into the group was the culmination of a personal and musical journey that began back in Indiana, where he grew up "in an arty household where my father held international folk dance parties featuring Israeli, Balkan, Greek and Scandinavian dance music." Although the elder Darriau came from French Catholic stock, "He loved and embraced Jewish and Eastern European culture," says Matt.
Darriau, who describes himself as a "musical polyglot," was a jazz fan first and foremost, but once he arrived in Boston, where he attended the New England Conservatory of Music's Third Stream program, he began looking to world music for new inspiration. "We spent a lot of time in the international sections of used record stores and passed tapes along to each other," he says.  "It developed from there, with an intention of integrating improvisatory ideas with this music."
Klezmer, Balkan and Celtic music all gave Matt the creative outlet he sought, and even today, when the Klezmatics take a break from their busy touring and recording schedule, Matt keeps himself sharp by playing Irish, Balkan, klezmer and jazz and leads his own Balkan rhythm quartet, Paradox Trio. He has made music for dance, theatre and film, including a recent commission from Chamber Music America for his avant-swing band, Ballin' the Jack. In addition to the Klezmatics, he has collaborated with Gunther Schuller, Elliott Sharp, Marc Ribot, George Schuller, Theodosii Spassov, Mark Feldman and many others.
Some of Darriau's other recent projects include Yo Lateef, a jazz quintet inspired by the music and legacy of Yusef Lateef, the Recycled Waltz Orchestra and Disastro Totale with Yuri Lemeshev of Gogol Bordello and Celtic Eclectic, with its original take on Irish music featuring uilleann pipes player Ivan Goff. He has also recorded and performed with David Byrne, Marc Ribot, Roberto Rodriguez, Itzhak Perlman, Ken Butler, Ben Folds Five and many others in the New York and world scene.
Matt Darriau was named one of the most influential jazz musicians of the past 15 years by Jazziz Magazine for bringing Balkan rhythms and melodies into jazz.
The Klezmatics will perform "Happy Joyous Hanukkah" on December 13 in Loeb Playhouse.