Meet Lorin Sklamberg who plays accordion, guitar, piano, and lead vocals in The Klezmatics
The legendary music critic Robert Christgau has described Lorin Sklamberg's voice as "transcendent, ethereal and sensual,"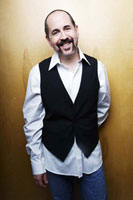 while a writer for Folkworld gushed that the Klezmatics' frontman "brings tears into my eyes with his fabulous way of singing." Since he co-founded the legendary klezmer group in 1986, Lorin Sklamberg has been on the receiving end of countless tributes of that nature—his crystalline, expressive vocalizing never fails to have an emotional impact on all within its range.
Sklamberg, who says he "sang before he spoke" and taught himself to play guitar, piano and autoharp, has been involved in the world of Jewish music since he was 15 years old, when he co-founded a band, Rimonim, with three Hebrew school classmates at his conservative shul in Alhambra, California. After being introduced to klezmer, Lorin began to seek out songs within the genre, but it wasn't until after he moved to New York in the early '80s that he was able to incorporate klezmer into the music he performed.
Prior to that move, Lorin attended two California universities and dabbled in Early Music, opera, American folk and pop and Balkan and East European musics, in addition to dancing and singing in four semi-professional ethnic song and dance ensembles. He studied voice, guitar, accordion and oud and served as the cantor at USC's Hillel House and Los Angeles' gay and lesbian synagogue, Beth Chayim Chadashim.
"It was through this last experience that I became part of a gay-Jewish-radical faerie folk duo, Pilshaw and Sklamberg, and traveled the country for a summer performing house concerts and shows in gay bars," says Sklamberg. "We even recorded a commercially released cassette, Bending the Rules."
While attending a Balkan singing workshop with Michael Alpert, the great Yiddish singer, Alpert "took me aside and played me a cassette of him performing a song on the seminal Yiddish band Kapelye's then-unreleased first record," says Lorin. "That gave me the idea that this was something that I, too, could do. It was the moment that eventually led to me literally finding my voice."
But New York beckoned and Lorin headed east in 1983. Since the creation of the Klezmatics, Sklamberg has continued to find his voice and apply it to a number of disciplines. He has also worked for the YIVO Institute for Jewish Research for almost 20 years, first as a jack-of-all-trades, graphic designer and Yiddish typesetter, and then as its Sound Archivist. For 14 years he was the coordinator of KlezKamp: The Yiddish Folk Arts Program, and co-founded Living Traditions, the non-profit that sponsored it for seven of those years.
"The Klezmatics remain my primary musical outlet," says Lorin, "but I have a couple of side projects—one is an ongoing series of programs of (primarily Hasidic) Jewish spiritual music with bandmate Frank London, the other is an exploration of the Yiddish and Irish song traditions with Dublin-born vocalist Susan McKeown."
Lorin can be heard on some 50 CDs, and also composes and performs for film, dance, stage and circus, produces recordings, and teaches and lectures from London and Paris to Kiev and St. Petersburg. By day he works as the Sound Archivist for the YIVO Institute for Jewish Research.
The Klezmatics will perform "Happy Joyous Hanukkah" on December 13 in Loeb Playhouse.