Meet Lisa Gutkin who plays violin and vocals in The Klezmatics
Lisa Gutkin is the most recent full-time addition to the Klezmatics, having joined the band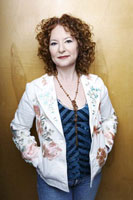 on violin and vocals with 2002's Rise Up! Shteyt Oyf! album. She was brought to the group via early recruit Matt Darriau when the two musicians were playing together in a Celtic band called Whirligig. Darriau played Gutkin some old recordings of Jewish violinists and "I flipped," she says.
The Klezmatics were a natural home for Lisa. "I grew up playing classical violin and then bluegrass, Irish, a host of other international styles and backing songwriters," she says. "I had made a pact to only play Irish music but the Klezmatics were such a fantastic band and these old recordings mesmerized me. So when the Klezmatics called me I decided to give it a try. I had an immediate feel for it, but it took many years before I felt that I understood Klezmer deeply."
In fact, landing in the Klezmatics represented something of a personal sea change for Lisa. "I spent my summers in a leftist bungalow colony started by my grandmother, great aunt and their friends in 1929," she says, "and my grandmother used to drag me to Yiddish singing sessions, which I simply hated. It was old people's music, and it was too schmaltzy. Oddly it was my paternal grandfather's more cantorial voice that I referenced in my head more than my maternal grandmother's Yiddish singing when I was learning the phrasing and note emphasis."
Born in Brooklyn to a musical family, Lisa was already playing in orchestras by age 8, and soon winning awards for her classical playing. In her teens she branched out into Irish, bluegrass and rock, and then went on to earn a Bachelor of Music degree in classical violin at the Aaron Copland School in Queens, N.Y. Her prowess quickly attracted the attention of the international and folk music communities, and Lisa began playing with a wide variety of artists, from the Southern Italian music theater group I Giullari di Piazza to Amigos del Tango, the Waverly Consort and, as part of the Fast Folk Collective, singer-songwriters such as Suzanne Vega, Shawn Colvin, and the Roches. Her diversity and improvisational skills have led her to numerous gigs with the likes of John Cale, Steeleye Span, Jane Siberry and the Irish artists Tommy Sands, John Whelan, Steve Cooney and Cathie Ryan. No less an icon than Pete Seeger called Lisa's "Gonna Get Through This World"—one of two pieces she composed for the Klezmatics' Grammy-winning album Wonder Wheel—"a piece of genius."
Lisa also composes for film, radio, television and theatre. She can be heard on two songs she composed for episodes of Sex and the City's final season, and she made a cameo on-screen appearance on the show (with the Klezmatics). She also accepted a composing commission for Song For New York: What Women Do While Men Sit Knitting, and put in a stay at the MacDowell Artist Colony. She's worked with the Pilobolous Dance Company's Davenen (with the Klezmatics), Ralph Lee's Mettawee River Company, Pat Cannon's Foot & Fiddle Dance Company and the Phoenix Theater Company'sAs You Like It, and was Music Director for the Lincoln Center Director's Guild Production Mary Queen of Scots Got Her Head Chopped Off, Music Director for the New York Renaissance Festival in Sterling Forest, N.Y., and co-orchestrator for Song of Songs by Elizabeth Swados.
Gutkin also leads fiddle styles workshops at folk festivals, as well as master classes and artist residencies for universities and folk organizations, and many of her private students are or have gone on to become professional musicians.
The Klezmatics will perform "Happy Joyous Hanukkah" on December 13 in Loeb Playhouse.