Mavis Staples is Livin' on a High Note
From the beginning, there was her voice—uncannily mature and effortlessly sliding between gospel, blues, soul, and R&B. Alongside her sisters and father, gospel luminary Roebuck "Pops" Staples, Mavis Staples propelled the Staple Singers to their first hit before she even graduated from high school.
A 1963 meeting with the Rev. Dr. Martin Luther King Jr. inspired them to advance the Civil Rights Movement through resilient, rallying anthems like "Freedom's Highway" and "Why (Am I Treated So Bad)?" and spread, as Pops said, "a ray of light on the world." Even on the Stax/Volt label, the Staples maintained positive messages in 1970s crossover hits like "I'll Take You There" and "Respect Yourself."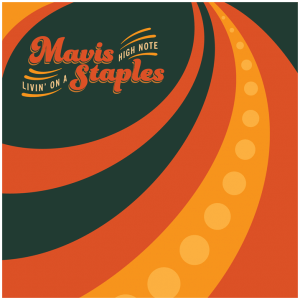 In her enduring solo career, Mavis has collaborated with Bob Dylan and Prince and continues to earn accolades. Mavis won her first-ever Grammy® for 2010's You Are Not Alone, and her latest album, Livin' on a High Note, features songs written specifically for her by acclaimed artists and acolytes like Neko Case, Aloe Blacc, M. Ward, Nick Cave, and Ben Harper.
Did you know?
In the late 1960s, Bob Dylan proposed marriage to Mavis Staples. Although they had dated for seven years, she turned him down. Dylan has referred to Staples ever since as "the love that I lost."
"I know I don't have as much time on this Earth as I've already had, but I see it as saying, 'Mavis has been here, y'all,' " Staples says. "Before I move on, I just want to leave some Mavis with you that you're not used to hearing. I want to leave you with some joy and love, and some don't-forget-me songs."
As if anyone could ever forget this American treasure's indomitable enthusiasm and larger-than-life voice.
Mavis Staples at Purdue University
https://live-convocations.pantheonsite.io/event/mavis-staples/
BUY TICKETS
Pre-Show Discussion
7PM / Stewart Center, Room 202
James Dekle, Purdue Black Cultural Center Artist-in-Residence, will discuss Mavis Staples and her influence on gospel music and civil rights.
Kennedy Center Honors

On December 4, Mavis Staples will receive the 2016 Kennedy Center Honors for lifetime artistic achievements. "The Kennedy Center Honors celebrates the spectacular talents of artists whose brilliance has left a lasting impact on our society," stated Kennedy Center Chairman David M. Rubenstein.
Staples — along with Argentine pianist Martha Argerich, rock band The Eagles, screen and stage actor Al Pacino, and musician James Taylor — will be honored in a star-studded celebration with performances by today's leading performers. President and Mrs. Obama will host the Honorees and the event will be broadcast on CBS on December 27, 2016 at 9:00 p.m., ET/PT
A Musical Collaborator
Mavis Staples has worked with Wilco and Nick Lowe, James Taylor, and Bon Iver, Nick Cave, tUnE-yArds, Neko Case, Aloe Blacc, and others on her latest project Livin' on a High Note.
Mavis Staples and Jeff Tweedy of Wilco
Mavis! on HBO
Mavis! is the first feature-length documentary on gospel/soul music legend and civil rights icon Mavis Staples and her family group, the Staple Singers. Mavis! premiered on HBO this past February and is available on HBO NOW / HBO GO.
See Mavis Staples in Loeb Playhouse
https://live-convocations.pantheonsite.io/event/mavis-staples/