Mamma Mia! is a truly original musical
By Judy Cramer, Creator of Mamma Mia!
As Creative Producer of Mamma Mia!, my job started long before any script had been written. The story begins more than 25 years ago when I first met Björn Ulvaeus and Benny Andersson, the songwriting geniuses behind ABBA. I was working for Sir Tim Rice at the time, who was collaborating with Benny and Björn on his musical Chess, and I was immediately smitten. After all, these were the men who had written "Dancing Queen", one of the greatest pop songs of all time. But it was another of their songs, "The Winner Takes It All", that first suggested to me the potential of an original musical using Benny and Björn's classic compositions. The lyrics revealed a roller-coaster story of love and loss that struck me as extraordinarily theatrical, but how was I to bring this to life?
First I had to approach Benny and Björn, who were understandably a little unsure of my intentions. I explained that the project I had in mind would focus on a new and exciting story; it wouldn't be a tribute show, or the "ABBA Story", but a truly original "book" musical. They weren't 100% convinced at the time, but they didn't absolutely close the door, so I took hope.
So I sat on the floor of my apartment listening to ABBA late into the night. I may have driven my neighbours to despair, but as time passed I became more and more certain of my idea. In 1995, my tenacity finally paid off. Björn said, "If you can find the right writer and story, well, let's see what happens."
A year later, I was on location with a film I was producing when the director mentioned Catherine Johnson. I was aware of her work as a playwright and, even better, I knew her agent. We met in January 1997 and soon I was confidently telling Björn that we had found our writer and that my co-producer, Richard East, and I had commissioned her to write the story.
The 10th anniversary farewell tour is back one last time. Relive ABBA's hits in this feel-good show featuring "Dancing Queen," "Take a Chance on Me," and more, Friday, Feb. 24 / 8:00 PM / Elliott Hall of Music
https://live-convocations.pantheonsite.io/event/mamma-mia-2/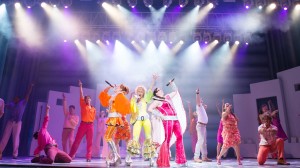 My brief to Catherine was that no lyrics could change, the story should be a contemporary, ironic, romantic comedy, and that if she listened carefully to ABBA's songs, she'd notice how they fell into two different generations: the slightly younger, playful songs like "Honey, Honey" and "Dancing Queen", and the more mature, emotional songs such as "The Winner Takes It All" and "Knowing Me, Knowing You"…and so the idea of a cross-generational love story was devised.
By the end of that year, Catherine had finished the first draft of Mamma Mia!'s script, and I persuaded Phyllida Lloyd to come on board as our director. Her background was serious, legit theatre and opera, and her secret weapon was her 'dry martini wit'. We discovered we all shared the same birth year and soon firmly bonded.
It was unusual, if not unheard of, for three women to be the collaborative creative force behind what was to become such a commercial success. From a personal point of view, I think it readdressed the balance and had a great nurturing effect on the production. We were all happy to jump in and make the tea. Appropriately, Mamma Mia! features three strong women in the story. Their characters are completely different – slightly bossy, a bit chaotic, extremely practical, and very high maintenance! We have a lot of laughs about who is who in real life, and, as time goes by, it's a little worrying that we have become even more like those characters on stage.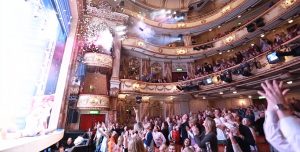 Suddenly it was time to give up my day job as a television and film producer and prepare for the white-knuckle ride of making the dream a reality: money to raise, a theatre to find, artwork to create, ticket agents to seduce, deadlines to meet. It was the summer of 1998 and we had to open by April 7th 1999 or we'd lose Phyllida, who'd been booked years in advance to direct an opera at The Coliseum in London. The suggested opening dates were April 6th or April 9th. April 6th happened to be the anniversary, to the day, of ABBA winning the Eurovision Song Contest with 'Waterloo' 25 years before. It seemed a good omen.
Although Björn was enthusiastic and shared the vision for the musical, Benny was a little more cautious and at any time both could have put an end to the whole project. It was a tense time, as their emotional backing as well as their creative input was very important to me. If they were going to trust me with their fabulous songs I didn't want to let them down. Benny and I agreed that on our First Night one of us would be able to tell the other "I told you so".
By now we had a date for opening but we had no theatre. We'd been looking at smaller venues when suddenly the rather large and prestigious Prince Edward Theatre in London's West End became available, the very same theatre at which Chess had opened ten years earlier – another omen perhaps? But its sheer size meant that the scale of the production had to expand dramatically too, with cast, crew, set and budget all having to be reworked. A lot of fingers were crossed for the big night.
And so… April 6th 1999, a night I will never forget – the World Premiere of Mamma Mia! The audience were charmed and one British critic wrote, "Mamma Mia! could put Prozac out of business".
Benny heartily accepted his defeat: with the entire theatre dancing in the aisles, he turned to me and said, "You can say it now". I flashed back, "I told you so!". We still joke about it.
On the Road with MAMMA MIA!
The idea of Mamma Mia!'s international appeal had never been seriously considered when the show was in its infancy, but with a certifiable hit in London came the chance to recreate the show in other countries, and over the past 15 years we have certainly done that. The statistics are mind-boggling and defy comparison with any other musical production in history.
Our very first North American premiere was in Canada at Toronto's Royal Alexandra Theatre, where we were booked in for six months. The production ran for five years. The first US Tour ventured into the United States, opening at the Orpheum Theatre, San Francisco also in 2000. We were warned that America wasn't as familiar with ABBA's music as their European counterparts, so we should consider Broadway a cautious dream. Not for long. Having
celebrated over 12 years and 5000 performances at the Winter Garden Theatre, Mamma Mia! transferred to the Broadhurst Theatre on Broadway in late 2013.
It's been a similar story wherever we've been: in Las Vegas the show ran for six solid years at the Mandalay Bay Theatre. Across Australia, New Zealand, Hong Kong and Singapore it ran for four years.
And then we began translating Mamma Mia! into other languages, beginning with the German-language production at the Operettenhaus in Hamburg in 2002, where 2.5 million people saw the show over the following five years. Similarly, audiences have flocked to hear their favourite songs sung in their own language in Utrecht, Antwerp, Moscow, Gothenburg, Oslo, Mexico City, Copenhagen, Sao Paolo, Aarhus, Rome, Milan and Buenos Aires, as well as throughout Germany, Spain, The Netherlands, Japan, Korea and France. Benny and Björn certainly had their work cut out in the build up to the Stockholm production, which ran for over two years. We were delighted to launch the English-language International Tour, which premiered in Dublin in 2004 and has been enjoyed by over 4.3 million people, and is now back on the road again.
And then there's China, Shanghai to be precise, where Mamma Mia! opened in July 2011 and what an extraordinary achievement by the whole organisation that represents. It took literally years of planning and negotiating as well as actual political change within the People's Republic to reach this goal…to reach the point at which Mamma Mia!'s technical complexity and artistic excellence – leaving aside the challenges of translation and casting – can be staged and performed to the highest professional standards by an entirely Chinese company yet still under the direction of the British associate creative team who work on Mamma Mia! around the world. With a Chinese language version of the show flourishing, the potential is astronomical: in effect, another 1.3 billion people or one-fifth of the world's population now have their very own version of Mamma Mia! to enjoy.
On the Big Screen with Mamma Mia!
And let's not forget Mamma Mia! – The Movie. What a thrill to work with Universal Pictures and the same brilliant team of Catherine and Phyllida, augmented for some glorious weeks in 2007-2008 by movie stars of the calibre of Meryl Streep, Pierce Brosnan, Colin Firth, Stellan Skarsgård, Christine Baranski, Julie Walters, Amanda Seyfried and Dominic Cooper. The film had its worldwide premiere in London on 30th June 2008, in the city where the stage play had celebrated its premiere nine years before, and rapidly made history as the highest grossing movie of all time at the UK and Irish box offices.
One thing I've learnt from fifteen fun and frantic years of overseeing and coordinating the many productions of Mamma Mia! is that the potential and possibilities are continuously exciting and seem to be limitless. The way our film was received and taken to heart by so many people throughout the world seems to confirm that.
For me, the whole experience of Mamma Mia! has been totally life-changing and would simply not have been possible without an amazing creative team and the trust and co-operation of Björn Ulvaeus and Benny Andersson. My special thanks must also go to the wonderful actors, musicians, stage management, crew and theatre staff who make Mamma Mia! happen on stages around the globe, night after night after magical night…
Enjoy the show!
-Judy Cramer, Creator of Mamma Mia!