Let The Journey Take You Away
By Stacey Mickelbart, former President of the Convocations' Friends Advisory Board
I admit: until Scott Silven showed up at Purdue Convocations in 2018, I was the last person who'd buy a ticket to see an illusionist. Maybe it's the journalist or the nerdy student in me, but I deal in facts, and I was always too obsessed with figuring out the "how" to appreciate the magic.
Silven's At the Illusionist's Table intrigued me. I knew he'd earned raves at the Edinburgh Fringe Festival and the performance occurred during a gourmet meal paired with wine and whisky. And I wasn't disappointed—I was hooked! Silven is so good that I immediately relaxed into the performance and enjoyed it.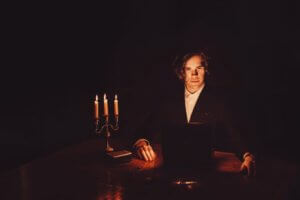 So I was excited for the early chance to see The Journey, which Convocations is presenting online in January. But I can't blame you if you're the skeptic now. With all the screen fatigue and time spent at home this year, you might be tempted to skip an online performance. Don't!
The Journey is mesmerizing, with all of Silven's signature touches. First, it's a beautiful show. The moody shots of the Scottish landscape in the performance trailer are carried through the show and the set. This includes the short audience preview, which shares a couple of things for you to think about and gather beforehand—because you're not simply observing; you're integral to the performance.
The production quality is high, too. This is not your office Zoom. Only a few people attend each performance, and the way Silven brings audience members briefly into the show to participate flows smoothly and looks stylish. He never asks you to engage in ways that are uncomfortable or embarrassing; you simply provide the prompts that become part of the performance in sweet and jaw-dropping ways.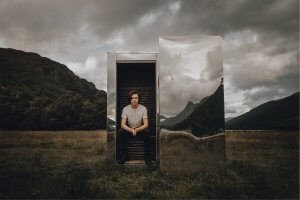 But the thing I love most about Silven's performances is how he weaves the illusions he creates into a story. By asking the audience to join in, he intertwines your stories with his. When we share small moments from our lives—the places and people most important to us, the memories and objects we cherish—it's wonderful to realize that people we've never met treasure similar things. In a year where many of us have been isolated from friends and family, that felt especially moving, and made the globe just a little bit cozier for the hour I was immersed in The Journey.
To hear more about the performance and what some of our Friends and staff think about Scott Silven's new show, watch the video below.