Julie Aker Awarded Student Employee of the Semester
by Kristen Day – Marketing Intern
Alongside bringing arts, culture, and ideas to the Purdue community, Purdue Convocations is happy to employ interns in production, marketing, and graphic design. Interns work with staff to learn the ins and outs of a career in performing arts. Their contributions help bring every season to life.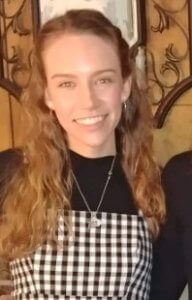 This semester, Convos is happy to recognize production intern Julie Aker who was awarded the VPSL Student Employee of the Semester. The honor is given from the Vice Provost for Student Life to celebrate two student workers each semester who exceed their job responsibilities, demonstrate leadership, further an organization's goals, and provide a unique and positive impact.
Julie is a senior in the Honors College pursuing a Bachelor of Arts in both Theatre Design and Production, and Film and Video Studies from Auburn, Indiana. As an intern, Julie has been an awesome addition to our production team. We're excited to see what her future holds after graduating this May.
Congratulations, Julie!