'Judgment at Nuremberg' to be presented Oct. 18-19 at Purdue
L.A. Theatre Works, led by producing director Susan Albert Loewenberg, on Oct. 18-19 will bring "Judgment at Nuremberg" to Stewart Center's Loeb Playhouse. This performance is presented by Purdue Convocations with support from University Place.
Ticket holders are invited to attend a preshow discussion at 6:30 p.m. Oct. 18 in Stewart Center, Room 206, with faculty members to discuss the social, historical and political questions surrounding the Nuremberg trials.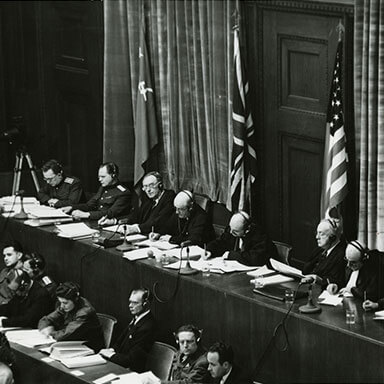 A key cast member is John Vickery as Judge Ernst Janning. Vickery is a veteran of numerous Broadway productions. He originated the role of Scar in "The Lion King" on Broadway and has appeared on dozens of television shows including "Babylon 5," "The Medium," "NCIS," "NYPD Blue," "Frasier" and "Modern Family."
Others in the cast include Josh Clark, as chief prosecutor Col. Parker. He's had recent roles on TV shows such as "True Detective," "Mad Men," "Murder in the First" and "Grey's Anatomy." The defense attorney Oscar Rolfe will be played by Matthew Floyd Miller and Judge Haywood will be played by Kip Gilman, who has four decades of television and film credits including "Trapper John, M.D.," "The Rockford Files," "Columbo," "Laverne & Shirley" and "CSI: Miami."
Learn more about the recognizable and respected television, theater, and film actors, as well as, the several up and coming performers.
On the heels of World War II, the Allied powers conducted military tribunals to prosecute those accused of committing crimes against humanity under the Nazi regime. "Judgment at Nuremberg" was originally a teleplay and later an Oscar Award-winning film. This stage production is based on Abby Mann's Oscar-winning script.
Tickets for Judgment at Nuremberg
Tickets are $30 for adults and $22 for those 18 years and younger, Purdue students and Ivy Tech Lafayette students. Tickets are available at the Stewart Center box office at 765-494-3933 or 800-914-SHOW. Group tickets are also available to groups of 10 more. Call 765-496-1977 for more details or visit https://live-convocations.pantheonsite.io/group-sales/
Initiated in 1902, Purdue Convocations was one of the first professional performing arts presenters in the United States. Each year, Convocations offers 30-40 performances of widely varying genres. Purdue Convocations aims to promote frequent exposure to and familiarity with human cultural expression in a multitude of forms and media.
Source: Abby Eddy, Purdue Convocations director of marketing, 765-494-9712, aeeddy@purdue.edu
Note to Journalists: Publication-quality photos are available at http://www.convocations.org/press