Johnny Cash: The Official Concert Experience Comes to Purdue on November 10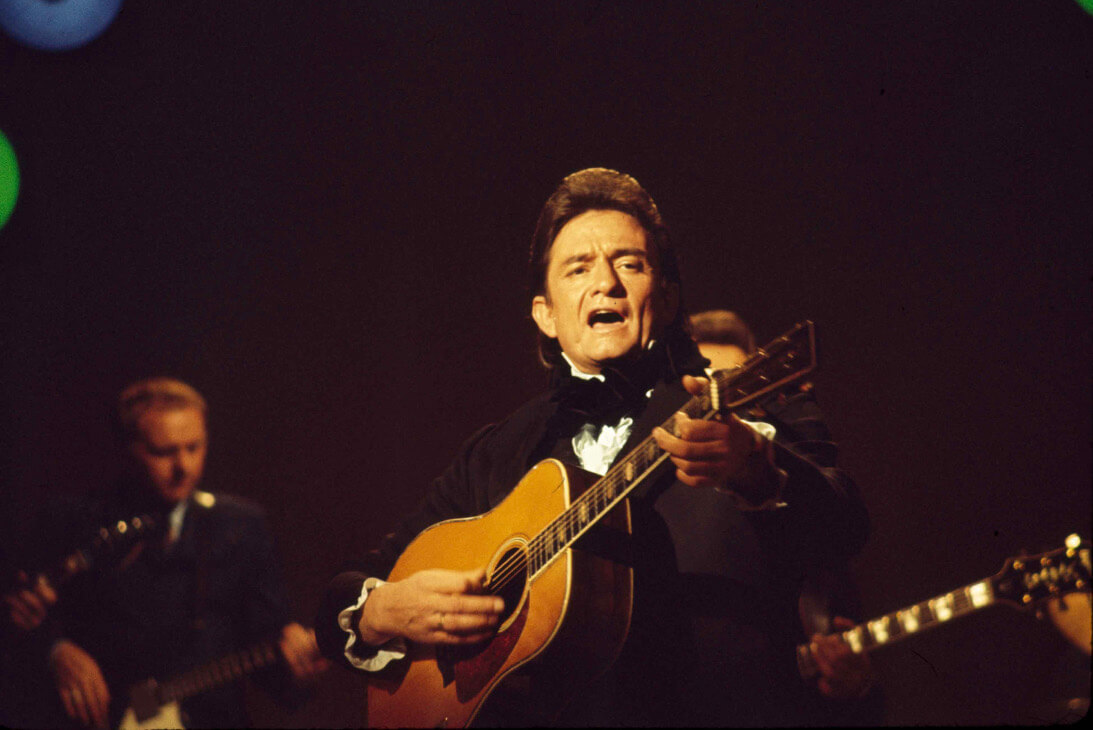 Fans of Johnny Cash can experience his music in a whole new way with Johnny Cash: The Official Concert Experience (Nov. 10, Loeb Playhouse). This multi-media performance uses state-of-the-art technology as well as a live band and on-screen narration from John Carter Cash to share the story and music of one of the most beloved musicians of all time.
Johnny Cash is one of the most important, influential, and respected artists in the history of recorded music.  From the monumental live prison albums to his extraordinary series of commentaries on the American spirit and human condition to a mesmerizing canon of gospel recordings to his remarkable and unprecedented late-life artistic triumphs of will and wisdom, his impact on our culture is profound and continuing.
John R. Cash was born into a family of Arkansas sharecroppers in the middle of the Great Depression, and that hard-scrabble life instilled in him a reverence for family, the earth, God, and truth that informed his incredible life and vision over a half-century career. After a stint in the United States Air Force, where he distinguished himself as a radio intercept operator, and less-successful efforts as an automobile factory worker and door-to-door home goods salesman, Johnny broke onto the music scene in 1955 on Memphis' fabled Sun Records. It was here, at the "birthplace of rock and roll," where the world was introduced to his singular voice and compelling songwriting, through such eternal classics as "I Walk the Line," "Big River," and "Folsom Prison Blues."
As Johnny matured as an artist, he took his disciples on soaring adventures of the mind and soul, including Ride This Train, a travelogue of the sights and sounds of his beloved country; Blood, Sweat and Tears, the Cash canon of working man blues; Bitter Tears, a searing examination of the treatment of Native Americans; The Holy Land, Hymns from the Heart and other deeply personal statements of faith and devotion; and, of course, the historic concerts at Folsom Prison and San Quentin, where he demonstrated that compassion and healing are more integral to humanity than retribution and disdain.
In 1969, The Johnny Cash Show was a groundbreaking fusion of musical styles, fresh voices, and enduring legends that elevated him to the pinnacle of his craft, taking him to stages such as the White House, Carnegie Hall, behind the Iron Curtain, and even Northern Island, where the combatants in the Troubles temporarily ceased the hostilities to gather together in a Belfast church to hear him sing—albeit from opposite sides of the aisle. When he became the biggest selling recording artist on earth, it was an affirmation of his universality.
In his later years, new audiences flocked to hear his consideration of what it means to be human. His powerful statements on love, forgiveness, and life and death spoke across time and generation, and still do today. At the end of his life, Johnny Cash had become not only the champion and conscience of the American Experience, but a portal through which mortals glimpse immortality, an exemplar of overcoming adversity through honesty, and a role model in the everlasting pursuit of Redemption and the promise of the unclouded day.
The music never stops in Johnny Cash: The Official Concert Experience, and there's something for everybody to enjoy in this exciting musical performance. Don't miss this show at Loeb Playhouse on November 10!
Friday, November 10
8:00PM
Loeb Playhouse
---
THIS PERFORMANCE POWERED BY: