Joffrey Ballet Review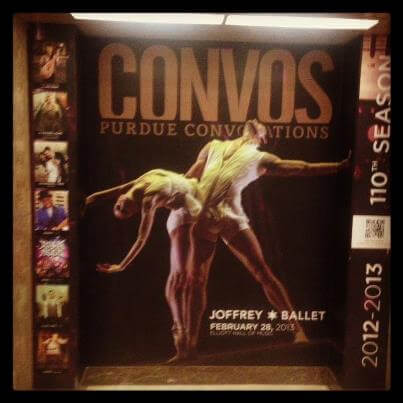 The Joffrey Ballet brought a diverse program to Purdue Convocations, opening with two pieces that premiered in the last decade. The references to Jane Austen's novels in Edwaard Liang's Age of Innocence were recognizable from the piece's first moments, as dancers in cream and gold separated into lines of men and women facing each other, greeting one another with courtly bows. Liang explores the limited choices women in the late 18th and early 19th century had, and how little time couples had to get to know one another before marrying. The first pas de deux is melancholy, but when the men dance together in the next act, they're full of enthusiasm and vigor, like guys prepping for a night out on the town. (Easier for them; they hold more cards in Austen's world.) Christine Rocas stood out in the second pas de deux; in one stunning combination, partner Ogulcan Borova lifted her from arabesque into a graceful roll over his back. Music by Philip Glass and Thomas Newman was the perfect accompaniment, but in acts including the corps de ballet, precision of movement was lacking.
In Christopher Wheeldon's After the Rain, set to music by Arvo Pärt, it's the "after" section that's most striking. Three couples open, but then the scrim fades from the green-blue-greys of rain to the peach of a low-hanging sun, and a sensual and meditative pas de deux begins. Kara Zimmerman's long curly hair flowed loose, though the choreography (or the dancer's improvisations?) allowed her to gracefully sweep the hair out of her eyes at key moments, as when Mauro Villanueva lifted her into a pose resembling a ship's figurehead.
For many in the audience, however, The Rite of Spring was the most anticipated work on the program. While numerous choreographers have set dances to Igor Stravinsky's score, Joffrey Ballet is known for its collaboration in a meticulous reconstruction of Vaslav Nijinsky's original choreography and Nicholas Roerich's costumes and sets for Diaghilev's Ballets Russes. The piece, which famously caused a riot when it premiered in Paris in 1913, would not seem so strange and outrageous to today's audiences a hundred years later, said the company's ballet master Gerard Charles in a pre-show discussion.
I'm not so sure that's true. The movement is still shocking—so primitive compared to any traditional expectation we might have of ballet. This was Nijinsky's goal, and he choreographed squat, stomping movement, with dancers pounding the ground, raising their fists, convulsing, or taking pigeon-toed stutter steps. The dancers celebrate spring in the first act and sacrifice a maiden who dances to her death in the second act. Elizabeth Hansen, who danced the role of The Chosen One, holds her pose for an eternity after her selection for the sacrifice, with feet turned in and her right hand gently lifting her skirt. It's the sort of thing that looks easy until you actually try it. Her frenzied finale benefits from that contrast, as she eventually burst forth with unexpected force.
It's true, as Charles pointed out, that we are now more familiar with the style of Nijinsky's movements, which have been incorporated into modern dance; most dance fans have seen choreography by Martha Graham (or Merce Cunningham or Paul Taylor).  Many modern pieces owe a debt to the movement and themes of The Rite of Spring: think of Graham's Appalachian Spring and the folk dance of the Revivalist and his followers, or the choreography set to Orff's Carmina Burana, which also welcomes spring and portrays a sacrifice. The movement in these pieces, while benefitting from the groundbreaking approach of Diaghilev's creative team, demonstrates the evolution of modern dance over the last century, embracing Nijinksy's less formal style, but retaining more grace. What makes Nijinsky's The Rite of Spring so shocking is its rough, primeval feel—and it's a piece of dance history I wouldn't want to miss.
Review by Stacey Mickelbart