An Introduction to Jingju with the Actors and Musicians of The Revenge of Prince Zi Dan
On Friday, September 23, 2016, the Shanghai Jingju (Peking Opera) Theatre Company, one of China's most influential art troupes and cultural ambassadors, will bring to life a reimagining of Shakespeare's Hamlet in The Revenge of Prince Zi Dan. The performance is at 8:00 PM in Loeb Playhouse.
Jingju: a form of Chinese opera which combines music, vocal performance, mime, dance, and acrobatics. It arose in the late 18th century and became fully developed and recognized by the mid-19th century.
Musicians, actors, and wardrobe specialists with the company gave students in world music and Chinese language and cultures classes the opportunity to learn more about the Jingju art form during an in-class residency on Thursday. Members of the Shanghai Jingju Theatre Company discussed the history of Jingju opera, the roles actors play, make-up and costuming, and the music and instruments in the performance. As students learned about roles such as the male role sheng, female dan, painted-face role jing, and the clown chou, cast members dressed students in the elaborate robes that would be used on stage.
WLFI: East Meets West at Peking Opera at Purdue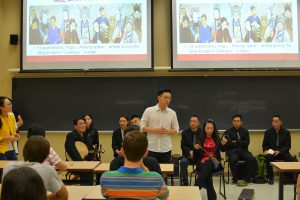 In addition to hearing individual stringed and percussive instruments, participants were able to hear a traditional aria telling the story of the art of war. Vocalists with the company demonstrated proper operatic technique and the audience was able to learn a short portion of a song. Student participants were impressed at the difficulty of mastering the many facets of the Jingju tradition.
The Revenge of Prince Zi Dan at Purdue
If you would like to learn more about the Jingju tradition prior to the performance Friday evening, join us at 7:00 PM in Stewart Center, Room 206, as cast and crew members discuss Peking Opera history and performance practices. LEARN MORE