Intern Profiles: Sami Ayres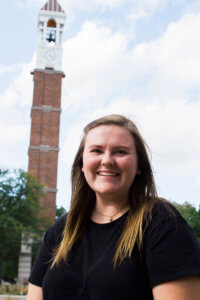 Hi there! I'm Sami, and I'm a senior studying Hospitality and Tourism Management.  
How long have you worked with Convocations?
I've been with Convos since 2015, and have loved my time as a Digital Marketing Intern. Working at Convos has allowed (and encouraged!) me to grow my passion for the arts and has taught me so much along the way.  
What advice would you give a student in your position?
I would encourage future interns to take advantage of the amazing learning opportunities that working for Convos can provide.  Be curious, and ask questions as often as you can. Everyone in the office is so kind and generous with their time, and the things you learn will serve you well both during your internship and after! Of course, the other huge perk of being a Convos intern is the chance you have to see an amazing array of shows, so take time to see as many as you can!
Do you have a favorite Convocations show you've attended?
My favorite Convos show was "Philip Glass: The Complete Piano Etudes".
What about your favorite project you've worked on?
My favorite project is handling Convos donations to various charitable organizations that request tickets for their events and fundraisers.  I love that Convos is interested and able to support great initiatives in the community that are working towards making the world a better place!
What do you view as Convos' most important impact on Purdue's campus?
Convos has such an awesome impact on our campus and on the community as a whole!  One of the most important areas of impact we have is when we engage students and classes with a performer or a show.  Whether it's a masterclass with the performers or simply reading a novel before seeing it performed as a play, integrating arts and education is such a great way to enhance the Purdue experience.
What do you do when you're not at work?
I love singing and watching all Purdue sports, but especially men's basketball.  
What are your post-graduation plans?
After graduation, I hope to continue my career in event planning with a focus on festivals involving entertainment, food, or sports.  I also hope to live abroad for a few years in Spain!
What are you currently listening to?
I'm currently listening to Hozier's new EP and eagerly waiting for his next album to be released!