Intern Profile: Colin Pool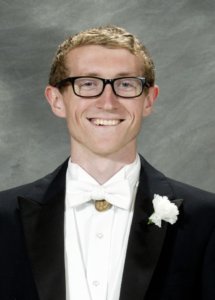 Hello, My name is Colin Pool and I am a senior studying Marketing and Management at Purdue! I enjoy hanging out with friends, singing, dancing, and playing any instrument I can afford. When I'm not enjoying the company of my friends or making music I can generally be found lounging around with a big blanket and a (hopefully) interesting movie. 
What is your favorite part about working for Convocations?
Of all the lessons I've learned at Convos, my favorite would be how to treat people special and take care of them.
Do you have a favorite Convos show you've attended?
Being a part of convos has afforded me the opportunity to see many spectacular artists, but my favorite I've experienced so far would have to be Something Rotten! It was a gigantic Broadway production and the cast, crew, set, and music was all incredibly entertaining to watch.
What are you currently listening to?
If anyone is looking for some good music while studying for finals checkout Daniel Caesar. I've been listening to Caesar for about a month now, just the right amount of relaxing and smooth.
What advice would you give a student in your position?
Find a good system to sort/read your emails. A lot of emails you get, whether they're related to school, work, or family, are important for you to read and understand. So figure out how to navigate your inbox if you haven't already!
What are your post-graduation plans?
Nothing is concrete yet, but I can tell you that working as a production intern has piqued my interest in future careers working behind the scenes for shows or venues. I would love to move to a big city, more than likely I'll end up in Indianapolis or Chicago.
What about your favorite project you've worked on?
Working throughout the day during Something Rotten! was an awesome experience. Broadway shows have a lot of simultaneous moving parts which creates an exciting and dynamic atmosphere!
If you could bring anyone to Purdue, who would you bring?
Daniel Caesar, mostly because he is on my mind now, but you could supplement him with any relaxed R&B and I'd most likely be a big fan.
What do you view as Convos' most important impact on Purdue's campus?
Convos has an awesome influence over the art people consume at Purdue and in the surrounding community. Part of that influence comes great responsibility to make sure that art is diverse and varied and I believe Convos has done an incredible job fulfilling that responsibility.