Innovative Performance Fund
The Innovative Performance Fund is an affinity group gathered around a powerful idea to have this work present—here in our community. You can support our work this season with the Pint Crew, and your multi-year support gives us confidence to present innovative performances well into the future.
Taking audiences on a journey through the landscape of remarkable theatrical experiences is a hallmark of Purdue Convocations. Convos is committed to bringing new and engaging artists to our stages that stretch the imagination and boundaries of audience members of all ages. We are actively seeking projects that go outside the confines of the theatre and transform the everyday spaces of our community.
The Innovative Performance Fund brings together Friends of Convos who believe in the intrinsic power of inspired art forms. Sustained support will make this initiative a success and help Convos educate and expand our audience members interested in imaginative innovation across all genres.
Innovative Performances 
The Strange Undoing of Prudencia Hart (2012)
In Prudencia, Greig connects the dots between contemporary themes, Scottish cultural identity, and the grand tradition of writing for the stage by weaving a tale set in the current time but using largely rhymed verse. Using razor-sharp turns, Prudencia is manically funny and soul-searching, often within the same stanza.
No Place To Go – Ethan Lipton and His Orchestra (2012 and 2015)
In No Place to Go, the OBIE award-winning playwright, actor, and singer Ethan Lipton, with his fine three-piece group, has created a comedic new cabaret theatre gem that mines the anxieties of the middle-class workplace, bagel carry-ins and all.
The Adventures of Alvin Sputnik: Deep Sea Explorer (2015)
Direct from its spectacular successes at the Edinburgh Festival Fringe, and runs in New York, Sydney, and Auckland—where it won multiple awards—this piece of heartwarming "theatrical magic" (The Sunday Mail) is a one-man micro-epic about enduring love and the end of the world "…akin to a theatrical 'WALL-E'. " (The New York Times).
The Cardinals – Stan's Cafe (2015)
The Cardinals (a spectacular play within-a-play) builds from a history of mystery plays in the early church, during which Bible stories were acted out for the masses. As remarkable elegant as it is simple, The Cardinals offers a modern meditation on belief that trades fire and brimstone for humor and humanity.
Shimon Robot and Friends (2017)
Building off ideas and collaborating equally, the robot marimba player listens to bandmates live to present original compositions influenced by jazz & hip-hop.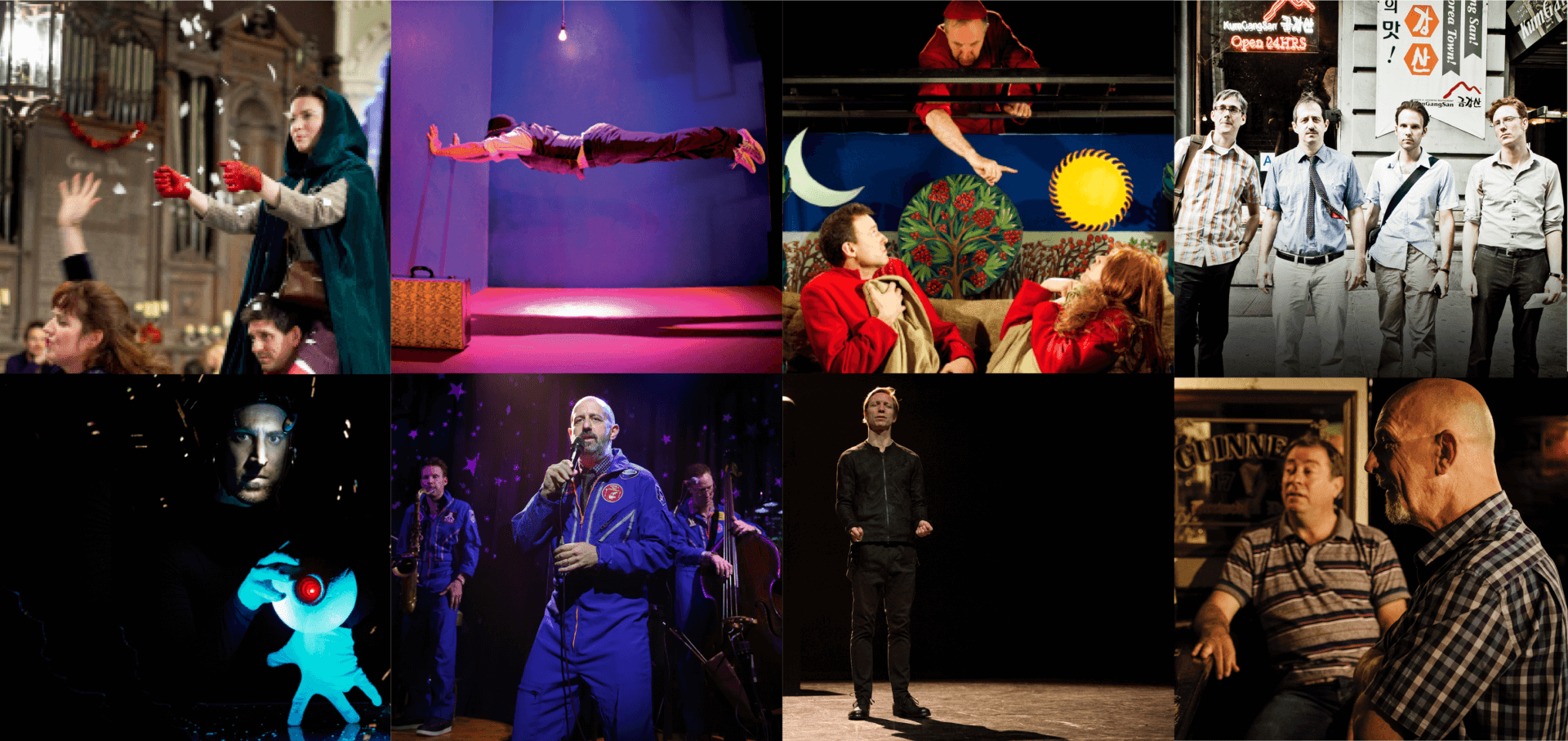 At the Illusionist's Table (2018)
Straight from several years of sold-out runs, At the Illusionist's Table is the latest marvel curated by Convocations from the Edinburgh Festival Fringe—an unforgettably exquisite sensory experience with Illusionist Scott Silven—combining a gourmet dinner, wine, conversation, and wonder that Glasgow's The Evening Times said "transcends art and performance."
The Outer Space – Ethan Lipton and His Orchestra (2018)
In The Outer Space, the OBIE award-winning playwright, actor, and singer Ethan Lipton, with his fine three-piece band, have created an all-new adventure in bittersweet, hilariously off-kilter storytelling in an out-of-this-world look at earthbound concerns.
World Without Us (2018)
World Without Us—an exhilarating monologue—is the latest visionary work from Belgian theatre collective Ontroerend Goed. In it, humans have suddenly, vanished—freeing the planet from traditional rules and orders, and prompting eons of biological change. Neither a political statement nor a parable meant to petrify us, World Without Us instead muses on a profound ode to human consciousness.
Two Pints (2019)
Two Pints is a hilarious, bittersweet, innovative work from Dublin's celebrated Abbey Theatre and Roddy Doyle, the poet laureate of Ireland's working class.
One Small Step (2019)
This action-packed tale about the "space race" includes dozens of characters—all played by two extraordinary actors from Oxford Playhouse in England. Check your oxygen, adjust your space suit and buckle up for the biggest mission of all time!
Nassim (2019)
Nassim is an exhilarating, playful and soulful work about how an open mind for spontaneity and camaraderie keeps us human.
Want to help bring more experimental performances and unique artists to Purdue? Donate now to benefit the Innovative Performance Fund.