Friends of Convocations donor benefit changes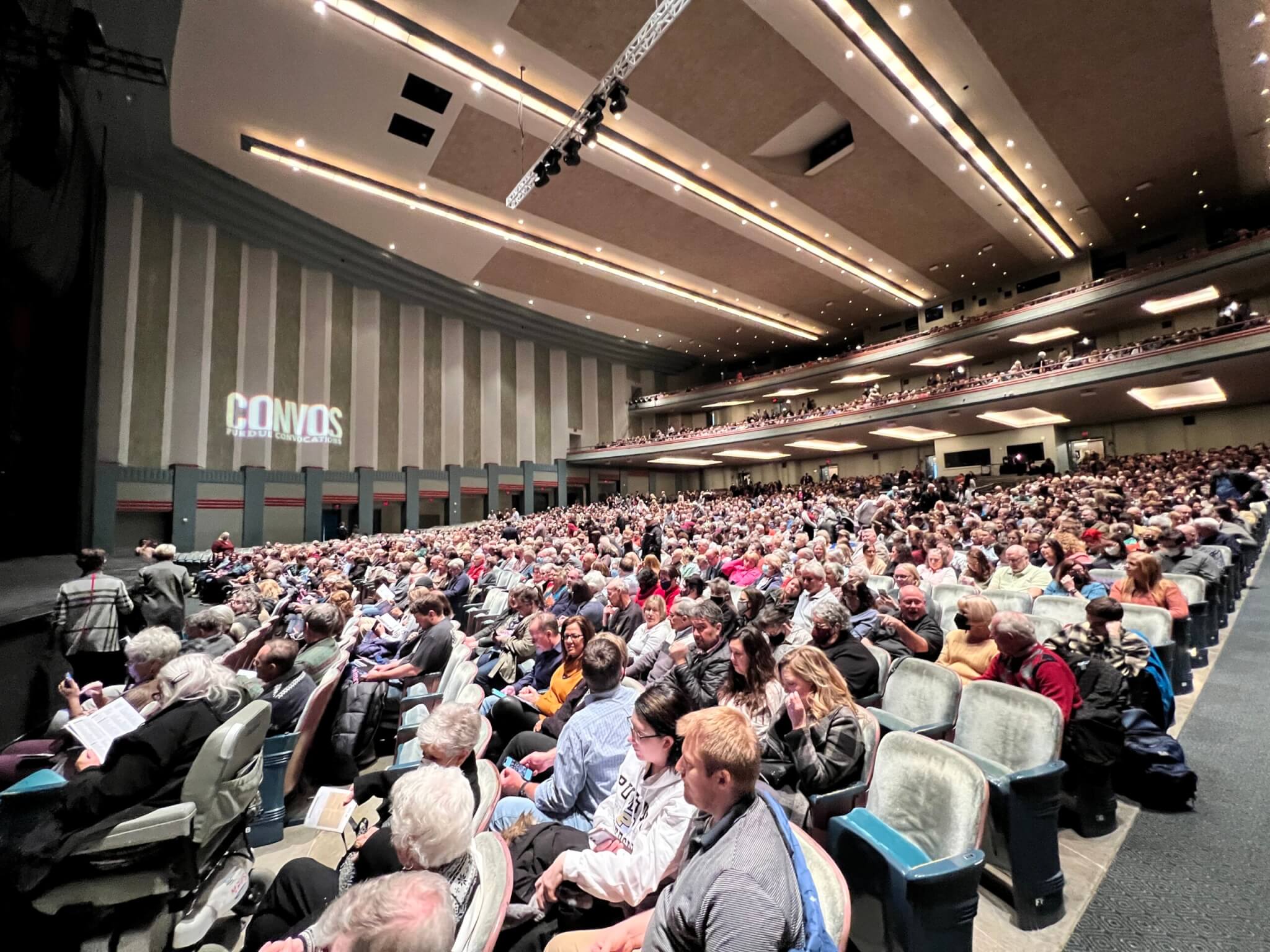 As a member of the Friends of Convocations you are part of a dynamic group of arts supporters whose gifts allow Convocations to keep ticket prices low, bring educational programs for students of all ages, and make big projects a reality. For this continued support, Convos is truly grateful.
While we know you support Convos for what your gifts make possible, we also know that our donor benefits are important to you, as well. We have recently needed to update the benefits offered to the Friends to ensure that we meet IRS deductibility rules, continue to respond to physical landscape changes on campus, and to manage the continued growth of the Friends support for the Convos mission. Here are the changes that will now go into effect for the 2022-23 Season:
Entry Level Gift: The entry level gift to become a Friend of Convocations now begins at $100 (up from $50). This gift level had not changed since the inception of the Friends in 1984. While gifts under this amount will continue to make a difference for Convos, Friends benefits will now begin with gifts of $100 or more.
Friends Honor Roll Recognition: Name recognition of your gift in our printed performance programs will now begin at the $250 level instead of the $100 level, but we will recognize all members of the Friends on a list that is regularly refreshed on our website. Additionally, this online list will be easy to access from the program book via a QR code.
Intermission Club transformation: The previously offered Friends Intermission Club in Hovde Hall will change in several notable ways, as Convos will be adding multiple concessions solutions into the main lobbies of Elliott. The first adaptation is that the Intermission Club will become a Friends Pre-Show Club that continues to provide a special place for our Friends to gather in the hour preceding associated performances. At intermission, however, all lobby concessions options, including the one in Hovde Hall, will be open to the general audience, allowing us to provide much needed intermission access to the main floor restrooms in Hovde Hall. The Friends Pre-Show Club will now be available for Friends at the $500 level (up from $250).
Friends Parking Pass for Elliott Hall: Due to the increased level of support for the Friends at higher levels and the increasingly limited availability of parking around Elliott Hall, the Friends parking pass for Elliott Hall performances will now be available at the $2500 level (up from $500). This is clearly a substantial change, but our goal remains paramount: only offer a benefit if it can be consistently delivered. At the moment, we simply cannot guarantee enough parking in the designated parking lot for the quantity of donors at levels below $2,500. A new benefit is that Friends who give at the $2,500 level are eligible to be acknowledged as a show sponsor on a non-Broadway season performance of their choice.!
Soiree Artist Event Invitation: The invitation to an exclusive private performance engagement will be available at the $1000 level (up from $500). Additionally, Friends at the $1000 level also receive membership in the Purdue President's Council (membership begins at $1000 in total annual giving to Purdue).
Additional benefits: There are other benefits that have been added to higher giving levels. All of those can be seen online at convocations.org/friends.
If you have any questions, please let us know by dropping us an email at convos@dev-convocations.pantheonsite.io or call 765-494-9712. Thank you so much for your continued support of Purdue Convocations – your gifts matter to us!
Benefits Chart