Friends Friday: Steve Schlenk
Welcome to Friends Friday! While we are all trying to "flatten the curve" we wanted to highlight different Friends of Convos. In case you're not aware, Friends of Convos is an influential group of arts supporters who bring world-class performances to our community! Each year, they help bring performances to our community and subsidize tickets for seniors, Purdue students, and P-12 students.
Learn More: https://live-convocations.pantheonsite.io/friends/
This week we're highlighting Friend of Convos and Friends Advisory Board member Steve Schlenk!
Introduce yourself!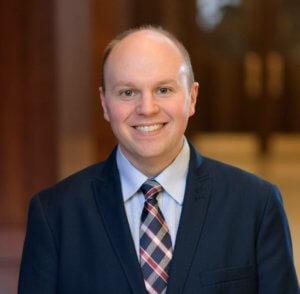 I came to Purdue as a student in the fall of 2002, and I'm still here! I earned my BA in communications from the College of Liberal Arts and my MBA from the Krannert School of Management. I served on the staff of Purdue Musical Organizations for eight years before joining the University Development Office, where I serve as the senior director for philanthropic communications. I've been a fan and Friend of Purdue Convocations since I was an undergrad, and, for the past three years, I've been honored to volunteer on the Friends Advisory Board.
How has your experience in our community been impacted by Convos?
I've been a fan of the arts, particularly music and live theater, since I was a kid. Growing up, I performed in community and professional productions throughout the Indianapolis area, and as a college student, I participated in the Purdue Varsity Glee Club. Today, my love for the arts is covered in many ways, though the single biggest impact is made by Convos. Every year, Purdue Convocations brings a dynamite slate of diverse arts offerings to our community—and you don't even have to get on the interstate to enjoy a show!
What is your favorite show from this season?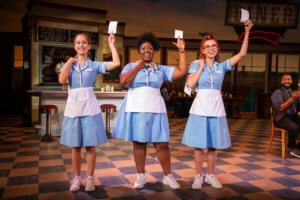 Nassim. It was truly unique, and it's a great example of what makes Purdue Convocations so special. I was also looking forward to the spring lineup, especially Waitress, which I've never seen. I'll be keeping my fingers crossed that Team Convos can work their magic to bring the canceled spring productions to our community in the future.
How would you describe the Friends Advisory Board and what have you enjoyed the most from your experience?
The FAB, as we call it, is a wonderful collection of volunteers and Convos staff who are united in their passion for the arts and in supporting Purdue Convocations as a critically important arts presenter in our community. I've really enjoyed the behind-the-scenes view that serving on the board has offered, and I'm consistently amazed at how much work such a small team is able to accomplish. I never thought being on Team Convos was an easy job, but the amount of preparation that goes into presenting each and every show is incredible!
How are you finding arts and culture during this difficult time?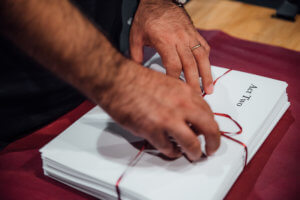 When you're not supposed to leave the house, experiencing arts and culture can be a challenge! A lot of streaming services are offering access to Broadway productions. At my house, we signed up for the BroadwayHD app, and we've also been watching productions on Netflix, Amazon, and Disney+. We're eager to resume enjoying live performances as soon as possible, and we're ready to support the local artists and organizations who, now more than ever, need our community's support.
Friends Advisory Board
The Friends Advisory Board is a group of 18 volunteers who represent the diverse and culturally rich interests of the Friends of Convocations. This dynamic group assists with programs and projects that further the mission of Convos. We are currently in our nominations process, and we are looking for current Friends of Convocations who would like to be more involved. To nominate yourself or a Friend, click here.