Found at the Fringe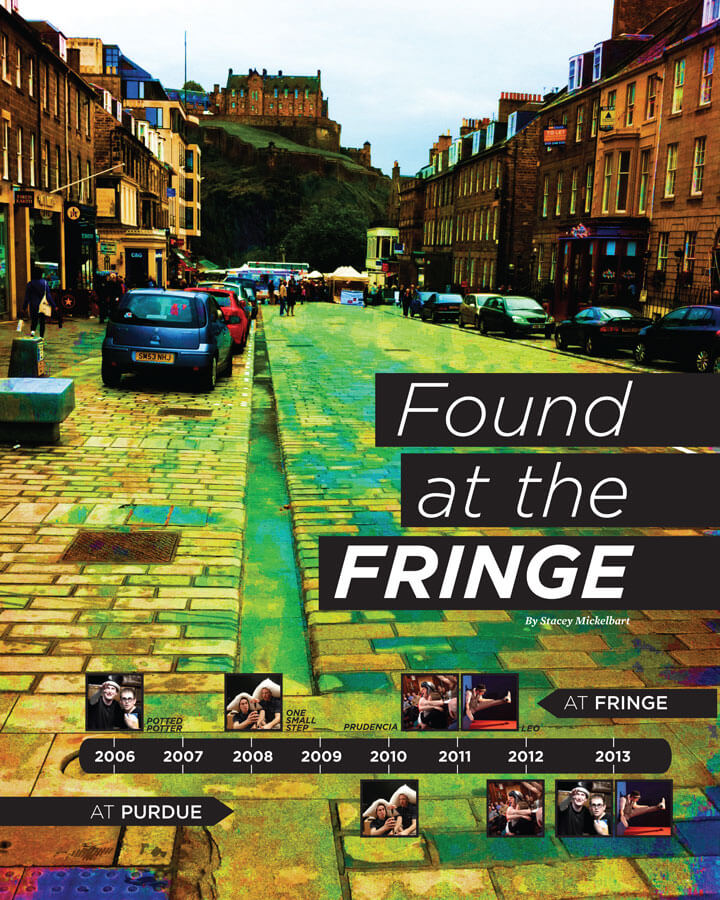 Choosing just the right performances for our audience at Purdue Convocations is a challenge and a privilege we're always happy to take on. And we can't deny it—it's also a lot of fun! But where do we find fresh, innovative, and amusing shows to bring to campus season after season? One great place to look is the Edinburgh Festival Fringe, the world's largest arts festival. For three straight weeks in August, art lovers, including Convocations director Todd Wetzel, flock to Scotland's capital for around-the-clock performances in all genres and unique acts that defy easy categorization.
The Fringe Festival, as it's casually known, originated in 1947, when the city launched its official Edinburgh International Festival to celebrate and promote the arts in Europe
following the devastation of the Second World War. Eight theatre groups who were not on the official program showed up uninvited and decided to stage their shows anyway, wherever they could find space. This fringe element of artists grew each year, until, in 1958, the Fringe Festival was formalized to promote its performances alongside the more traditional offerings of the International Festival.
The Fringe retains its quirky character in part because it remains an open festival, welcoming any performer who has a show to stage and a venue in which to do so. Many other cities, including Indianapolis, now host Fringe Festivals with the same open tradition.
The Fringe Festival has far surpassed its progenitor in size, and it's hard to imagine the festival's scope if you haven't attended.  In 2012, the numbers were mind-boggling:
22,457 performers staged 42,096 performances of 2,695 different shows in 279 venues. Todd has experienced the rush of the festival firsthand, attending five times since 2005, often to take in a special festival showcase hosted by the British Council. His festival record is seeing 24 shows in seven days, and he has attended performances in the oddest spaces you can imagine.
"I've seen shows in apartments, catacombs, grottos, galleries, graveyards, and pubs," Todd says, "plus one that started on a public bus and finished in an apartment; a promenade performance that wandered through a department store after business hours; a one-on-one, virtual, 3D goggle-wearing performance; and a reality- theatre mystery work that had me trekking throughout the city receiving instructions via cell phone as well as handoffs from 'mysterious strangers' on the streets. The great unifying factor in all of these is the power of theatre to communicate ideas with as few limitations as possible."
Several recent performances hosted by Convocations originated at the Fringe Festival. This season, we are fortunate to bring you two—
the all-seven-books-in-70-minutes madness of Potted Potter, which must be seen to be believed, and the lighthearted and surreal physical theatre of LEO, which uses video projection to disorient your sense of gravity and space. We hope you'll join us on the fringe!