Fieldwork: An Alan Lomax Centennial Residency
Featuring Jayme Stone/The Lomax Project
Friday/Saturday, March 27-28, 2015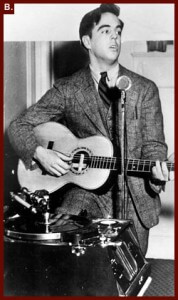 Beginning in 1934, with cumbersome—and now quaintly-primitive—recording equipment loaded in the back of his car, the young Alan Lomax (1915-2002) travelled down the dusty byways and backwaters of the United States to source and record the roots and branches of American folk music for the Archive of American Folk Song at the Library of Congress. Initially, working with his folklorist father, John Lomax, and later with numerous other colleagues and guides, he captured for posterity an incredibly deep and staggeringly diverse musical portrait of life across the American and Caribbean landscape. With his remarkable penchant uncovering leads and tips, he was able to track down hitherto notable yet unknown talents, including artists that we now know as everyday names: Woody Guthrie, Lead Belly, Big Bill Broonzy, Muddy Waters, Jelly Roll Morton, Sonny Boy Williamson, and Pete Seeger, to name but a few. Importantly, he also documented with unvarnished and unflinching clarity, the songs, stories, and circumstances of Americans whose lives and voices were limited by the strictures of the pre-Civil Rights era. In a career spanning more than six decades, more than seventeen thousand recordings and interviews, scores of concerts, and TV and radio shows, and nearly two dozen books, Lomax's legacy as a one of the most preeminent and authoritative American musicologists to have captured our cultural history is worthy of commemoration.
Now, as a way to celebrate the Alan Lomax Centennial in 2015 and examine the incredibly diverse cultural source material of our American identity, we've assembled a two-day residency engagement featuring a stellar ensemble led by two-time Juno winning artist, banjoist, composer, and self-proclaimed instigator, Jayme Stone. In this residency and especially in The Lomax Project concert, Stone brings together some of the country's most distinctive and creative roots musicians to revive, recycle and re-imagine traditional music. The repertoire includes Bahamian sea chanties, African-American a cappella singing from the Georgia Sea Islands, Old World weavers' work songs, ancient Appalachian ballads, fiddle tunes, game songs and ring shouts. This residency offers us as listeners and musicians a participatory gateway into our treasured and diverse cultural history as Americans.
SCHEDULE
Friday, March 27
7PM PUBLIC TALK / TIPPECANOE ARTS FEDERATION GRAND HALL
Jayme Stone will discuss Alan Lomax's life, work, and profound impact on American culture. Free admission.
8:15PM COMMUNITY MUSICIAN WORKSHOP "COLLABORATORY"
TIPPECANOE ARTS FEDERATION GRAND HALL
Jayme Stone and the band will host a "Collaboratory" (equal parts collaborative and explorative laboratory) for musicians interested in examining and developing musical arrangements sourced, or inspired by, field and archival recordings. Bring your preferred acoustic instrument and join the musical investigation in a supportive, positive musical environment. Free admission.
The two preceding events will run consecutively with a brief pause between them. Guests and non-musicians are certainly welcome and encouraged to stay and observe the Collaboratory.
Saturday, March 28
Saturday, March 28
10AM-2PM COMMUNITY FIELD RECORDING OPEN HOUSE / CARNAHAN HALL
Musicians, now it's your turn to capture the songs and stories of our community in the true Lomax spirit! Simply bring your preferred acoustic instrument and any musical collaborators to capture historical and contemporary portraits of our region, as well as your version of our story today. All musical styles and genres are welcome, but instruments and arrangements that can be captured by a single, hiqh-quality condenser microphone will be most ideal. Then, we'll share your work on the Purdue Convocations website and social media channels for all to experience. Reservations required, but participation is free. See convocations.org for details.
LIVE PERFORMANCE
8pM Concert: Jayme Stone and The Lomax Project / LAFAYETTE THEATER
As a culmination of our Lomax residency, musically adventurous banjoist Jayme Stone will lead his group through a vast songbook of Americana sourced from the Lomaxes' archival work. This unique, startlingly diverse musical journey will span decades and cultures in tribute to both the range of Lomax's musical curiosity and our own American spirit. Lafayette Theater. Tickets required. Doors will open at 7PM. All ages welcome. Cash bar available.
FIELDWORK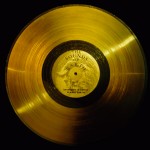 On August 20, 1977, the renowned spacecraft Voyagers I & II were launched into space to explore Jupiter and Saturn, and beyond. Famously, four "golden records" containing 27 musical selections were sent along as special payload. Then President Jimmy Carter described these as a "present from a small, distant world" to any potential discoverer of the craft. NASA appointed astronomer/astrophysicist Carl Sagan to lead the selection process, and he then turned to Lomax to assist in the process. In what was undoubtedly a charged set of discussions about how to represent the greatest aspects of creative human expression, Lomax proposed and successfully advocated for 15 tracks representing a diverse array of global cultures, including "Dark Was The Night," by Blind Willie Johnson. Now, with the Voyager spacecraft travelling into interstellar space, Lomax can be said to have projected human culture to "infinity and beyond."
Alan Lomax's story and contributions to society are especially rich and reward deeper investigation. Among Lomax's notable books is his memoir, The Land Where the Blues Began, which, as Mick Jagger says, offers "a fresh insight into the strange and cruel origins of the blues." Also, the acclaimed Miles Davis and Sun Ra biographer, John Szwed, has written a fine "cradle to grave" biography entitled, Alan Lomax: The Man Who Recorded The World.
Importantly, the vast majority of Lomax's work is available for study and enjoyment on-line (along with the contributions of many others):
The American Folklife Center of the Library of Congress: http://www.loc.gov/folklife/lomax/
The Association for Cultural Equity: http://research.culturalequity.org/