From Generation to Generation: David Dorfman Dance
Come, and Back Again
Got junk?
Maybe you're a person who has a garage full of bric-a-brac you've kept around just in case you ever have a need for it. Maybe you have a family member who can't drive past a yard sale without screeching to a halt. Or maybe your basement is a Sandwich Generation repository stocked with things your parents wanted to keep when they downsized jammed alongside a complete collection of crayon and collage masterpieces from your kids' elementary school years.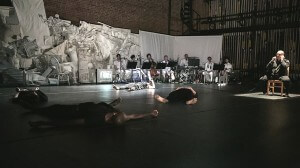 The question of when to hang on to something—a memento as much as a memory—and when it is important to it let go animates choreographer David Dorfman's Come, and Back Again. It is, he says, a dance about loss, mortality, how we value our past, and the way love persists between individual people and across generations.
David's father was an organized man who had a place for everything and kept everything in its place. When he died, Dorfman says, he left an immaculate world, complete with detailed instructions for his own funeral. This was a man for whom the present held deep enjoyment: he was always anticipating "the next great thing that will happen."
His son David, who grew up to be a dancer, musician, choreographer and chair of the dance department at Connecticut College, finds it difficult to let go of the past. Sometimes, he says, he feels that he has held onto every article he ever touched. When he realized he had thirty years of theatre programs, he resolved that he didn't want his own son to be faced with the challenge of cleaning up his mess after he was gone.
Like many of Dorfman's previous works, Come, and Back Again finds its metaphors in lived experience and in American music that evokes a particular time and place. Disavowal (2008) investigated racial identity and militancy through the lens of John Brown's doomed 1859 attempt to foment an armed slave revolt at Harper's Ferry, Virginia; underground (2006) reflected on 1960s radicalism and explored the tipping point where activism is transformed into terror; and Prophets of Funk (2011) celebrated the influential music and interracial cultural profile of Sly and the Family Stone, which disbanded in 1983. (All of the works in this trilogy were developed or presented in some form at the Bates Dance Festival, where Dorfman and his company have been regular teachers and performers for two decades).
Dorfman had been exploring the music of Patti Smith, and acquired the rights to one of her songs, "Death Singing." Smith had written the song for Benjamin Smoke (originally Robert Dickerson), a punk rock drag queen who once opened for her at an underground club in Atlanta. Smoke, like Smith's friend Robert Mapplethorpe and so many others, later died of complications from AIDS. In punk rock and "the cranky rebellion of the 1990s," Dorfman identified a productive cultural friction between chaos and order.
In Come, and Back Again, Dorfman's choreography teeters on the edge of risk. Alongside his much younger dancers, he launches a semi-structured game of Follow the Leader where Raja Kelly, Kendra Portier, Karl Rogers and Christina Robson's acute ability to riff off his spontaneity raises the stakes for every performance. The text is full of high stakes emotional challenges, too, with faux math problems that begin with phrases such as "Start with the number of people you've seen take their final breaths…"
The dancers and musicians who share the stage are walled in by junk. Brooklyn visual artist Jonah Emerson Bell, who was recommended to Dorfman by the celebrity installation artist Swoon (Caledonia Curry), has created a semi-translucent white-washed set that does double duty as a dimensional surface for Shawn Hove's video.
Dorfman's videotaped storytelling, coupled with his performance as both a dancer and as a musician (playing accordion and alto sax), and appearances by both his wife, choreographer and dancer Lisa Race, and his now 13-year old son Sam gives Come, and Back Again the flavor of an overstuffed scrapbook, or better yet, a Flikr account. Our memories and our collections carry a heavy weight. But like David Dorfman, each of us must decide how much of that weight is a burden and how much is a comfort.
© 2014 Debra Cash
#LifeRequiresVirtuosity
Featuring a live band with local musicians, David Dorfman Dance: Come, and Back Again "follows a course of reckless abandon driven by the charged poetry and raw ferocity of indie, punk and folk-rock music by such venerated artists as punk legend and queer activist Benjamin Smoke and the godmother of punk, Patti Smith." – Bates Dance Festival
David Dorfman Dance: Come, and Back Again comes to Loeb Playhouse on October, 23, 2014, 7:30 pm.
Tickets are $22 – $32 and are available by calling 765-494-3933, visiting convocations.org/tickets, or at the Loeb Playhouse Box Office, 128 Memorial Mall, West Lafayette, IN.