Convos Senior Celebration – TEDx and SCC
By Kristen Day – Marketing Intern
Spring 2020 has certainly not gone as planned at Purdue Convocations, especially for our graduating seniors. Since we work with amazing students every day, we wanted to celebrate their accomplishments even though they won't get to walk across the stage in Elliott Hall of Music. Now, we'd like to recognize our TEDxPurdueU and Student Concert Committee (SCC) graduates.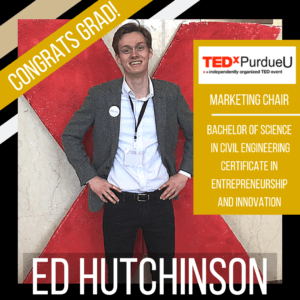 Ed Hutchinson
Bachelor of Science in Civil Engineering with a Certificate in Entrepreneurship and Innovation
Herndon, VA
Ed worked as the Marketing Chair for TEDxPurdueU. After graduation, Ed will be working as a structural engineer for Guidon Design which is an architectural firm in Indianapolis. His favorite part about working with Convos was, "the payoff of finally pulling off our main event in February after two years in the making."
Congratulations, Ed!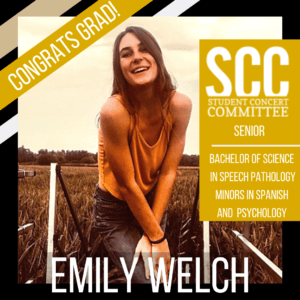 Emily Welch
Bachelor of Science in Speech Pathology with Minors in Spanish and Psychology
Indianapolis, IN
After graduation, Emily I'll be moving to Austin, TX to search for a job in the entertainment industry. She's hoping to work on the creative side of either music or film and grow within the field! Her favorite part about working with SCC was, "the opportunity to work professional shows and attend large-scale networking events within the industry. Both helped immensely with jumpstarting my future in the field. I also made many friends within the team, all with AMAZING music taste."
Congratulations, Emily!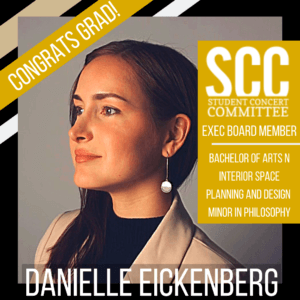 Danielle Eickenberg
Bachelor of Science in Interior Space Planning and Design with a Minor in Philosophy
Glenview, IL
Danielle served as a general member on the Exec Team within SCC. After graduation, Danielle will be interning at Studio K Creative in Chicago with hopes to eventually work as a junior designer in New York City. She is grateful for SCC because, "I had the opportunity to work in an industry I never have before. Through marketing and music, I was able to better understand the human condition and what makes us tick."
Congratulations, Danielle!
Stay tuned throughout this week as we celebrate the rest of our Convos Seniors!