"Bodies on the Gears" offers Purdue dance students chance to learn with pros
Seventeen Purdue students have had the opportunity to participate in a residency titled "Bodies on the Gears" this week leading up to a public performance in Power Goes with Chicago based dance company, The Seldoms. The dynamic group of student dancers, assembled by Purdue Dance faculty member Holly Jaycox, began the first of two sessions by learning about the foundation of the piece they would be participating in. Carrie Hanson, artistic director, informed the student dancers that Power Goes is naturally focused on power, and although not directly about Lyndon Johnson, he was an excellent example of using your body to wield power. Johnson was known for the "Johnson Treatment" and would lean in to or touch people when talking to them in the interest of getting them to vote a certain way or bend towards his will.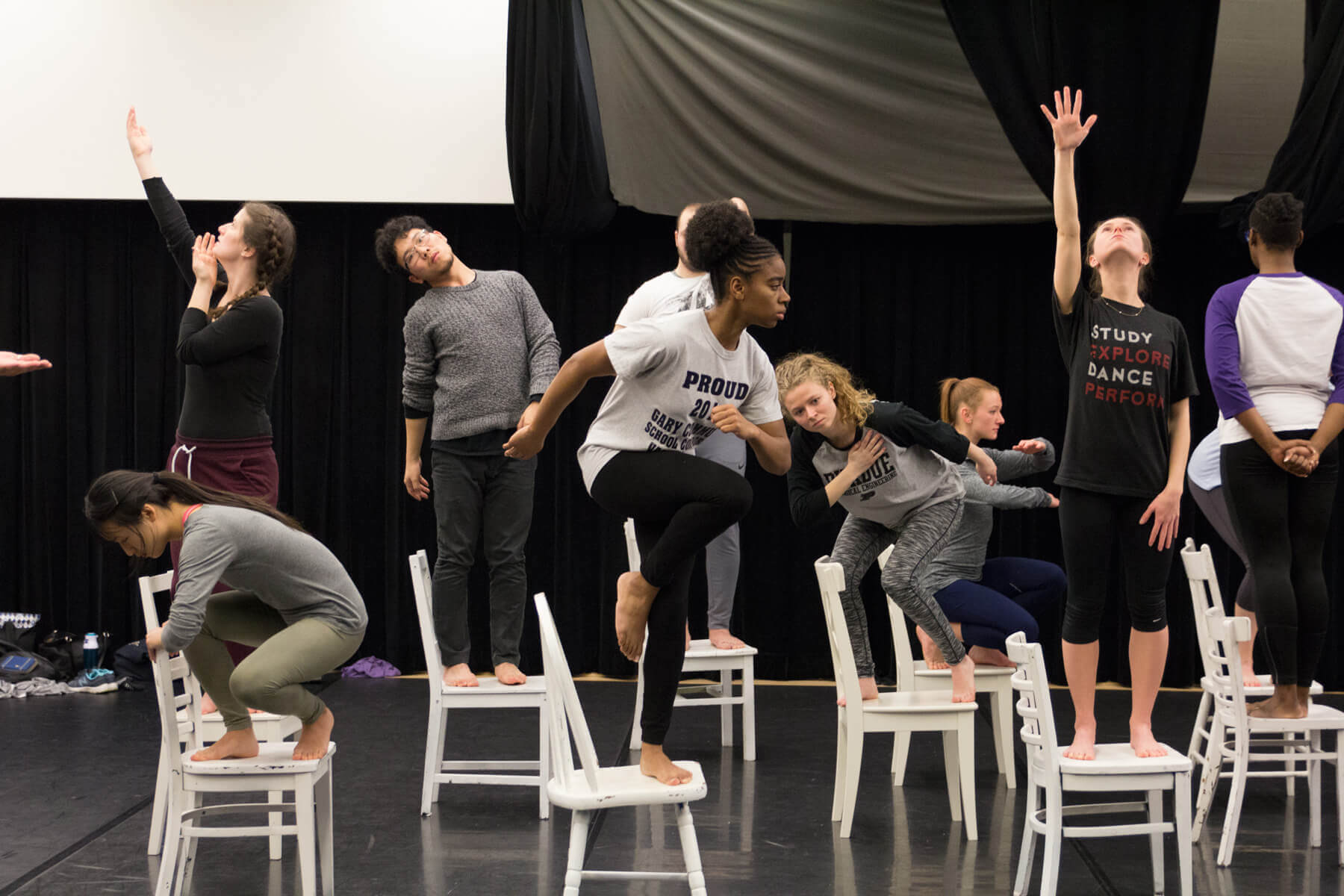 The students discussed what it meant to be a patriot and how to display patriotism with their bodies. Students also worked in pairs or trios, moving together across the room, interacting with each other as they crossed the space. Some partners held hands, some leaned their head on their partner's shoulders, and others became physical burdens to their partners and slowed their movements. Students then randomly interacted with each other, attempting to change each other's trajectories. After these interactions, the students described the experience as "Moments of seeing two people connect, then disturbing, and taking control of that situation." Another student stated, "I enjoyed the reliance and negotiation when you found a movement together- the heavier she got the clearer our path became."
Moments of seeing two people connect, then disturbing, and taking control of that situation.
To see student cast members, Anthony Adams, Haley Arndt, John (Adil Can) Dai, Drew Dienhart, Arlo Eitzer, Emma Foster, Deborah Kull, Alexis Laureano, Celia Morin-Kensicki, Megan Morris, Sibong Ncube, Lexi Petrucciani, Sara Satterly, Lexxi Spillers, Zui Tao, Jaron Tong, Fei Yao, and Latrice Young, on stage with The Seldoms this evening, purchase tickets at the Stewart Center box office in advance of their Loeb Playhouse performance at 7:30 PM.
https://live-convocations.pantheonsite.io/event/the-seldoms/