String Quartet ATLYS Brings Their Talent to Purdue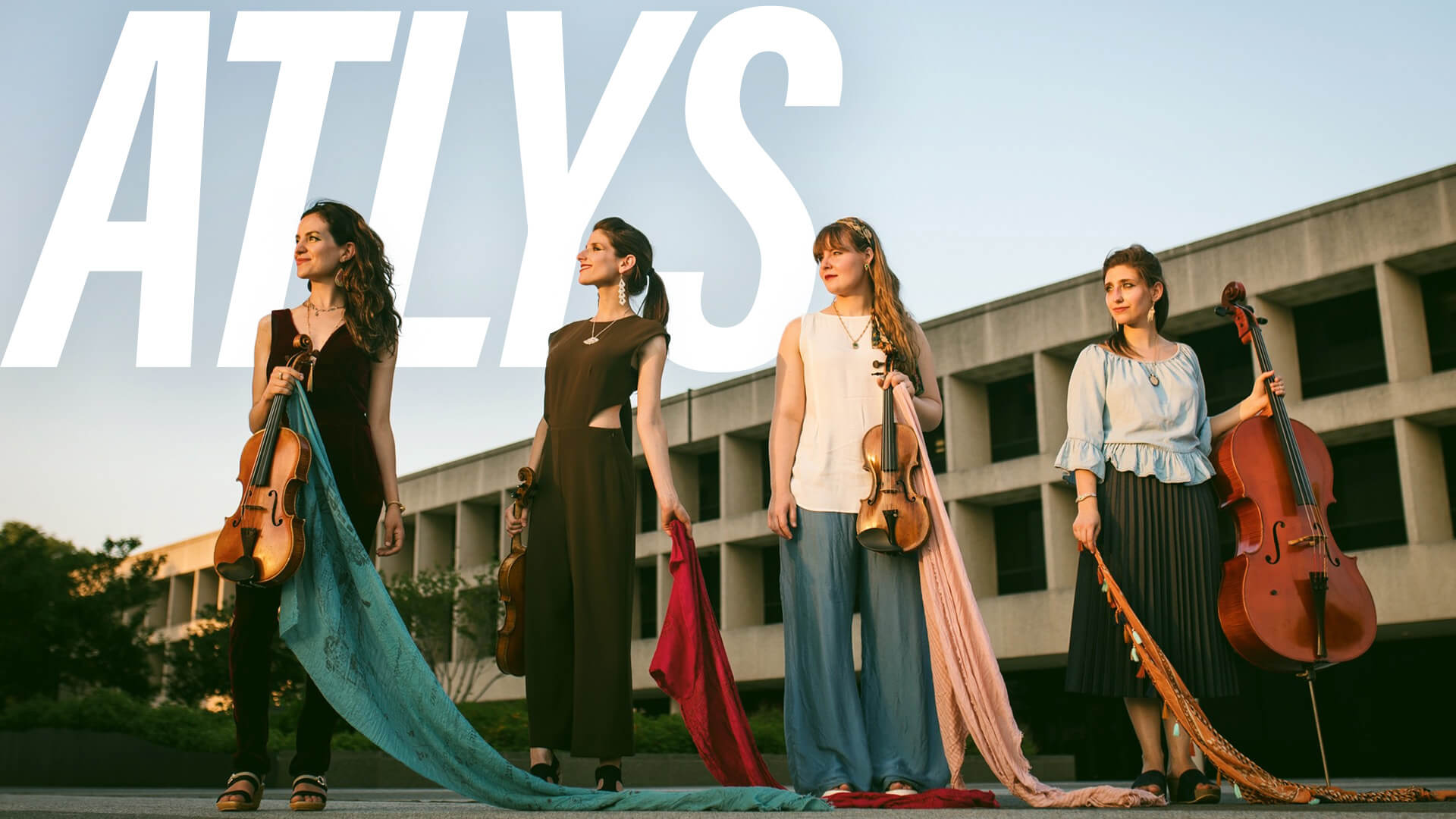 ATLYS is a classically trained, crossover string quartet comprised of four unique women. Lauded for their passionate and dynamic performances and signature sound, they create concert experiences that are both mesmerizing and interactive.
Meet the artists:
Jinty McTavish began studying violin at age four in Lafayette. She had her first solo debut at age ten, performing with the Lafayette Symphony Orchestra. She later traveled to Bloomington to study with Mauricio Fuks where she became one of his teaching students at Indiana University's Jacobs School of Music. She received her Bachelor of Music in violin and has since then performed with many incredible artists and groups, such as the Civic Orchestra of Chicago and Yo-Yo-Ma. In addition to being a member of ATLYS, she teaches students in Chicago and works on some exciting solo projects.
Sabrina Tabby discovered her passion for chamber music at a young age and grew up playing violin with her twin sister. In high school, they were featured on National Public Radio's "From the Top" radio series and TV show at Carnegie Hall. Sabrina has also performed across four continents as concertmaster and soloist of the Conservatory Orchestra. She has a master's degree in performance and is a founding member of NYC-based music ensemble, Contemporaneous. She is featured on Innova Recordings' album "Stream of Stars: Music of Dylan Mattingly."
Genevieve Tabby began cello after being inspired by her sister, Sabrina's, violin lessons. On top of being in NPR's "From the Top", she was a repeated semifinalist in the Fischoff International Chamber Music Competition. She took a rigorous two year program in which she attained a full certification in Suzuki Pedagogy, and she received her master's degree in cello performance from Northwestern's Bienen School of Music. She participated as a member of the Civic Orchestra of Chicago, and she has been in many summer festivals. One of her top highlights is winning the Zarin Mehta fellowship with the New York Philharmonic at Lincoln Center.
Rita Andrade was always interested in music due to her Latin upbringing, and she fell in love with the viola upon first hearing it. She received both her bachelor's and master's degree in viola performance. She was a member of the Civic Orchestra of Chicago and was also a fellowship member of the Chicago Sinfonietta and Grant Park Symphony Project Inclusion programs. She has performed at many summer music festivals and was the original violist of the Austin-based chamber rock band, Mother Falcon.
ATLYS' repertoire consists of a strong variety of music, including unique covers of pop and rock hits, original compositions, and classics. These masterful musicians bring a new sound to chamber music and showcase their incredible talent at Purdue University this April.
Wednesday, April 12
12:00PM: PMU East Terrace
6:00PM: Campus House
Thursday, April 13
12:00PM: The Lobby by Greyhouse
6:00PM: MatchBOX