Ashley Bathgate: Bach Unwound program notes
Ashley Bathgate: Bach Unwound
December 10, 2016
Loeb Playhouse
J.S. Bach | Gavotte 2 from Suite No. 6 in D Major
Chris Cerrone | On Being Wrong
Timo Andres | Small Wonder
J.S. Bach | Gigue from Suite No. 3 in C Major
Jacob Cooper | Ley Line
Ted Hearne | DaVZ23BzMH0
J.S. Bach | Courante from Suite No. 2 in D Minor
Andrew Norman | For Ashley
J.S. Bach | Sarabande from Suite No. 5 in C minor
Robert Honstein | Orison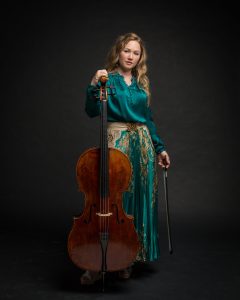 American cellist Ashley Bathgate has been described as an "eloquent new music interpreter"(New York Times) and "a glorious cellist"(The Washington Post) who combines "bittersweet lyricism along with ferocious chops"(New York Magazine). Her "impish ferocity", "rich tone" and "imaginative phrasing" (New York Times) have made her one of the most sought after performers of her time. The desire to create a dynamic energy exchange with her audience and build upon the ensuing chemistry is a pillar of Bathgate's philosophy as a performer. Her affinity to dynamism drives Bathgate to venture into previously uncharted areas of ground-breaking sounds and techniques, breaking the mold of a cello's traditionally perceived voice. Collaborators and fans alike describe her vitality as nothing short of remarkable and magical for all who are involved. Bathgate is a member of the award winning, internationally acclaimed sextet, Bang on a Can All-Stars, the chamber music group HOWL and is also a founding member of TwoSense, a duo with pianist Lisa Moore, and Bonjour, a low-strung, percussive quintet with fellow new music mavens Florent Ghys, James Moore, Eleonore Oppenheim and Owen Weaver.
In 2014 Bathgate premiered a new Cello Concerto by Australian composer Kate Moore with the ASKO|Schönberg ensemble at the Gaudeamus Festival in Utrecht, NL. She subsequently recorded an album of Moore's solo cello works was released in May 2016 on Cantaloupe Music. In 2015 she also gave the world premiere of What Moves You, a collaborative performance project with jookin' dance sensation Lil Buck at the Spoleto Festival USA in Charleston, NC. Most recently, Bathgate commissioned the composer collective Sleeping Giant, to write her a six-movement suite for solo cello entitled "ASH", which was premiered this January 2016 in NYC. Other upcoming commissions include works by Emily Cooley, Brooks Frederickson, Michael Gordon, Erdem Helvacioglu, Scott Lindroth, Pamela Madsen, Todd Reynolds, and Alex Weiser. Bathgate's radio/television appearances include performances on BBC Radio 3, WKCR, WQXR FM's Young Artist Showcase, WQXR's Meet the Composer podcast with Nadia Sirota, NPR's Performance Today, WYNC's New Sounds Live, SiriusXM, Late Night and The Tonight Show with Jimmy Fallon. Her recorded work can be found on Albany Records, Cantaloupe Music, Innova Recordings, La-La Land Records, Naxos, Nonesuch, Starkland and Uffda Records.
Equally at home in both the concert hall and the rock club, Bathgate focuses on presenting concerts that draw from a wide range of musical genres. Her dedication to performing traditional music is equally matched by her passion to promote new music by today's composers. That dedication has led her to work with an esteemed list of composers and musicians such as John Adams, John Luther Adams, Louis Andriessen, Nik Bärtsch, Iva Bittova Martin Bresnick, Don Byron, Jace Clayton, Bryce Dessner (The National), Arnold Dryblatt, DJ Spooky, Ben Frost, Philip Glass, Michael Gordon, Annie Gosfield, Ann Hamilton, Glenn Kotche (Wilco), David Lang, Lori Lieberman, Yo-Yo Ma, Meredith Monk, Richard Reed Parry (Arcade Fire), Questlove and The Legendary Roots Crew, Lee Ranaldo (Sonic Youth), Steve Reich, Terry Riley, Trio Mediaeval, Julia Wolfe, Shara Nova (My Brightest Diamond) and Nick Zammuto (The Books). Bathgate has toured the U.S., South America, Russia, Australia, Europe, and Asia with the Bang on a Can All-Stars and has collaborated with several notable ensembles including the Choir of Trinity Wall Street (Julia Wolfe's Anthracite Fields at Avery Fisher Hall), the Los Angeles Master Chorale (Anthracite Fields at Disney Hall), Red Fish Blue Fish (Steve Reich's Music for 18 Musicians at Disney Hall), the Kronos Quartet (Brian Eno's Music for Airports at MIT, Cambridge) and eighth blackbird (Reich's Pulitzer Prize winning Double Sextet at Carnegie Hall & The Barbican).
Bathgate studied at Bard College with Luis Garcia-Renart (B.M.) before continuing her education at Yale University with renowned cellist Aldo Parisot (M.M. & A.D). Originally from Saratoga Springs, NY, Bathgate began her cello studies with the late Rudolf Doblin, principal cellist and assistant music director of the Buffalo Philharmonic in the 1950's. After his passing, she resumed her tutelage with Ann Alton at Skidmore College. A member of the Empire State Youth Orchestra at the time, Bathgate was also the unprecedented two-time winner of the Lois Lyman Concerto Competition, performing the Saint-Saens and Schumann Cello Concertos with the orchestra at Troy Savings Bank Music Hall. While at Bard College, she was invited to perform both the d'Albert and Barber Cello Concertos with the American Symphony Orchestra under the direction of Leon Botstein and then went on to win Yale University's Concerto Competition in 2008, performing with the Yale Philharmonia in New Haven's legendary Woolsey Hall.
Bathgate resides in New York City.
Bach Unwound
Ashley Bathgate in collaboration with the Brooklyn-based composer collective Sleeping Giant (Timo Andres, Chris Cerrone, Jacob Cooper, Ted Hearne, Robert Honstein, and Andrew Norman) creates a new recital experience in Bach Unwound, a radical deconstruction and re-imagination of the popular Unaccompanied Cello Suites of J.S. Bach.
Each member of the Brooklyn-based composer collective Sleeping Giant has created one movement of this new work, basing it loosely on a corresponding movement of their choice from the original Bach suites, while using the music as an inspiration for expressing and expanding his personal compositional voice.
A single, concert-length work, this multi-composer collaboration incorporates extended performance techniques, live electronics, and multimedia, juxtaposing contemporary and historical practice to create a brand new live musical journey.
https://live-convocations.pantheonsite.io/event/ashley-bathgate-bach-unwound/