A small dinner with a big impact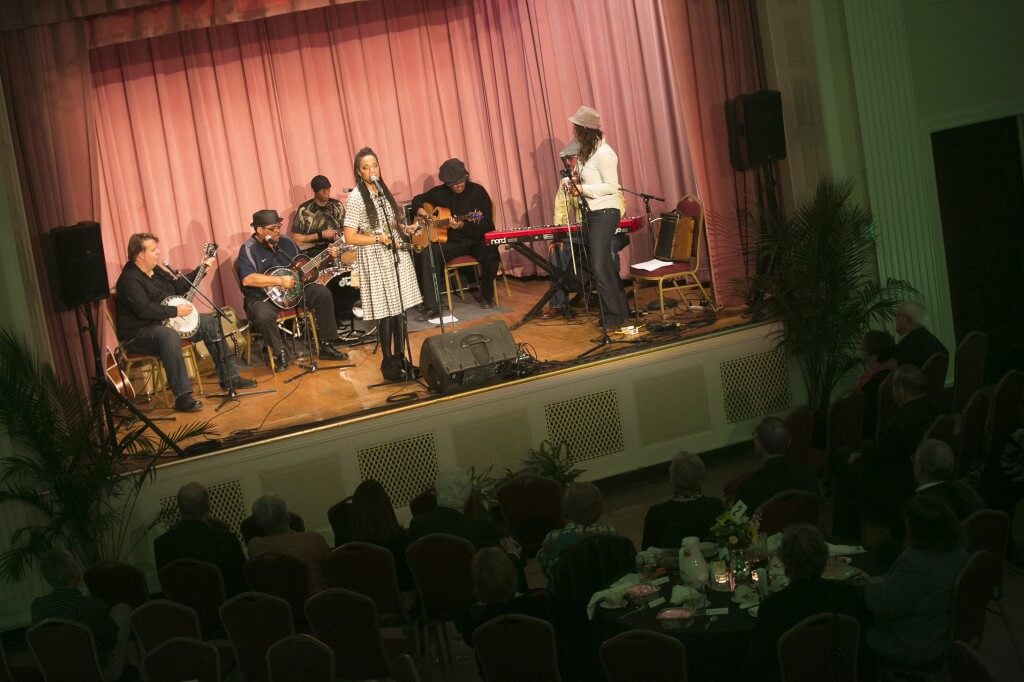 If you're reading this in an email or blog post from Convocations, chances are you're the sort of person who needs your art fix. Convocations delivers it, with over 30 shows each year in multiple genres—and the Friends of Convocations help make that happen with their donations.
But maybe your curiosity is sometimes so great that you wish you knew a little more about an artist on the season. What inspires her? How does he develop, write, or compose a new piece? Who's been influential in her work? Every artist's methods are different, and it's always exciting to find out how and why.
Each year, a small group of Friends of Convocations has that opportunity at the Convocations Soiree, which includes dinner with an artist or group of artists and a private performance. Members of the Martha Redbone Roots Project joined Friends for dinner at Duncan Hall this fall, spread out among the tables and ready to share a meal and conversation.
"Normally, interacting with an artist means talking to their public persona – they have on a sort of mask. But at dinner, I learned about her personal life, which is a conversation I never would have had otherwise. It was like sitting down to eat with a new friend," said guest Barrett Caldwell, who had the pleasure of sitting with Martha herself.
Staff and students from the Native American Education and Cultural Center, which partnered with Convocations for the performance,  also joined us to host the band at dinner.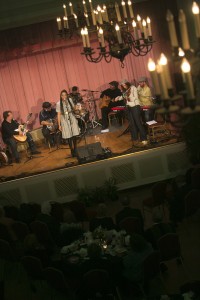 The meal was specially created by Jane's Gourmet Deli and Catering. After dinner, Redbone and her band took the stage at Duncan Hall to share songs from her latest album, The Garden of Love – The Songs of William Blake. Redbone described her reading of the Romantic poet and the process of setting his words to music. She shared her Cherokee, Choctaw, and African American roots, and the musical influences of her childhood in Tennessee—including folk, bluegrass, and rhythm and blues. She also covered a moving Peter La Farge song called "Drums" – lamenting Native American children removed from their tribes and sent to boarding schools.
Listening to Redbone and her band in this intimate setting was a gift from the artist, but that gift rippled through our community, as well. Convocations and the NAECC shared the gift of Redbone's music and Native American culture not only at Loeb Hall, but also with children in local schools, when Redbone performed at Woodland Elementary and Sunnyside Middle School. And Convocations couldn't make these gifts possible without the generous support of Friends, show partners, and local businesses.
In this season of gift giving, we enjoy sharing Convos shows with those we love. When you join the Friends of Convocations, you have the opportunity to multiply that gift across the community—and who wouldn't want to do that?
Stacey Mickelbart, guest contributor / Photos by ISPhotographic