Why does Brahms' Piano Trio in B Major list two dates?
At the dawn of 1854, after his soaring fortunes at age 21, Johannes Brahms set out to write Trio in B major for Piano, Violin and Cello. The trio was originally issued in November 1854 after the young Brahms experienced a series of emotional highs and personal tragedy.
Thirty five years later:
Brahms wrote to Clara (Schumann) on September 3, 1889, "With what childish amusement I whiled away the beautiful summer days you will never guess. I have rewritten my B major Trio…. It will not be as wild as before – but will it be better?" Simrock issued the revised score in February 1891, but Brahms did not formally withdraw the original, allowing both versions to exist, thereby providing a rare glimpse into the compositional workshop of one of the most secretive of all the great composers.

–Richard Rodda, The Kennedy Center
Read the rest of Brahms' story in Rodda's Program Notes on Brahms' Piano Trio No. 1 in B major, Op. 8 (1854/1889)
Trio Voce at Purdue University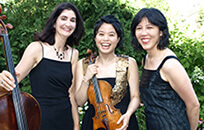 Trio Voce will perform Brahms' piano trio along with Arvo Pärt's Mozart-Adagio, and Rebecca Clarke's Trio at Loeb Playhouse on February 12, 7:30PM.