U.S. Secretary of Agriculture Vilsack to visit Purdue
Purdue President Mitch Daniels is pleased to announce that U.S. Agriculture Secretary Tom Vilsack will make an important visit to Purdue's West Lafayette campus on Nov. 17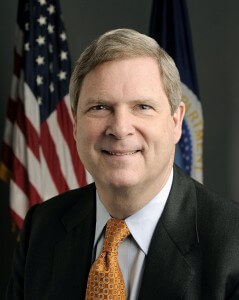 and 18.
The public will have the opportunity to hear from Secretary Vilsack on Nov. 17 as part of Purdue University's Fall 2014 Presidential Lecture Series. Topics of the 6:30-7:30 p.m. presentation in Stewart Center's Loeb Playhouse primarily will focus on agriculture but will include a wide range of discussion. The event will feature Vilsack's keynote address, followed by a question-and-answer session moderated by Daniels.
The event is free and open to the public.
"I am thrilled that we have been able to arrange this visit after months of our exchanges and discussions," Daniels said. "Any visit by the Secretary of Agriculture to one of the country's premier agricultural schools is an honor. We are proud to host the secretary and hope to maximize the time he has afforded us by connecting him with our top researchers and students as well as the public."
Vilsack's appearance in the Presidential Lecture Series is part of a two-day visit to Purdue. The visit will include a tour of Purdue's Research Park and briefings on Purdue Extension's economic development programming and the university's research on health and nutrition and plant sciences. Plant sciences are a component of Purdue Moves, a series of university initiatives to broaden Purdue's global impact and enhance educational opportunities for its students.
Vilsack also will meet with 2009 World Food Prize laureate Gebisa Ejeta, distinguished professor of plant breeding and genetics, and other researchers and will participate in a roundtable discussion with students from several Purdue colleges.
The Presidential Lecture Series features prominent experts and practitioners from various fields of interest for both academics and the community at-large. Speakers touch on topics relating to policy, leadership, culture and society.
Vilsack has been agriculture secretary since 2009. He also chairs the first White House Rural Council, created to strengthen services for rural business and entrepreneurs.
The U.S. Department of Agriculture under Vilsack has enrolled a record number of private lands in conservation programs and has implemented new strategies to restore forests and the nation's supply of clean water. The USDA also has worked to improve the health of American children and the safety of the U.S. food supply.
Vilsack previously served two terms as Iowa's governor and was an Iowa state senator and mayor of Mount Pleasant, Iowa.