Three Stories High Festival Program Notes

THIS IS ALL YOUR FAULT
Let me explain. We're always looking for fascinating artists to bring into our community. Each time we've thrown the range of possible experiences even wider, you've rushed right in and made it a success. We hosted a brilliant, surreal outdoor spectacle with Australia's Strange Fruit, and you clamored for more. We've ventured into both new and non-traditional spaces with two productions from the National Theatre of Scotland (Long Gone Lonesome and The Strange Undoing of Prudencia Hart), and you were deliriously enthralled. We delved into non-verbal physical theatre with LEO, and you were mesmerized. We launched into comically low-tech, devised theatre with Oxford Playhouse's One Small Step, and you were over (and on) the moon. Truth be told, we're all hooked.
This year, let's venture further into this realm by examining a key quality of the world's great festivals—immersion. Regardless of genre, festivals are places to push back everyday life's boundaries and concerns to dive into a new, alternate world. Ultimately, time is one of our most precious commodities—a true luxury through which you can encounter more than one artist in a day and that you can fill time between performances with friends, lively discussion, food, and drink. In other words, it's a conscious choice to merge so many of your favorite pastimes into one experience. It's the freedom of giving yourself permission to leave other things behind and the fraternity of others who have joined you.
With Three Stories High, we're adding to the already-growing energy of downtown Lafayette. This collection of festival-length shows have shorter running times (60 to 90 minutes), so put on your coat, come on down, and see the shows all on one night, or see them on successive nights. Hit your favorite restaurants and pubs. Bring your friends. Join the scene. Because, after all, this really is all your fault.
—Todd Wetzel, Director
THE CARDINALS STAN'S CAFE
JANUARY 28-FEBRUARY 1, 2015 / LONG CENTER FOR THE PERFORMING ARTS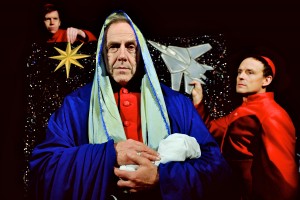 DEVISED AND PERFORMED BY
Gerard Bell, Rochi Rampal, Graeme Rose and Craig Stephens with additional devising by Alia Alzougbi.
Direction: James Yarker
Scenic Design: Miguel Angel Bravo
Prop Making, sourcing and Stage Management: Harry Trow Costumes: Kay Wilton
Lighting Design: Paul Arvidson
Photography: Graeme Braidwood
Graphic Design: Simon Ford
Video Documentation: Oliver Clark
Set Construction: A E Harris & Co. (Birmingham) Ltd Production Assistant: Danni Leppier
General Manager: Charlotte Martin Administrator: Rowena Wilding Advisory Producer: Nick Sweeting
Text: Douay Bible – Matthew Chapter 6 verses 25-34
The Cardinals was been commissioned by: domain d'O, Montpellier and Warwick Arts Centre with International Partnership funding from Birmingham City Council.
Stan's Cafe is supported by Arts Council England.
With special thanks to: Chuck Helm, Tina Rasmussen and Billy Wolf.
ABOUT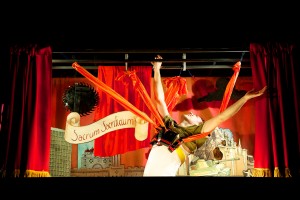 Stan's Cafe have been twisting theatre out of shape for audiences since 1991. Working from a base in Birmingham, England the company is an evolving ensemble led by Artistic Director James Yarker. The company are interested in combining wit and intelligence to devising theatrical forms that most elegantly match the content of each new production.
This is the company's second visit to WorldStages having presented The Cleansing of Constance Brown the performance installation Of All The People In All The World at the Harbourfront Centre in 2009. www.stanscafe. co.uk
GERARD BELL: Gerard has worked with Chris Goode, David Gale, Stacked Wonky, Improbable, Athina Vahla, Graeme Miller, Jonathan Burrows, Pina Bausch, A2, dreamthinkspeak and Punchdrunk; performed at Sheffield Crucible, National Theatre, National Theatre Wales and has made a series of films and video pieces with Lucy Cash, Magali Charrier, Shelly Love and Adam Roberts, as well as his own work and solo performances. Last year he made still.here for the Siobhan Davies Studios and So Below with Karen Christopher premiered in Sacred at the Chelsea Theatre.
ROCHI RAMPAL: Rochi has performed with The Play House, Women & Theatre, Black Country Touring and Birmingham REP. She has also performed in Hearth's Match for Shout Festival and in Theatre Writing Partnerships Momentum Festivals, has appeared in Kali Theatre's Shared Memories and Rasa's Handful of Henna. Her writing includes Reliable Witness (Birmingham Book Festival), scripting both The Corner Shop (Foursight Theatre and Black Country Touring), and EAT! (BCT, Foursight Theatre, Birmingham REP).
GRAEME ROSE: Co-founder of Stan's Cafe and The Resurrectionists; Graeme works regularly with theatre companies Bodies in Flight, Talking Birds, Red Shift and Various People Inc. (Adelaide). He has also devised shows with Insomniac Productions and Imitating the Dog. Current ongoing projects outside of Stan's Cafe include The Furies for Kiln Theatre and EAT! for Black Country Touring/ Birmingham REP. www.graemerose.com
CRAIG STEPHENS: Craig is Stan's Cafe's Associate Director, and has worked with the company for over 15 years. He has performed with a number of other companies including Insomniac Productions, Plane Performance, Talking Birds and The Playhouse. He has written for BBC Radio 4, Talking Birds, Hamfisted!, and Ludlow Assembly Rooms.
JAMES YARKER: James co-founded Stan's Cafe in 1991 with Graeme Rose, since then he has directed all the company's major productions and occasionally written some text. Last year he was asked to deliver workshops for professional theatre makers in Tokyo and Calgary.
SHOW HISTORY
The Cardinals is the third show in a series Stan's Cafe have made that combine the use of a tightly framed stage and storytelling without words. The first It's Your Film (1998) was a 4 minutes 30 seconds long live film noir performed for an audience of 1. It was the company's first major international hit. The Cleansing of Constanace Brown (1997) was performed on a stage 7 foot wide and 42 foot deep for an audience of 50. Inviting audiences to watch Constance Brown backstage proved part of the inspiration for The Cardinals, which was also inspired by The Crusades and ideas faith and 'suspending your disbelief.'
THE ADVENTURES OF ALVIN SPUTNIK: DEEP SEA EXPLORER BY TIM WATTS
JANUARY 29-FEBRUARY 1 / LAFAYETTE THEATER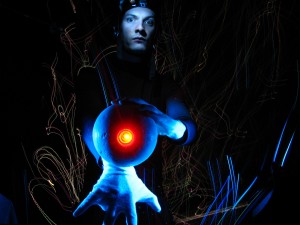 Creator: Tim Watts
Performer: St John Cowcher
Production and Touring Manager: Sam Longley
Creative Advisor: Arielle Gray
Technical Advisor: Chris Isaacs
Producer: Sarah Weber / The Last Great Hunt
Exclusive Representation in North America: Elsie Management, Laura Colby, Director
This performance is approximately 50 minutes in length. No intermission.
ABOUT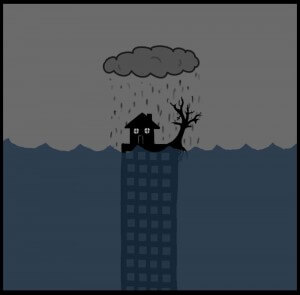 Alvin began in a puppetry workshop with 'Spare Parts Puppet Theatre' in Fremantle, Australia, in 2007. He was a humble little puppet, just a buoy and a white glove that I instantly had a fondness for. His big head, wide eye, and funny little body—he couldn't be anything but a curious deep sea diver. Friends who saw the little guy in the workshop encouraged me to make a show with him. So with that, and a desire to make a highly tour able, yet still visually interesting show, I created The Adventures of Alvin Sputnik: Deep Sea Explorer for a slot at the Blue Room Theatre program in Perth, Australia, in May 2009.
It was a thrilling and exhausting process. I collaborated with Arielle Gray, did lots of experiments and little shows for friends, trying to get as much feedback and ideas as possible as to what was fun and what worked. I got my dad, Anthony Watts, to build the set and all the gadgets and just managed to pull the whole thing off in time. We got rave reviews, performed to sell-out crowds and won awards for 'Best Production,' 'Best Production Team,' and 'Member's Choice.'
Since then, with the assistance of Perth Theatre Company and The Last Great Hunt as producers, Alvin Sputnik has toured all over the world, experiencing more sold-out shows, winning more awards, and getting overwhelming responses from audiences and reviewers alike. The show won 'Outstanding Solo Show' at the New York International Fringe Festival in 2009, 'Best Puppetry' at the 2010 Adelaide Fringe Awards, 'Best Theatre' at the Auckland Fringe in 2011, 'Best Male Performer' at the Dublin Fringe, and was nominated for Australia's top performance prize, the Helpmann Award, in 2012.
So far, Alvin Sputnik has been performed in the USA, New Zealand, India, South Korea, the UK, Denmark, Scotland, Hong Kong, Malta, Taiwan, Japan and all over Australia. It has been a long journey – and we still continue to develop and improve the show as we tour. I am determined to keep it a continual, creative process. If you have any thoughts or feedback, I would love to hear them. Just shoot me an email: tim@thelastgreathunt. com. Thank you for coming, and I hope you enjoy the show.
–Tim Watts, creator
THE LAST GREAT HUNT is a collective of artists that create, produce and tour new innovative theatre. The Last Great Hunt artists have a combined 52 years of experience in making theatre and have received critical acclaim both at home and abroad. Operating out of Perth, Western Australia, these artists prove that living in the most isolated capital city in the world is no limit to creating great theatre.
ST JOHN COWCHER (PERFORMER): St John Cowcher is an actor, writer and theatre practitioner. A Contemporary Performance graduate (ECU '09), founding member of performance company The Wet Weather Ensemble and Spare Parts Puppet Theatre associate artist. Theatre: The Velveteen Rabbit (SPPT'12) Hachiko (SPPT'12) Adam and Eve (BR'11),
The Bearskinner (TW'11), Spellbound (SPPT'10), A Reptile Dreamed (BR '09), The Human Voice (MC'09), Happy Buddha (UNIMA World Puppetry Festival '08) Film: The Road to the Sandman (CU'10), Alice (Remix) (NSP'10), Awards: Blue Room Theatre Audience Award (The Bearskinner) St John performs in improvised comedy group The Big HOO-HAA. St John has been performing The Adventures of Alvin Sputnik since early 2013, and toured the show to Singapore, Canada, the US and Spain.
SAM LONGLEY (PRODUCTION AND TOURING MANAGER): Sam has been working as an actor, comedian, writer, director and tour manager since the mid-nineties. He studied improv comedy at The Second City, Improv Olympic and Comedy Sportz in Chicago, IL. He has performed everything from a Shakespearian drunkard to an eight year old delinquent. Some of his high lights include Horse Head at the Blue Room Theatre, DIY: Disaster Movie at The Awesome Arts Festival, Thisbe at the new Heath Ledger Theatre in Perth, WA, Not Like Beckett for Deck Chair Theatre, Bindjareb Pinjarra, a comedy about a massacre. In 2006 Sam filmed Where The Wild Things Are, a Warner Brothers Feature Film directed by Spike Jonze. Sam once again used his height to full effect in playing the largest of the Wild Things, IRA. Sam has written plays, hosted TV shows and is the creator of the improv comedy show The Big Hoo- Haa that is now in its 12th sell-out season. Sam has been involved with The Adventures of Alvin Sputnik since early 2013 and has toured to Japan, Canada and the US.
TIM WATTS (CREATOR): Tim is a performer, deviser, director, producer, puppeteer and animator. He is a founding member of Weeping Spoon Productions. He has created and has toured theatre all around Australia and internationally, winning numerous awards and critical acclaim along the way. Since graduating from Notre Dame University, Fremantle with a Bachelor of Performing Arts in 2005, he has participated in numerous workshops, including studying clown and physical comedy with Dell'Arte International in Blue Lake California, as well as Puppetry workshops with Spare Parts Puppet Theatre in Fremantle, Western Australia, and Blind Summit in the UK. In 2009 he created The Adventures of Alvin Sputnik: Deep Sea Explorer, which has since toured all over the world. In 2012 he co-created It's Dark Outside, which was commissioned by Perth Theatre Company and was also the inaugural artist in residence for Perth Theatre Company. Presented at the 2013 Sydney Festival, It's Dark Outside received its US premiere in Pittsburgh at the Festival of Firsts in 2013. Other creative credits include co-creating and performing in The Wives of Hemingway (Fringe World 2013), Deathtrap (PICA, Perth) The World Inspite of Itself (China), Greed (Canada Fringe), Hope is the saddest (Brisbane Festival), Duck Duck Goose (The Blue Room, Perth), Oscar (Perth) and Heart of Gold (PICA, Perth), as well as directing Pollyanna (Fringe World 2012) and Red Lashes (UNIMA 2008). Tim is currently working on the creation of a new show, due to premiere in Perth, Western Australia in September 2014.When he is not on tour, Tim lives and makes theatre in Perth, Western Australia. @halhawker
ARIELLE GRAY (CREATIVE ADVISOR): Arielle Gray graduated in 2005 with a BA (Contemporary Performance) in Perth. She is a performer/ theatre-maker/puppeteer/improviser. Arielle's theatre credits include creating and performing in It's Dark Outside in Perth 2012 and at Sydney Festival in 2013, devising and performing in Pollyanna, a large scale interactive, promenade work first performed at FringeWorld 2012, performing in They Ran 'Til They Stopped with The Duck House, Black Swan State Theatre Company's A Midsummer Night's Dream directed by Kate Cherry, Hope Is The Saddest for Mythophobic Productions at the Brisbane Festival 'Under the Radar', Duck, Duck, Goose! (Winner 'Member's Choice' at The Blue Room Theatre Awards), & solo show Nobody Cares
But You at The Blue Room Theatre & Adelaide Fringe Festival (for which she was nominated 'Best Actress' at The Actor's Equity Guild Awards). Arielle also assisted in the creation of The Adventures of Alvin Sputnik: Deep Sea Explorer with Tim Watts. In 2009, Arielle was a part of The Black Swan State Theatre Company's HOTBED program, performing in Pool [No Water] by Mark Ravenhill & The Darkroom by Angela Betzien (nominated 'Best Supporting Actress' for both shows at the Actors Equity Guild Awards). Arielle is also a member of THE BIG HOO HAA improvised comedy group, and has been a proud member of equity since 2007. Arielle lives in Perth, Western Australia. http://ariellegray.com @ArielleGray
CHRIS ISAACS (TECHNICAL ADVISOR): Chris graduated with a BA Double Major in English and Writing from Edith Cowan University in Perth in 2006. Since then he has worked in independent and professional theatre as a writer/devisor/performer/lighting designer and stage manager. In 2012 he co-created It's Dark Outside, commissioned by Perth Theatre Company, which won the Arts Hub Critics' Choice Award for 'Innovation'. From 2009-2013, he was the touring & technical manager of The Adventures Of Alvin Sputnik: Deep Sea Explorer. As stage manager; Barking Gecko Theatre Company's Driving Into Walls (2012), Perth Theatre Company's The Removalists (2010), Black Swan State Theatre Company & HotHouse Theatre The Web (Albury/Wodonga & Perth Seasons 2009). Chris has been lighting designer for multiple shows at The Blue Room, Yirra Yaakin, ARTrage, Rechabites' Hall & for the 2008 UNIMA International Puppet Festival. In 2010 he received a JUMP mentorship as a writer, which he undertook with Kate Mulvany & he is a member of the Black Swan State Theatre Companies Young Writer Program. As part of this program, in 2014 his play Flood was presented by the Black Swan Theatre Company and received critical acclaim. Chris has been a performer/musician in the comedy troupe THE BIG HOOHAA for five years now, & contributed to The Blue Room as a board member for five years including the roles of Artistic Sub-Committee member & acting Board Chair. @Chris_Isaacs
SARAH WEBER (PRODUCER): Sarah obtained a Master of Arts in Zurich, Switzerland and now lives in Perth, Australia, where she works
as an arts manager. From 2010-2013, she worked as Operations Manager for Perth Theatre Company, where she was responsible for philanthropy, fundraising and touring. In 2013, Sarah spent three months in New York, with the artist representative company Elsie Management, to learn all about international producing and the performing arts industry in the US. Since July 2013 Sarah is also working as producer for the newly founded artist collective The Last Great Hunt.
MUSIC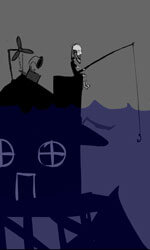 Please don't leave me tonight, written by Tim Watts
Welcome song, written by Tim Watts
Down and Down, written by Tim Watts
Aquatic Dance by Vangelis, courtesy of Emi Music Publishing Australia
Rachel's Song by Vangelis, courtesy of Warner Chappell Music Australia
Story Time by Daniel Elfman, courtesy of Emi Music Publishing Australia
Ain't No Stopping Us Now by J. Cohen, G. McFadden & J. Whitehead, courtesy of Warner Chappell Music Australia
Together in Electric Dreams by P. Oakey & G. Moroder, courtesy of Emi / Warner Chappell Music Australia
Happy Ending by Mika, courtesy of Rondor Music Australia
THANK YOU to Todd Wetzel and the staff and crew at Purdue Convocations for making these performances possible!
THANK YOU to Laura Colby, Katie Diamond and Anna Amadei, the amazing team at Elsie Management, Perth Theatre Company for all their support, The Australia Council for the Arts, The Department of Culture and the Arts, The Blue Room Theatre, The City of Perth, ARTRAGE, FringeNYC, HERE Arts Centre, Ron Lasko at Spin Cycle, Sam Longley and Lazy Suzans, terraNOVA and the undergroundzero festival, Phillip Mitchel and Michael Barlow at Spare Parts Puppet Theatre, Fi McCurdy and Ed Bartlam from Underbelly in the UK, and everywhere we have toured so far.
NO PLACE TO GO ETHAN LIPTON AND HIS ORCHESTRA
JANUARY 29-JANUARY 31 / CARNAHAN HALL
ABOUT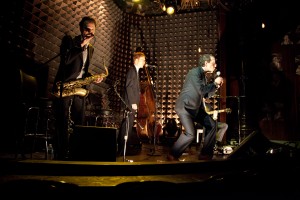 Ethan Lipton & his Orchestra has been a band since 2005, playing around New York (Joe's Pub, Barbes, Rockwood, Celebrate Brooklyn) and beyond (MASS MoCA, Camden Opera House, Grand Performances). The band includes Ethan Lipton (vocals), Eben Levy (guitar), Ian M. Riggs (standup bass) and Vito Dieterle (sax). Ethan writes the lyrics and melody, and the quartet arranges the songs together.
EL&hO has released five albums (three studio, two live) and been named the city's "Best Lounge Act" by New York Magazine. In 2012, the band won an Obie Award for "No Place to Go," a theatrical song cycle written by Ethan about a man who loses his job, which was produced by the Public Theater at Joe's Pub. The show earned rave reviews and has since been produced theatrically at Two River Theatre in New Jersey, and in concert venues in LA, Connecticut, Virginia, Vermont, and at the ATP music fest in East Sussex, UK.
The band has been featured on radio shows such as Weekend Edition, The World, Word of Mouth, and Soundcheck, and contributed to the Clash cover album Sandinista. They also play songs on and appear in the film The Shift.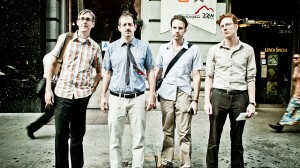 ETHAN LIPTON (VOCALS): As a playwright, Ethan Lipton's work has been seen and heard in NYC, LA, Boston, Chicago, Seattle, Edinburgh, and Berne. He is the 2012-13 Playwright's Realm's Page One resident playwright, an alumni of the Public Theater's emerging writers group and a Clubbed Thumb affiliated artist. Ethan has received playwriting grants from NYFA, NYSCA and the NEA, as well as commissions from Playwrights Horizons, Clubbed Thumb and True Love. He has received an Obie Award and a Drama-Logue Award, been a Kesselring nominee, an O'Neill Conference finalist, a Kleban Award finalist and a resident playwright at New York Stage & Film. His play Luther was published in THEATER magazine in April 2013. The script of No Place to Go was published by Ugly Duckling Presse in 2014. As a performer, Ethan has backed up Laurie Anderson on The Late Show with David Letterman, originated the role of Klipspringer in the Elevator Repair Service production on Gatz, and sung with Matt Berninger of The National and Cynthia Hopkins.
EBEN LEVY (GUITAR): Levy was co-leader of the 90s cult-favorite funk band Chucklehead and was the group's guitarist, emcee and a principal songwriter. Eben later led the organic/electronic funk band Ejectrode, releasing Accident Theory in '02.Eben writes music for film and television. More at www.shackedupsound.com. Eben grew up in sunny New York City and just moved to frickin' Jersey with his wife, children and dog. Go frickin' Jersey!
IAN RIGGS (BASS): Ian is a bassist, composer, singer and guitarist who performs and records in and out of New York City with a wide range of artists. Among them are Howard Fishman, One Ring Zero, Blarvuster, Hilary Hawke, Likeness to Lily, The Lonesome Trio, Giancarlo Vulcano, and David Eggar. As a composer he has provided music for Adrian Muys' films, Iris and Hands of Harvest as well as for Gabriella Barnstone's dance/ theatre piece, The Dinner Party. In 2009 he was accepted as an artist-in- residence at The Woodstock Byrdcliffe Guild.
VITO DIETERLE (SAXOPHONE): Vito began playing live around Chicago at the age of 14. He has been a featured soloist at the Burlington and Chicago Jazz Festivals, and in venues around the country. In New
York, he is a frequent player with composer-pianist Joel Forrester's band People Like Us, and he leads his own trio every Sunday at Little Branch.Vito studied at the New School with jazz greats such as Arnie Lawrence, Barry Harris, Benny Powell, Lee Konitz, Reggie Workman, Junior Mance and Chico Hamilton. He's a maniac for leftovers.
FESTIVAL INFO TO KNOW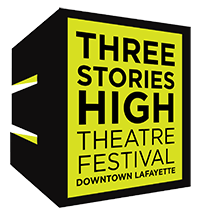 EAT LOCAL: The following downtown Lafayette businesses are offering Three Stories High festival goers food and drink specials. Present your festival tickets to receive special offers! (Partners subject to change.)
Adelino's / D.T. Kirby's / Fuel Coffee / Kathy's Homemade Kandies & Chocolate Lounge / Lafayette Brewing Company
DOORS will open and hour prior to all Three Stories High performances. VOLUNTEERS are available to assist you! Got a question? Please feel free to ask and we'll be happy to help!
CASH BARS will be available at all performances during Three Stories High. Ask a volunteer and we'll point you in the right direction!
PHOTO / VIDEO: Cameras and recording equipment are prohibited unless by special permission of Convocations and the artist. Flash photography is prohibited at all times.
CHILDREN: While we encourage early introduction to the arts, we also wish to provide the best environment for all of our patrons. Children of all ages are welcome to Family Adventures shows. We request that children under 6 years of age not be brought to most performances, and infants on laps are only permitted at Family Adventures shows. All patrons, regardless of age, must have a ticket.
BUILDING EMERGENCIES will be announced and directions given from the stage.
JOIN IN THE CONVERSATION #ThreeStoriesHigh
Twitter: @Convocations
Facebook: PurdueConvocationsIN
Instagram: PurdueConvocations
TEXT TO GIVE
TEXT "ConvosFestival" to 414-14 to help several little gifts add up to make big difference! A cash donation from you today ensures we have your support to keep bringing these engaging, entertaining, and just plain fun performances back again and again. Let's keep Lafayette-West Lafayette a dynamic, arts-filled place to live. Thanks for your support! Visit convocations.org/support for benefit details.