Not just for dance fans, 'Power Goes' explores LBJ's presidential power
"Power is where power goes." These five words were an ethos for Lyndon B. Johnson—one of America's most contentious presidents but also a champion of progressive change for the public good. Those five words are also a springboard for Power Goes, a dynamic project from Chicago-based dance company the Seldoms that explores power within LBJ's presidency and among those he governed. Dance theatre and LBJ seem like strange bedfellows until considering how LBJ maneuvered his towering physique to gain or wield power—cajoling and controlling through firm clasps and comforting touches. (Incidentally, LBJ also loved to dance.) Combining precision, humor, and athleticism, Power Goes showcases physical expressions of power by activists, soldiers, politicians, and the proletariat, augmented by spoken word, soundscapes, and visual installations.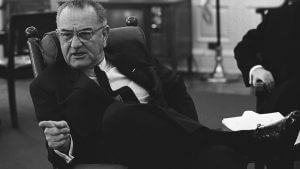 Founded in 2001, the Seldoms create "intelligent, visually rich dance theatre driven by inquiry"—a natural fit for inspiration from America's transformative Civil Rights Movement, the nation's escalating involvement in Vietnam, LBJ's Great Society legislation, and LBJ's legacy in today's sociopolitical arena. In naming choreographer Carrie Hanson its 2015 "Chicagoan of the Year in Dance," the Chicago Tribune praised her "hard-hitting looks at charged issues from as many perspectives as possible … (creating) some of the liveliest, most entertaining dance theater around." Power Goes is no exception, combining the Great Society and great moves to examine timeless issues—power's tremendous benefits and tragic costs, how power relations play out in backrooms and backyards, and how politics itself constitutes a performance of ideology, physicality, and choreography.
PRE-SHOW / 6:30PM
PMU LAFAYETTE ROOM (2ND FLOOR)
Ticket Holders are invited to the PMU Lafayette Room at 6:30pm for a discussion about the history of The Seldoms dance company and the Power Goes project with Columbia College Professor Bonnie Brooks.
POST-SHOW DISCUSSION
Attendees are also invited to discuss the performance with Professor Brooks and The Seldoms dance company immediately following the performance.
"BODIES ON THE GEARS" WORKSHOP:
Power Goes is not only a performance but also a platform for thought and discussion. Each engagement includes a "Bodies on the Gears" workshop that invites students and community participants to explore questions raised by the piece, including issues of power, politics, negotiation, conflict, cooperation, justice, civil rights, and social change. The workshop draws inspiration from New Left icon Mario Savio's call to put one's body on the gears of the "machine" of power in protest against injustice and dehumanization. It uses dance and movement as avenues into both the history and continued relevance of how bodies assemble, move, resist, protest, change, and struggle. The workshop culminates in the onstage inclusion of workshop participants and the material they have created in a section of Power Goes.
Interested? Participants can sign up for the workshop:
Sign Up for "Bodies on the Gears"
https://live-convocations.pantheonsite.io/event/the-seldoms/