StairWELL: Art + Tech + Wellness at Purdue University
Collaborators from Purdue University and Innovators-in-Residence chromic duo are proud to announce the exciting arrival of StairWELL, a groundbreaking art installation designed and built at Purdue that builds wellness through interactive art and technology. From October 16 to 30, 2023, the Third Street Chill Zone near Martin Jischke Drive will come alive with an immersive interactive experience users may interact with via their mobile phones.
Using a novel combination of art, technology, and clinical psychology, the StairWELL installation aims create a sense of beauty, respite, and play via an inventive mobile phone interface. Viewers become participants in an expressive journey that creates community while also delivering powerful supportive connections where they may be needed.
StairWELL was designed and built at Purdue by Purdue Convocations, Hall of Music Productions, chromic duo, Purdue Polytechnic Institute, Counseling and Psychological Services, Steps to Leaps, and the Department of Theatre.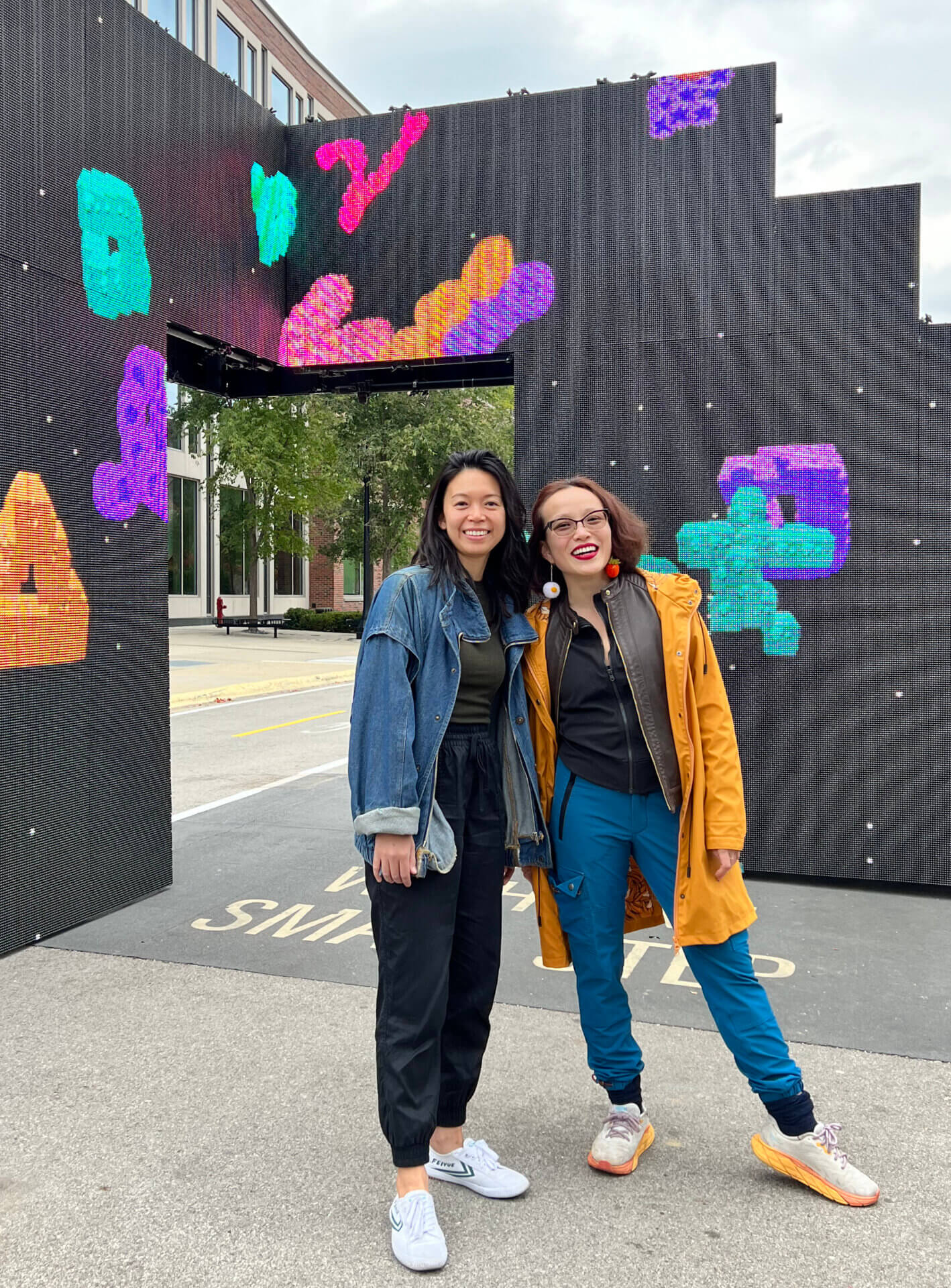 "What's exciting is that students, faculty, and staff, along with musicians from the chromic duo, collaborated for the past year to code, create animations, write music, and develop questions that culminates with a street art installation that speaks to the human condition," said Todd Wetzel, Assistant Vice Provost of Student Life and Executive Director at Purdue Convocations and Hall of Music Productions.
Chromic Duo uses their passion to amplify stories that have been marginalized or forgotten, to create immersive experiences that integrate emerging technologies like AR + VR. This past year, they stepped in as Innovators-in-Residence to guide the multidisciplinary team at Purdue to create a space for reflection and self-expression.
Located in the Chill Zone near Krach Leadership Center at 1198 Third Street, West Lafayette, the StairWELL installation is open to students, faculty, staff and visitors to click a QR code, answer a series of well-being questions based on the World Health Organization's WHO-5, and connect with the stair-shaped structure clad in LED panels. This innovative project features a captivating visual display with user generated avatars, and a responsive soundtrack written by chromic duo.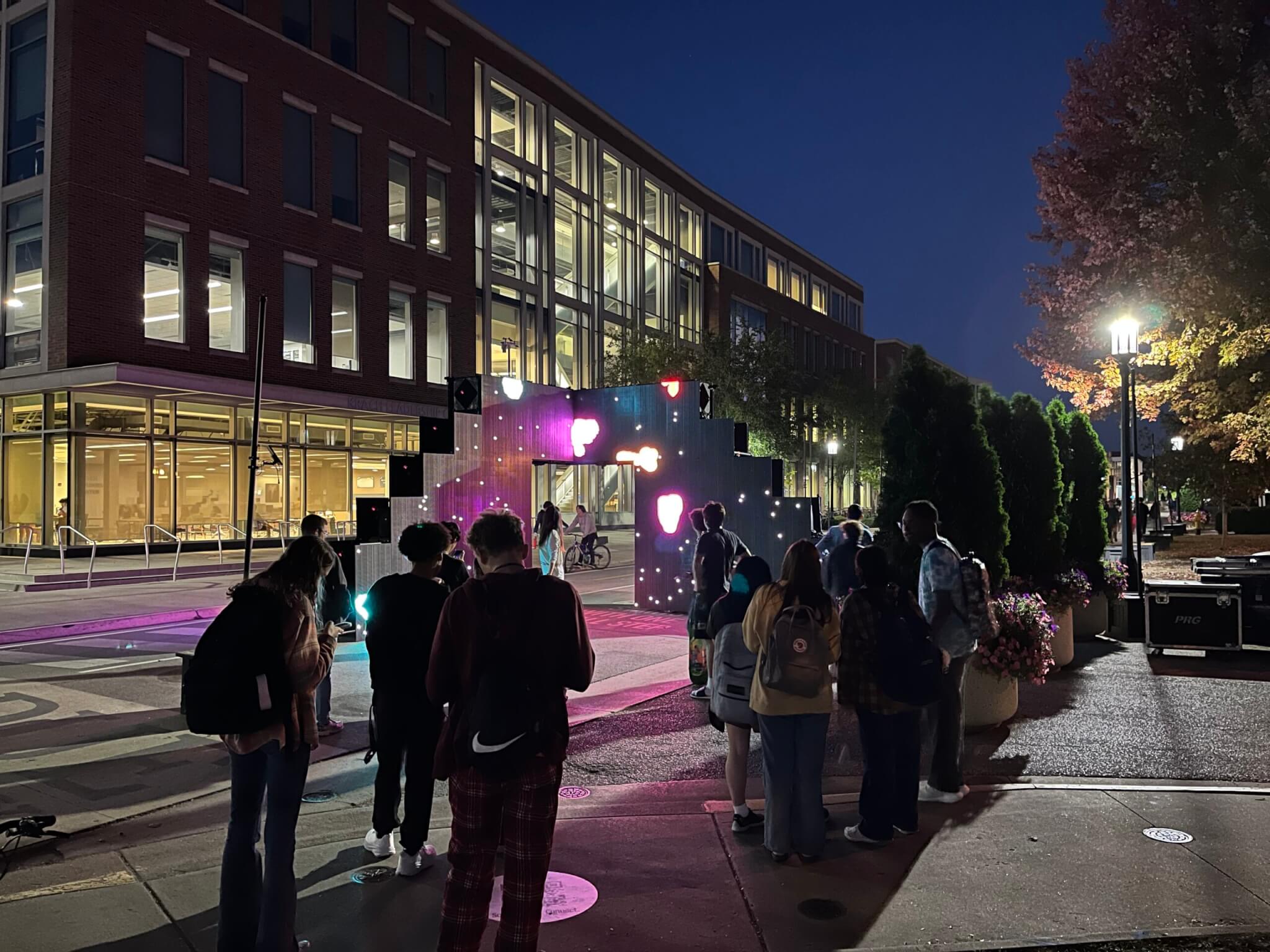 StairWELL is open to the public, free of charge, and all members of the Purdue community and visitors are invited to explore wellness through interactive art and technology. The installation will be accessible 24 hours per day from October 16 to 30, 2023 at the corner of Third Street and Martin Jischke Drive on Purdue's West Lafayette campus. Visitors are invited to visit STAIRWell from 6-7pm nightly for a special soundtrack that comes alive at golden hour.
Support for StairWELL provided by Purdue Global, The Flora Roberts Fund, Purdue Polytechnic Institute, Purdue University College of Health and Human Sciences, Purdue University John Martinson Honors College, Purdue University Libraries and School of Information Studies, and Purdue Convocations Innovative Performance Fund.
For more detailed information about StairWELL, please visit the official StairWELL site at https://convocations.purdue.edu/stairwell/. Stay connected with the latest updates, behind-the-scenes content, and interactive experiences on social media by following @PurdueConvos on social media and use the hashtag #MyStairWell.
About Purdue Convocations
Initiated in 1902, Purdue Convocations was one of the first collegiate performing arts presenters in the United States. Each year, Convocations offers the North Central Indiana region over 30 professional performances of widely varying genres: Broadway-style shows, innovative theatre and dance, children's theatre, thought-provoking lectures, world music, jazz, and chamber music, along with rock, pop, country and comedy attractions. With a vision to connect artists and audiences in artistic dialogue and for drawing in academic discourse, Purdue Convocations aims to promote frequent exposure to and familiarity with human cultural expression in many forms and media. For upcoming events and details, please visit the official website at https://convocations.purdue.edu/
About Chromic Duo
Chromic Duo, featuring pianists Dorothy Chan and Lucy Yao, blends toy piano, electronics, and multimedia into genre-fluid performances and installations. They cultivate spaces to share stories inspired by their experiences as third-culture kids within the Asian-American diaspora.
Recent highlights include partnering with Welcome to Chinatown to feature Asian Americans and Pacific Islanders (AAPI) business owners and artists in an immersive soundwalk in New York City's Chinatown, and partnering with the National Gallery in Washington DC, the New York Philharmonic, and the Baryshnikov Arts Center. They are grand prize-winners at the Young Classical Artists Trust (YCAT) and Concert Artists Guild (CAG).
Over the past two seasons, they are honored to be Innovators-in-Residence at Purdue University and collaborate with the Purdue team to develop and launch the StairWELL project, an interactive sculpture installation that explores the intersection of art, tech, and wellness. To learn more about Chromic Duo, please visit https://chromic.space