Chicago-based dance group The Seldoms offer Purdue students workshops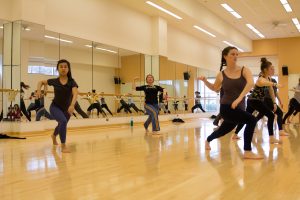 Purdue Convocations welcomes Chicago based dance company, The Seldoms, to campus this week. On Thursday, February 23, at 7:30 PM in Loeb Playhouse, The Seldoms will be performing Power Goes. As part of their residency, Purdue Modern Dance and Ballet classes were able to participate in workshops this afternoon. Thirty students in Modern Dance 3 were led through warm ups, breathing techniques, and yoga poses by Carrie Hanson, the founding artistic director of the company. Philip Elson and Matthew McMunn assisted in teaching the movements and helped correct position and technique throughout the workshops. All movements were accompanied by drums while the students learned a series of eight counts in a dance routine. After mastering each small sequence, Carrie added additional choreography.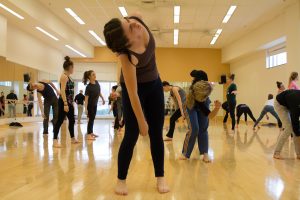 Twenty-four students in Ballet 2 participated in a workshop led by Matthew McMunn. The session began with stretching at the barre. Students worked in partners to add length to their lumbar spines and correct their shoulder positions. The class continued with a series of tendus that concluded in posé. After practicing fluid movement, Matthew switched gears and began dégagés, with the feet sharply brushing the floor. After a few more exercises at the barre, Matthew led the class through a short series of dances on the floor.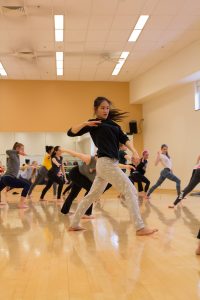 Several students will also be participating in a Bodies on the Gears workshops Tuesday and Wednesday evening. After rehearsing both evenings, those students will be participating in the public performance of Power Goes on Thursday evening.
https://live-convocations.pantheonsite.io/event/the-seldoms/