Popovich Comedy Pet Theater performance at Purdue cancelled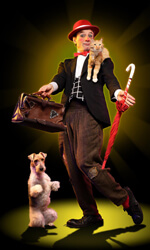 Purdue Convocations announced on Tuesday (Dec. 10) the cancellation of this season's Popovich Comedy Pet Theater performance. The performance was scheduled for March 2-3 in Loeb Playhouse.
Due to health issues, Gregory Popovich must cancel his spring 2014 tour. Purdue Convocations wishes Gregory Popovich a speedy recovery and hopes to have his show back at Purdue in the future.
Those who bought tickets with a credit card will receive a refund to the card used at the time of purchase. If you purchased tickets using cash or a personal check, refunds will be issued by a university check in three to four weeks. Please contact the box office in person or by phone to make arrangements for a refund check. The phone number is 765-494-3933, and the box office locations are in Stewart Center or Elliott Hall if you have questions or need additional information.