Peter Pan Prequel Has Heart and Humor
Peter and the Starcatcher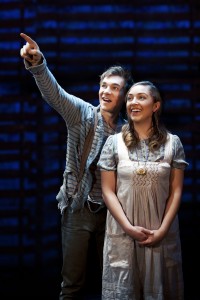 For 12 actors to be able to portray 100 different characters and conjure spectacular locales with low-tech sets and props, it takes enormous talent, ingenious stagecraft, the limitless possibilities of imagination—and a trunkload of pixie dust.
So it is with Peter and the Starcatcher, the Tony Award-winning Broadway show based on the 2004 children's novel by humorist Dave Barry and suspense writer Ridley Pearson.
Just as the hit musical Wicked provides a prequel to The Wizard of Oz, Peter and the Starcatcher imagines a backstory to J.M Barrie's classic Peter Pan, and explains how Peter ended up on an island, where he got his name, how Hook lost his hand and how the croc swallowed a clock. But while Wicked is all about the slick and showy special effects, the cast of Peter and the Starcatcher needs only spirit and spunk to share this story.
As the curtain rises, 13-year-old Molly and her father, Lord Aster, set sail for the exotic island of Rundoon with a trunk containing a mysterious and precious cargo. Lord Aster will sail on the Wasp on a perilous secret mission for Queen Victoria to dispose of whatever is in the trunk; for her safety, Molly must travel on a different ship, the Never Land.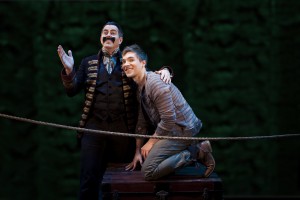 At sea, pirates led by the outrageous Black Stache (so named for his prominent facial hair) hijack the Wasp; meanwhile, Molly encounters a trio of orphans destined for slavery in Rundoon, then discovers that her father's precious trunk was mistakenly loaded onto her ship. It is Molly and her new friends who must look after its contents through all the madcap adventures that ensue.
Combining elements of Vaudeville, British "Panto," and old-timey musical theater, including slapstick comedy, knee-slapping wordplay, tongue twisters, and droll anachronisms, the show careens along at a breakneck pace while a dozen actors portray squadrons of salty sailors, cross-dressing mermaids, rag-tag orphans, and restless island natives, and, using simple props and innovative theatrics, summon such magical locations as a tempest-tossed tropical island and the dungeon of a Victorian-era frigate.
The result is at once hilarious and heartwarming—a visually stunning celebration of imagination that is silly, snarky, and screwball, and yet sincerely, sweetly sentimental, with plenty to please kids (the show is geared toward age 10 and up) and the kids-who-won't-grow-up in all of us.
-Amy Long
Tickets
Peter and the Starcatcher
April 9, 2015, 7PM
Elliott Hall of Music
Purchase Online