LIFE IN COLOR: IMPORTANT INFORMATION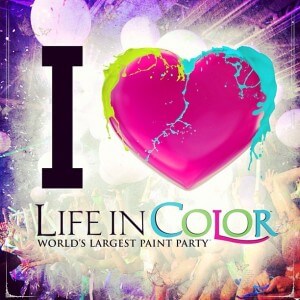 The Life In Color outdoor concertThe LIFE IN COLOR tour UNLEASH featuring Adventure Club, David Solano, Machine Gun Kelly, Cash Cash, Spyder Logic and White Vinyl Sky
The concert, sponsored by the Purdue Student Concert Committee to celebrate Grand Prix week, will take place Sunday from 7 p.m.-11 p.m. at the Purdue Band Practice Field (Hull Field) just west of the Purdue fire house near Third Street and Martin Jischke Drive in West Lafayette. will make a stop at Purdue University's –Recreational Sports Parking Lot at 6 p.m. on April 25. The rain date for the performance will be April 27 at 6 p.m.
Due to heightened nationwide security considerations, the following information applies:
* This is an 18+ show, and IDs will be checked upon arrival.
* No food, beverages or alcohol will be permitted (water will be available for purchase).
* Please be prepared for a visual search upon arrival.
* No bags, purses or backpacks.
* Visibly intoxicated individuals will be refused admission.
* Purdue is a tobacco-free/smoke-free campus.
RECOMMENDATIONS
This is a four-hour dance party, so don't weigh down your experience by bringing unnecessary items with you.
* Consider putting your cell phone, ID and essential valuables in a plastic bag that can fit in your pocket.
* Life in Color will provide a "Survivor Station" if you wish to check your cell phone, ID and other valuables in a secure location. For a $5 fee, Life in Color will tag your items and hold during the show. Your items can be collected immediately after the show.
AFTER THE SHOW
Please be responsible campus citizens. Do not sit on furniture with wet clothing or body paint. Please clean up showers or washing machines after use.
For questions and the most up-to-date information, please contact Purdue Convocations Monday through Friday from 8 a.m. to 5 p.m. or visit
https://convocations.purdue.edu
Tickets are available at the Elliott Hall and Stewart Center box offices at 765-494-3933, 800-914-SHOW, or online at 
https://convocations.purdue.edu
 and
http://www.ticketmaster.com