Friends Friday: Tammy Loew
Welcome to Friends Friday! While we are all trying to "flatten the curve" we wanted to highlight different Friends of Convos. In case you're not aware, Friends of Convos is an influential group of arts supporters who bring world-class performances to our community! Each year, they help bring performances to our community and subsidize tickets for seniors, Purdue students, and P-12 students.
Learn More: https://live-convocations.pantheonsite.io/friends/
Introduce Yourself!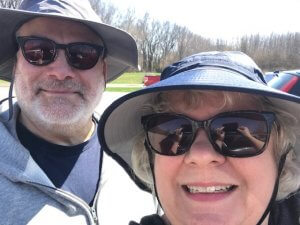 I'm the Senior Assistant Director of Wellness Programs. I've been on campus for over 20 years and love working at a Big Ten University. It is exciting, dynamic, challenging, and fun. My career has been spent in health promotion – first when our Student Wellness Office was housed at PUSH; for the last five years we've been Wellness Programs in Recreation and Wellness. Our team provides comprehensive wellness programs with our fantastic RecWell colleagues and campus partners. Want a massage? Call us!
How did you become a Friend?
For the majority of my career, I focused on substance abuse prevention. When my husband and I started attending shows, I thought this was one way I could contribute – supporting fun, cultural, high-quality activities that could reach a broad population. We've been members for 18 years.
What has been one of your favorite Convos shows?
This had such an impact on us that we still talk about it. In 2005, Conrad Herwig brought the Latin Side of Miles Davis. This show solidified our love affair with jazz. I remember feeling stunned at the immense talent on the stage and amazed that I got to be part of it. I believe Brian Lynch was part of that group, and we've seen him in at least one other show here. We also loved seeing Dave Brubeck at 89 years old. That was a special evening.
Who would you love to see Convos bring to campus?
I'm really sad that we missed Waitress last spring and hope that it gets rescheduled. Other Broadway shows on my list – Come from Away, Once on this Island, and Dear Evan Hansen… Wynton Marsalis is always on the top of my list. Esperanza Spalding would always be welcomed back, too. I've got a long list!