Friends Friday: Stephanie Farlow
Welcome to Friends Friday! While we are all trying to "flatten the curve" we wanted to highlight different Friends of Convos. In case you're not aware, Friends of Convos is an influential group of arts supporters who bring world-class performances to our community! Each year, they help bring performances to our community and subsidize tickets for seniors, Purdue students, and P-12 students.
Learn More: https://live-convocations.pantheonsite.io/friends/
This week we're highlighting Friend of Convos and Friends Advisory Board member Stephanie Farlow!
While I attended a few Convos events as a Purdue student, I feel like I first became aware of how valuable Convocations is to the community when I graduated, started working at Purdue, and decided to make Lafayette my home. After a co-worker gave me tickets to a show they couldn't attend, I felt like I was introduced to the types of performances being offered and the upcoming season. So thank you, Pat Garrott, for talking to me about the upcoming season and discussing the Friends of Convocations program.
In 2009, I became a Friend of Convos when I learned how part of the funds go toward K-12 programming. I feel connected to keeping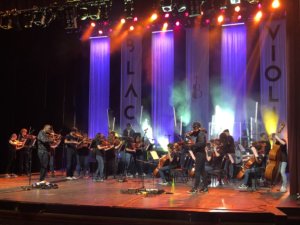 the arts alive in our schools, which was an important part of my childhood. If my support means hosting artist-in-residence programs and bringing children to campus for a matinee performance, then I want to make sure those opportunities are provided. I believe in allowing everyone to be able to connect with musical and artistic performances. Watching Black Violin bring out the Jefferson High School students on stage last spring made me so proud to see what my Friends support can do!
Being a part of the Friends Advisory Board for the past 5 years has allowed me to see first-hand the impact our donations are making to Convocations. Volunteering on the board means I've seen behind the curtain. There is a lot of time and dedication from the Convos staff in crafting each season, which may take several years. I enjoy seeing the research that has been conducted on the positive impact of exposing young children to the arts. I feel privileged to be able to speak to show attendees when wearing my Convos name badge at events. I can speak to both Friends of Convocations and my and friends about their experience at each show or what they are looking forward to attending next.
A few highlights from my Convos memories: My very first Convos event was in 1997, a performance in collaboration with the Convos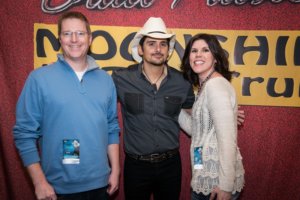 Student Concert Committee, where I attended an amazing acoustical guitar set performed by Dave Matthews and Tim Reynolds in a sold-out Elliott Hall. The sound echoed off the walls in the balconies, while the performance with the audience was very personable, making it feel like a small intimate crowd. My most memorable moment was meeting Brad Paisley after the Mud on the Tires show in 2015. My favorite Convos event is At the Illusionist's Table with Scott Silven in 2017. The entire experience was spectacular and still has me wondering what happened.
I feel blessed that our community can see so many different types of music, dance, and artistically cultural performances from emerging artists to Broadway shows. I've been on the edge of my seat for a string quartet, as I found the music was so powerful. I've also been lost in the moment to harmonious voices. I love the way a live performance makes you feel and the memories I can create with my family and friends.
I have been surprised to learn I really enjoy live bluegrass and folk music and have become a fan of Ethan Lipton's performances.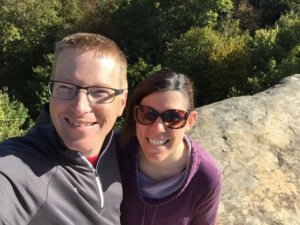 When I am not attending Convos events, my husband and I can frequently be found outdoors on a trail.
Friends Advisory Board
The Friends Advisory Board is a group of 18 volunteers who represent the diverse and culturally rich interests of the Friends of Convocations. This dynamic group assists with programs and projects that further the mission of Convos. We are currently in our nominations process, and we are looking for current Friends of Convocations who would like to be more involved. To nominate yourself or a Friend, click here.